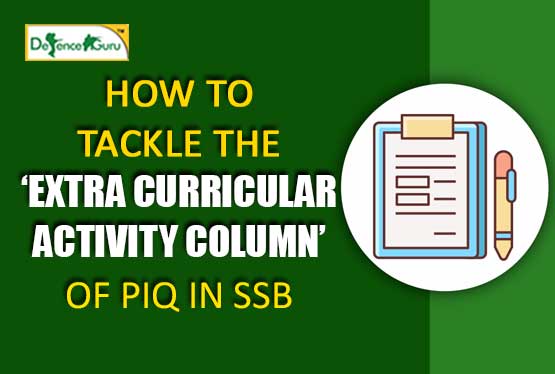 HOW TO TACKLE THE 'EXTRA CURRICULAR ACTIVITY COLUMN' OF PIQ in SSB INTERVIEW
Personal Information Questionnaire (PIQ), a reflection of the true self of a Defence candidate!
Being an aspirant of Indian Armed Forces, you must be familiar and in fact an expert of the various names and tests involved in the SSB interview session. One of the easiest phases of SSB session is the filling up of PIQ form. The form opens windows to one's personality. It depicts the past cum present information; interests; achievements; and the aim of the candidate.
Apart from the above motive, PIQ has a significant function as it forms the basis of personal interview round in SSB. The Interview Officer (IO) refers to the candidate's PIQ before interviewing him. It is for this reason that the applicants must write correct and honest answers in their PIQ form in order to answer the same during the Interview Officer.
In simple words, PIQ is an assessor, an evaluator used to know the candidate better.
Talking about the structure of PIQ form, it contains various columns to be filled such as: name, qualification, hobby, interest, extra- curricular activities, achievements, family etc.
My concern today is to help you out through the 'extra curricular' activity column in PIQ form. Often students get confused as to what to write here. The name 'extra curricular' defines itself. It refers to activities pursued beyond the curriculum, that is, any and every activity which is not a part of academics but is held at school, college and universities is called an extra- curricular activity. These may include various game competition or cultural activities such as dance, singing, debate, acting, essay writing etc.
The reason to include this column in PIQ is to know whether the candidate is active in his life or not, his interest, his scope of winning and achieving. It depicts a wholesome personality along with projecting the desire to learn and in case you have achieved something then it gets recognized too.
Now that the necessity of including 'extra- curricular' activity has been described above its time to discuss how and what to fill in here.
The foremost tip is to be honest. Write only true answers. If you have not participated in any activity then its better to leave the column blank.
If you leave the column blank it won't harm your impression but yes filling up one or the other extra curricular activity will certainly up your score.
Games (indoor/ outdoor), debate competition, singing, dancing, painting or any similar activity can be written in this column.
Even if you have participated in a small event like a camp or so (summer camp, NCC camp) do mention it.
You can also write if you have done something for the social cause such as participated in blood donation, distributed clothes, held an educational camp etc.
Hence any and every activity beyond the normal academics and syllabus of your school life becomes a part of co- curricular/ extra- curricular activity. Hope this illustration helps you in a clearer understanding of PIQ. Good luck!
Read More: 
HOW TO FILL PIQ FORM