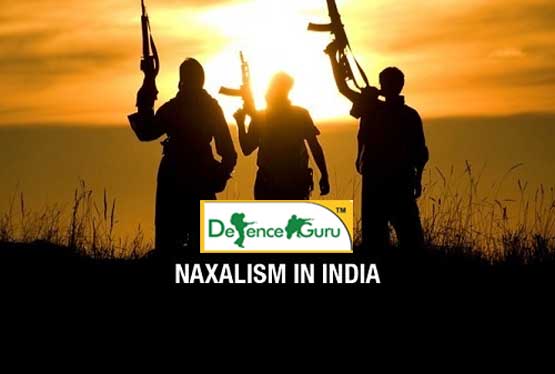 DOMESTIC PROBLEM IN INDIA: NAXALISM
Political conflict is an unavoidable part of any and every place. India faces a similar kind of situation. Amongst its numerous domestic problems one of the oldest is "Naxalism". Not only from historical perspective but also from the view point of Lecturette round in SSB, Naxalism holds a lot of importance. Today's article tends to cover crucial notions about this issue.
A Naxal or Naxalite is any person politically active, claiming to have the legacy of Communist party of India or the Marxist- Leninist. The term 'naxal' originated from village Naxalbari in West Bengal in 1967 when the initial steps of Naxal movement were laid down. Here are a few details of the Naxal movement and its aftermath:
The movement began in the form of an uprising (in 1967) by a section of Communist Party under the headship of Charu Majumdar, Kanu Sanyal and Jangal Santhal.
The movement arose as a reaction to the denial and partial treatment given to certain minorities such as Dalits and Adivasi.
The failure of Constitution of India to implement 5th and 6th standard; the limited form of tribal autonomy; the lack of concern of India to uplift its weaker section; poverty- economic inequality- underdevelopment of Naxal regions; threat to livelihood, forest and lands of Tribal people; lack of basic facilities such as education, food, sanitation; and destruction of land- water resources due to mining became the major cause of Naxal movement/ Naxalism.
In 1971 Naxalism gained strength wherein students in Calcutta left universities to join Naxalites. The then West Bengal Chief Minister, Siddhartha Shankar Ray issued strict counter- measures to stop the Naxalites. Add to that, in same year Indira Gandhi enforced counter insurgency operation called "Operation Steeplechase" whereby hundred of Naxalites were killed and nearly 20,000 were imprisoned.
The movement again gained impetus since the year 2000 and since then an on- off fight between the tribal Naxalites and Indian government is continuing. Thousands of Naxalites lost their life but somehow the movement has been able to spread to other parts of the country such as: Karnataka, Chattisgarh, Orissa, Andhra Pradesh, Telangana, Mahrashtra, Bihar, Uttar Pradesh and Jharkhand.
Naxalism is hence a militant and violent armed struggle by marginalized section of the society mainly tribal and peasants.
Naxalism is based on the Maoist approach as per which there should equal provision for all sects of society without any discrimination between rich and poor.
Although Indian Government tried certain plans but law and order, or mere counter attacks are not a solution to this problem. There has to be well designed strategy to curb Naxalism which should include provision of basic facilities to the Naxalities; grant of monetary support and equal status to them along with co- ordinate actions among police to stop any sort of fight with the Naxals.
Although Naxalism has covered various areas but its demands are still unfulfilled. The Naxal struggle continues till date and hence becomes a significant issue for SSB session. Read the above and prepare yourself with an all- round knowledge for the interview.