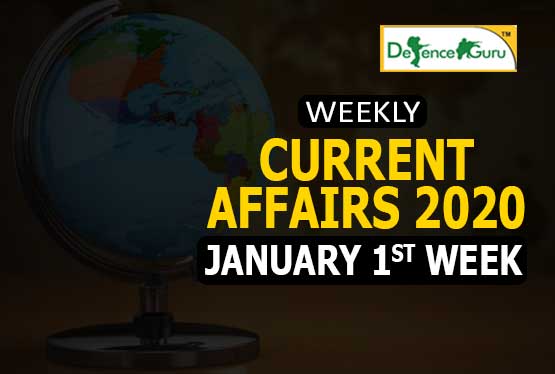 Current Affairs January 2020
06.01.2020
1. Delhi's first Smog Tower became operational
The first 'Smog Tower' in Delhi became operational as it was inaugurated by the cricketer turned politician Gautam Gambhir.
The giant 20 ft tall device has been installed at Lajpat Nagar Central Market.
The 'Smog Tower' will purify air in Lajpat Nagar market, sees an average football of nearly 15,000 people every day.
The equipment has been installed by the Trade Association Lajpat Nagar (TALN) with the help of east Delhi MP Gautam Gambhir
2. Lysionotus Chatungii - A new plant species named after Taro Chatung
A new plant species has been found after Taro chatung, the pioneer of journalism in Arunachal Pradesh, died on Oct 26, 2019.
It is a flowering plant.
3. Piyush Goyal inaugurates NSE knowledge hub in New Delhi
Commerce and Industry and Railway Minister Piyush Goyal inaugurated the National Stock Exchange (NSE) knowledge hub in New Delhi.
It is an artificial Intelligence (AI) powered learning ecosystem that will assist the Banking Financial Services and Insurance (BFSI) sector.
Prime Minister released a postage stamp to commemorate 100 years of Kirloskar Brothers Ltd
05.01.2020
1- UJALA and street lighting National Programme Complete five successful years.
UJALA (Unnat Jyoti by Affordable LED's for ALL) and LED Street Lighting National Programme (SLNP), go Ist zero subsidy scheme completed its fifth anniversary on Jan 5th, 2020.
Both the programmes were launched by Prime Minister Modi on Jan 5th, 2015.
About SLNP and UJALA
SLNP is the world's largest streetlight replacement programme and UJALA is the world's largest domestic lighting project
Both have been spear headed and implemented by Energy Efficiency Services Limited (EESL), a joint venture of PSU,s under the Ministry of power, government of India.
2- Women Science Congress 2020
9th Women Science Congress was inaugurated on Jan 5th, 2020 at the on going 107th Indian Science Congress University of Agricultural Sciences, Bangalore.
DRDO Aeronautical Systems Director General Dr. Jessy Thomas was the chief guest.
Dr. Jessy Thomas is k/a missile women of India
Ist women's Science Congress was held in 2012 in Bhubaneswar.
04.01.2020
1- World Braille Day 2020
On 4th January.
Celebrated since 2019.
This day is observed to raise awareness of the importance of Braille as a means of communication in the full realization of the human rights for blind and partially sighted people.
2- Gujarat CM inaugurated world's IInd tallest statue of Sardar Patel
A 50 foot tall statue of Sardar Vallabh Bhai Patel was unveiled by Gujarat CM Vijay Rupani.
In the premises of Sardar dham Institute complex on the outskirts of Ahmadabad.
The statue is a replica of 182 m tall statue of Unity.
3- Maharashtra launches 'Cyber Safe Women' initiative
On the birth anniversary of Savitribai Phule
Under the initiative the district level police across the state will be conducting a 'Cyber Safe Women' campaign in over 100 school and colleges.
4- Super-Puff-A Rare class of Young Explants
"Super- Puff" is the nickname given to a unique and rare class of young exoplanets that have the density of cotton like candy.
NASA's Hubble space telescope have provided the first clues to the chemistry of two super puffy planets, which are located in the kepler 51 system.
Note - The Hubble space telescope is a project of international cooperation between NASA and ESA (European Space Agency)
03.01.2020
1- RBI launches MANI app for visually challenged
RBI launched a mobile app, named MANI (Mobile Aided Note Identifier)
To help visually challenged people to identify currency notes.
App is available both on Android and IOS operating system
Also work offline, once installed
Result will be in audio output from both in Hindi and English.
2- KVIC opened first silk processing plant in Gujarat
Ist silk processing plant by the Khadi and Village Industries Commission (KVIC) inaugurated at Surendrangar in Gujarat.
4th All India Police Judo cluster championship 2019
The five-day sporting event took place in New Delhi.
The event organized by CRPF this year, is being attended by 34 participating teams
3- Meitei community's Lai Haraoba festival begins in Tripura
Lai Haraoba is a 5 day long festival.
The festival aims to uphold the tradition and cultural valued of Meitei community.
02.01.2020
1- ISRO to set up second launch port in thoothukudi
ISRO chief K Sivan announced that ISRO will establish an IInd launch port in thoothukudi diet in Tamil Nadu.
Exclusively to launch small satellite launch vehicle.
2- 107th Indian Science Congress
PM Modi will inaugurate the107th Indian Science Congress at University of Agricultural Sciences, GKVK, Bangalore on 3rd Jan, 2020.
PM will also launch the I-STEM Portal on the occasion.
THEME - : "Science and Technology: Rural Development,"
3- PM dedicates 5 DRDO young scientist laboratories to the Nation.
Prime Minister Shri Narendra Modi dedicated 5 DRDO young Laboratories to the Nation in Bangalore.
DRDO young laboratories are located in 5 cities. i.e.
Bangalore
Mumbai
Chennai
Kolkata
Hyderabad
The establishment of the five DRDO young laboratories lays down the foundation after research and development of futuristic technologies.
It will be a big step forward for DRDO from the goal of making India self reliant to future ready in defence technologies.
4- PM distributes Krishi Karman Awards
PM Modi distributed agriculture Ministry's Krishi Karman Awards for progressive farmers and commendation awards to the states at a public meeting in tumkur, Karnataka.
PM also released the 3rd installment of PM Kisan (Pradhan Mantri Kisan gamman Nidhi) of Rs. 2000 for the project December 2019, March 2020.
Manipur received Krishi Karman Award for best performing state in overall food grain production category III for the year 2017-18.
5- NDRF Academy in Nagpur
Minister of Home Affairs Shri Amit Shah dedicated the new campus of National Fire Service College (NFSC) in Nagpur.
He also laid the foundation of the National Disaster Response Force (NDRF) academy at Nagpur.
Subash Chandra Bose award in the field of Disaster Mgmt was also announced by the minister.
6- Indian Railway announces Single Integrated Helpline Number "139"
For quick grievance redressal and enquiry during their journey a new helpline number 139 was launched.
139 will take over all the existing helpline numbers (except 182)
7- Swarna Jayanti fellowship Award for 2018-19 awarded to 14 scientists
Associated with projects containing innovative research idea and with potential of making impact on R & D in the respective disciplines.
8- DBT's BIRAC approves Bioineubators at BHU under Bio-NEST programme
Department of Biotechnology's Biotechnology Industry Research Assistance Council (BIRAC) approved the setting up of a bio-incubator at BHU under its bioincubators nurturing entrepreneurship for scaling technologies (Bio-NEST) programme.
BIRAC had initiated the Bio-NEST programme as part of an effort to promote the biotech innovation ecosystem of the country.
9- CIMAP transfers technology for herbal products
Council of Scientific and Industrial Research
Central Institute of Medicinal and aromatic plants (CSIR-CIMAP), Lucknow
Transferred five technologies of herbal formulation to Nandan Impex Private Limited (NIPL), Mumbai.
The products have been named as relaxomap, painzaa, painchhoo, flomop and Acne Preventive washwash.
01.01.2020
1- Finance Minister unveils National Infrastructure pipeline
Union finance Minister unveils plans to invest more than 102 lakh crore in the infrastructure projects by 2024-25.
The Central Government the states and the private sector will share the capital expenditure in a 39:39:22 formulas.
2- Indore and Jamshedpur topped the swachh survkshan league 2020
Union Minister for housing and Urban Affairs Hardeep Singh Puri announced the results of Swachh Survekshan League 2020, for first and second Quarters in New Delhi.
In the 10 lakh plus population category (Ist Quarter)
Indore secured the first place, followed by
Bhopal
Surat
Jaipur
Rajkot
Navi Mumbai
In the one to 10 lakh population Category Ist Quarter
Jamshedpur, Jharkhand
New Delhi Municipal Corporation (NDMC)
Khargone in Madhya Pradesh
Jamshedpur
Chandrapur, Maharashtra
Khargone, Madhya Pradesh
3- EC's PPRTMS for Political Parties registration
To enable applicant to track the status of the application, the Election Commission of India has launched a "Political Parties Registration Tracking Management System" (PPRTMS)
Under PPRTMS the applicant applying for party registration from Ist Jan, 2020 will be able to track the progress of his/her application and will get status update through SMS and E-mail.
The states can be tracked through commission portal.
Registration of political parties is governed by the provisions of Section 29A of the Representation of the people Act, 1951.
31.12.2019
1- Dadasaheb Phalke Award 2018
Megastar Amitab Bachchan was presented the Dadasaheb Phalke Award 2018.
Given by the president of India.
About Award
The award is named after Dhundiraj govind phalke.
Regarded as the father of Indian Cinema.
This award was introduced in 1969 by the government to recognize the contribution of film personalities towards the development of Indian Cinema.
Ist recipient of Dadasaheb phalke Award was – Devika Rani
1- First Chief of Defence staff appointed
General Bipin Rawat has been appointed as the first CDS (Chief of Defence Staff)O the about CDS
About CDS can serve till 65
The CDS will be a four star general with salary and perquisites equivalent to a service chief.
The CDS will also head the department of Military affairs (DMA), to be created within the Ministry of Defence and function as its secretary.
The CDS, apart from being the head of department of Military Affairs, will also be the permanent chairman of the chiefs of staff committee.
The CDS will also act as the principal military adviser to Raksha Mantri on all tri services matters.
The three chief will continue to advice Raksha Mantri on matters exclusively concerning their respective services.
CDS will not exercise any military command, including over the three service chiefs so as to able to provide impartial advice to the political leadership.
2- Transport Ministry notified Divyang friendly features in Buses.
Ministry of road transport and High ways has notified GSR 959 (E)
For amendments to the Central Motor Vehicles rules for providing divyang friendly features in buses.
3- Central Equipment Identity Register for tracing Stolen Mobiles Launched in Delhi
Ministry of communication launched a web portal called 'Central Equipment Identify Register' (CEIR).
For the customers of Delhi to facilitate blocking and tracing of stolen/lost mobile phones in Delhi.
4- Flight Information system Dornier – 228 inducted into no 41 squadron, the 'otters'
Flight Information System (FIS) dornier aircraft was formally inducted into no 41squadron the 'otters' at the Air force station Palam.
Inducted by the chief of the air staff, air chief Marshal RKS Bhadauria.
5- US astronaut Christina Koch sets Record for longest spaceflight by a woman
NASA/USA Astronaut Christina Koch has set a new world record for the longest single spaceflight by a woman. i.e. 289 days on December 28, 2019 from March 14, 2019.
Breaking the old record of 288 days of Peggy Whitson.
6- World's longest open-air theater "Dhanu Jatra" begins in Odisha
The 11 day long Jatra is based on the mythological storey of Lord Krishna and his demon uncle Kansa.
The Jatra is about the event when Krishna and Balaram visit to Mathura to witness the Dhanu ceremony orgid by this Uncle King Kansa.
"Dhanu Jatra" is an annual festival.
The department of culture got has given National Festival status to Dhanu Jatra in Nov 2014.
30.12.19
1- Hemant Soren sworn in as 11th Jharkhand and Chief Minister
This is the IInd time that Soren has taken oath as Chief Minister of Jharkhand.
2- Koneru Humpy wins women's world rapid chess championship
Became the Ist Indian to win a senior world championship after Vishwanathan Anand.
Humpy defeated Lei Tingjie of China.
3- India likely to become the fourth largest economy in 2026 – CEBR
In a report published by UK based Centre for Economics and Business Research (CEBR)
India is likely to become the IVth largest economy by 2026, 2 years later than the govt. target of 2024 and third largest by 2034.
According to the report, India has overtaken both France and UK to become world's fifth – largest economy in 2019.
The report was titled 'Word Economic League table 2020'.
4- Kerala tops second edition of sustainable development goal Index
Index released by NITI Aayog.
The index covers the progress made by India's states and UT's in achieving the 2030 SDG targets.
The SDG India Index prepared jointly by Ministry of Statistics and Programme Implementation (MOSPI), UN in India and Global Green Growth Institute.
India's Score
India improved its previous score from 5T in 2018 to 60 in the SDG Index 2019-20 -
The max gains were made in
Goals 6 (Clean water and
Goals 9 (Industry, Innovate and Infrastructure)
Goals 7 (Affordable and clean Energy)
Kerala, Himanchal Pradesh, Andhra Pradesh, Tamil Nadu and Telangana have topped the list of states in the SDG's Index 2019-20 -
UP the state with biggest improvement i.e. 29th in 2018 to 23rd in 2019, followed by.
Odisha from 23rd to 15th and Sikkim from 15th to 7th
Bihar 48 in 2018 to 50 in 2019.
1- India State of Forest Report (ISFR) 2019 -
The biennial report was released by Union Ministry of Environment, forest and climate change.
The report is published by the forest survey of India.
From 1987, 16 assessments have been completed so far.
ISFR 2019 is the 16th report in the series.
Salient feature of the Report
Total forest and tree cover of the country is 80.73 million hectare i.e.
24.56% of the geographical area of the country.
In comparison to 2017, increase of 5,188 sq km. in the total forest and tree cover has been observed in the country.
Total Forest cover in the country as per the latest report is 7, 12, 249 sq. km. i.e. 21.67% of the total geographical area of India -
Inch of 3,976 sq. km. as compared to 2017.
Tree cover saw a increase of 1,212 sq. km. compared to 2017.
Top-three states showing increase in forest-cover are-
Karnataka (1,0252 sq km)
Andhra Pradesh (990 sq km)
Kerala (823 sq km)
States with the largest forest cover in the country (Area-Wise)
Madhya Pradesh
Arunachal Pradesh
Chhatisgarh
Odisha
Maharashtra
Area Wise in (% age) forest Cover-
Mizoram (85.41%)
Arunachal Pradesh (79.63%)
Meghalaya (76.33%)
Manipur (75.46%)
Nagaland (75.31%)
Mangrove Cover
Total Mangrove Cover in the country is -
4975 sq km. (inch of 54 sq km as compound to 2017)
Top 3 states with Mangrove Cover
Gujarat (37 sq km)
Maharashtra (16 sq km)
Odisha (8 sq km)