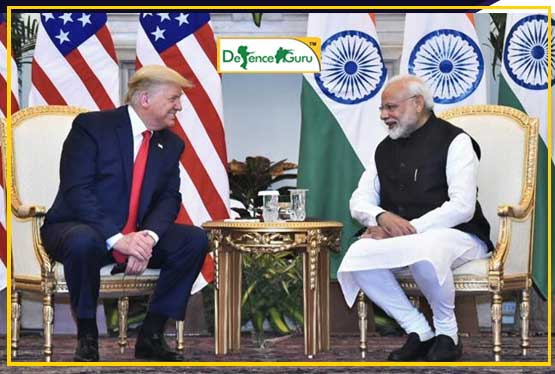 Trump India Visit on 24th and 25th February, 2020
A much-awaited global diplomatic event between the world's two biggest democracies leaders 45th President of the United States Donald Trump's and 14th Prime Minister of India Narendra Modi was held in India on February 24 and 25. This was Donald Trump's first state visit to India accompanied by his wife Melania, daughter Ivanka and son-in-law Jared Kushner and a high-level delegation.
US President Donald Trump two-day India visit has been high on optics and covered extensively by national and international media, jamming the social media platforms like twitter, facebook, instagram with bit by bit details of Trump-Modi reunion. Hours before landing in India, Trump was quite excited about his visit which was reflected in his Hindi tweet before arrival viz.:
हम भारत आने के लिए तत्पर हैं । हम रास्ते में हैँ, कुछ ही घंटों में हम सबसे मिलेंगे!
Responding to his tweet Modi tweeted for Trump viz.: अतिथि देवो भव
On 24th February Donald Trump and his wife Melania landed at Sardar Vallabhbhai Patel International Airport in Ahmedabad, Gujarat at 12 PM. PM Modi had received Trump at the Airport and in his home state Gujarat thousands of people lined the streets of Ahmedabad city in Gujarat to greet the guest. President Trump accorded with the Guard of Honour along with the cultural reception on arrival in the presence of PM Modi and all high-level dignitaries of India.
Day 1 on 24th February was scheduled with Trump visit to Sabarmati Ashram in Ahmedabad, grand roadshow on the streets of Ahmedabad leading to Motera Stadium grand event and visit to Taj Mahal, Agra.
Highlights of Day 1 events
Sabarmati Ashram
Both the leaders visited Sabarmati Ashram, where Mahatma Gandhi spent 13 years during India's freedom struggle.
- Ashram trustee Kartikeya Sarabhai welcomed Trump and Melania with a khadi stole.
- Trump and Melania also tried their hands on the khadi spinning wheel, also known as charkha.
- Melania also helped Trump in weaving khadi on charkha.
- Ashram trust gifted the Tumps a special edition of Gandhiji's autobiography, a pencil drawing of Gandhiji and a charkha were the highlights of Trump Sabarmati visit.

India Roadshow
US President Donald Trump and Prime Minister Narendra Modi began their 22-km-long roadshow on Monday from the Ahmedabad International Airport.
- The Ahmedabad Municipal Corporation has left no stone unturned to make the roadshow a memorable experience for the dignitaries as well as for the people.
- Artists and performers from many states were allotted a stage on the entire route to perform in their traditional attire.
- Hundreds of thousands of people have greeted US President Donald Trump in a massive roadshow in Ahmedabad.
Motera Stadium event
Trumps had spent three-and-a-half hours in the heritage city at Sabarmati Ashram and the Namaste Trump event at Motera Stadium.
- Donald Trump and Prime Minister Narendra Modi participated in a roadshow in Ahmedabad and later addressed the "Namaste Trump" event at the Sardar Patel Stadium in Motera area where over one lakh people were present.
- The stadium is billed as the world's largest cricket stadium with a capacity to accommodate 1.10 lakh spectators.
- Namaste Trump was similar to the landmark 'Howdy, Modi!' event hosted by the Indian-American community in honor of Prime Minister Narendra Modi during his visit to Houston in September 2019.
Taj Mahal Visit
Donald Trump became the third president to visit the architectural icon. Agra was visited by Trump family only where he was not accompanied by PM Modi. Welcomed at the airport by UP CM Yogi Adityanath and Governor Anandiben Patel, Trump visit to Agra was for 2 hours after their visit to Ahmedabad and before 2nd Day visit to Delhi.
- A large scale level of preparation has been recorded in Agra including 25,000 flower pots along the route, electric poles and traffic lights have been decorated with a fresh coat of paint, hundreds of workers were hired to clean betel leaf or paan stains on the road additionally, all the shops on the route have been asked to install boards bearing the names in same size and colour, banks of the river Yamuna and the entire road have been cleaned of litter.
- The ASI has also hired staff to prune the grass, clean the stones and re-lay damaged sections of the Taj Mahal.
Trump wrote in the visitors book before signing it that "The Taj Mahal inspires awe, a timeless testament to the rich and diverse beauty of Indian Culture!' Thank You, India".
Day 2 on 25th February was scheduled with bilateral meetings, visit to Delhi government school, ceremonial welcome at Rashtrapati Bhawan, visiting Rajghat to Mahatma Gandhi's memorial, lunch at Hyderabad House India, meeting the US Embassy staff, Presidential Banquet at Rashtrapati Bhawan hosted by President Ram Nath Kovind.
The key highlights of Bilateral meeting:
- A joint vision statement after bilateral meetings between PM Narendra Modi and President Donald Trump spelt out the way ahead to scale up relations in trade, security, technology sharing, regional stability and tackling new challenges such as the Covid-19 outbreak.
- Trump also announced that the US will seal defence deals worth $3 billion on Tuesday. The deal would include procurement of 24 MH-60 Romeo helicopters by India and contract to acquire six AH-64E Apache helicopters.
- They also announced co-operation in fighting radical Islamist terrorism
- 5G telecom technology
- Deal with Exxon Mobil will see India importing more Liquified Natural Gas (LNG) from the US.
Witnessing several occasions to Trump visit in India an enduring glimpse of Melania Trump was also encountered during her tour of the Delhi government school where she witnessed activities as part of the 'Happiness Curriculum'.
President Ram Nath Kovind in honor of US President Donald Trump hosted a banquet dinner at the Rashtrapati Bhavan in Delhi on February 25 with its forecourt decked up to its glory for the last engagement of his two-day visit to India. Trump was received by President Ram Nath Kovind and his wife Savita at the Rashtrapati Bhavan. The architectural marvel, spread over 130-hectares, was lit up for Trump and his wife Melania.
The last engagement of Trump two-day visit to India on Tuesday night before his India departure lasted with Trump statement "It was very special two days. I love India, I respect Indians. We will be back, we will be back".