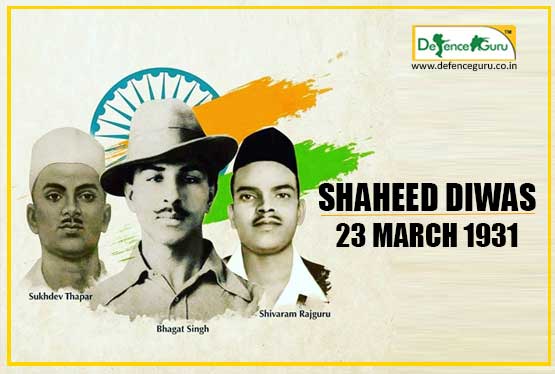 Shaheed Diwas - 23rd March
"जिनकी कुर्बानियों से हम जीवित हैं
याद हमेसा वे हमें आएंगे,
न कभी हम उन्हें भूल पाएंगे"

The Martyr's Day aliases Shaheed Diwas is the day of Remembrance, Commemoration, Recognition for the freedom fighters Bhagat Singh, Shivaram Rajguru and Sukhdev Thapar. On this martyrdom day i.e. 23rd March the valour and greatness of freedom fighters are saluted annually who inspired the spirit of fierce nationalism in generations of Indians.
Heartfelt tribute to the national warriors Bhagat Singh, Sukhdev Thapur, Shivaram Rajguru on the deaths anniversary day who had foster the combination of socialism, humanism and nationalism as a victorious trademark in the Indian Freedom struggle.
Every year on March 23, Shaheed Diwas is celebrated to commemorate the unwavering determination, courage and the highest sacrifice of Bhagat Singh, Sukhdev Thapar, and Shivaram Rajguru. On this day we pay tribute to those national warriors who were hanged to death in 1931 by the British rulers in Lahore jail for assassinating John Saunders, a British police officer in 1928. The arrest of the three in the Lahore conspiracy case, subsequent hanging and cremation in Sutlej River provided ammunition to the burning pyre of revolution.
Indians pay homage to the martyrs who infused fresh blood in the fight for India's independence. These three were among the countless who sacrificed their lives for the nation and died when they were very young. Bhagat Singh believed in the strength of the youth and had actually valued non-violence in his Independence struggle. Bhagat Singh transitioned from terrorism to revolution thereby in his last piece of writing which is drafted in February 1931 he refers to his past action in a very telling manner:
"Apparently I have acted as a terrorist. But I am not a terrorist. I am a revolutionary who has got such definite ideas.."
Our salutations and tributes to the brave sons of Bharat Mata who carved out their own path for independence where individual heroism and their aggressive need to do something for the nation stood out, departing from the path followed by the Congress leaders then. They fought for independence that can never forget them and their sacrifice in service of our motherland. Our combined duty to uphold their ideals and fight to keep their memories alive by fulfilling their mission of making our country great is the need of an hour. New generation new spirit build the future and Youth of the nation diversion and assertion in diversified fields embarks the Powerful India.