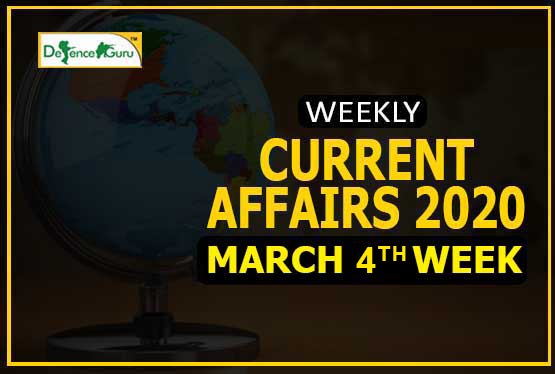 APPOINTMENTS
1.PMO sets up high-level panels to deal with situation post lockdown
The Prime Minister's Office (PMO) constituted 10 different high-level committees to suggest measures to ramp up healthcare, put the economy back on track, reduce pain and misery of people as quickly as possible post 21-day lockdown imposed to contain the coronavirus pandemic. These committees looking after various aspects will work under the overall guidance of P K Mishra, Principal Secretary to the Prime Minister. The initiative is being viewed as a proactive step by the government to deal with multiple challenges, which the outbreak of pandemic COVID-19 has posed and made the country to deal with emergency situations.
Each group will have about 6 members with one officer from the PMO and Cabinet Secretariat, so that there is full coordination and suggestions accepted are implemented without any delay. Each group has been given an upper time limit of a week to come out with measures on the specified sector.
2.BP Kanungo
BP Kanungo was reappointed as the Deputy Governor of the Reserve Bank of India. His reappointment came after the Appointments Committee of Cabinet approved Kanungo's term extension for a period of one year with effect from March 27. Kanungo's tenure was to end on April 3. Kanungo was the executive director of RBI before he took charge as the deputy governor back in April 2017. He oversees departments like currency management, payments and settlement, foreign exchange, internal debt management. NS Vishwanathan, MK Jain and Michael Patra also hold the position of deputy governor of RBI apart from Kanungo. The RBI, headed by Governor Shaktikanta Das, can have a maximum of four deputy governors.
3.KM Prasad and SK Gupta
The Appointment Committee of the Cabinet has approved the appointment of two Indian Revenue Service (IRS) officers as members of the Central Board of Direct Taxes (CBDT). 1984 batch IRS officer, Krishan Mohan Prasad and 1984-batch IRS officer Satish Kumar Gupta were appointed as CBDT members. The interaction for two vacant CBDT board member posts was held on January 23 and finally, these two were selected for the board members from eight shortlisted applicants.
4.Sameer Aggarwal,
Sameer Aggarwal has been appointed as CEO of Walmart India. He will report to Dirk Van Den Berghe, Executive Vice-President and Regional CEO of Asia and Global Sourcing, Walmart. Aggarwal appointment comes into effect from April 1. He succeeds Krish Iyer, who is set to retire and assume the role of advisor to Best Price, Walmart India.
5.Sunil Chhetri
India football captain Sunil Chhetri has been picked by FIFA along with 28 past and present stars for the world governing body's awareness campaign to combat the COVID-19 pandemic. FIFA and the World Health Organization (WHO) have teamed up to combat the coronavirus by launching a new awareness campaign led by world-renowned footballers. The 'Pass the message to kick out coronavirus' campaign promotes five key steps for people to follow to protect their health in line with WHO guidance, focused on hand washing, coughing etiquette, not touching your face, physical distance and staying home if feeling unwell. The 28 players, who will be involved in the video campaign to be published in 13 languages, include some of the best known players like Argentine superstar Lionel Messi and World Cup winners like Philip Lahm, Iker Casillas and Carles Puyol.
6.Shivraj Singh Chauhan
In Madhya Pradesh, senior BJP leader Shivraj Singh Chauhan has become Chief Minister of the state for the fourth time. Governor Lalji Tandon administered him the oath of office and secrecy at a simple ceremony held at Raj Bhavan. Mr Shivraj Singh took oath alone due to the outbreak of Coronavirus. After the Assembly elections, senior Congress leader Kamal Nath was sworn in as Chief Minister on 17th of December.
BOOKS
7.'Legacy of Learning'-- Sativa Chhabra
Award-winning businesswoman, Savita Chhabra, Chairperson, HRIPL has launched her debut book, called 'Legacy of Learning'. The book offers simplistic and relatable interpretations of the Bhagavad Gita in an attempt to connect the youth of India to the age-old, but relevant scriptures. Empathising with the stressful lives that today's generation of millennials and zillennials lead, the book offers fictional stories woven around chosen verses. The book introduces readers to the importance of performing good karma and nudges them to be conscious about the purpose of their lives in every decision they make.
AWARDS
8.IIFTC Tourism Impact Award 2020
Zoya Akhtar won the IIFTC Tourism Impact Award 2020 for her outstanding contribution to world tourism through her cinema at the 8th India International Film Tourism Conclave (IIFTC). Zoya Akhter set the trend in the film tourism space with her 2011 classic 'Zindagi Na Milegi Dobara' shot in Spain, following it up with 2015 comedy-drama 'Dil Dhadakne Do' shot in Turkey. She has single handedly promoted tourism of these counties through her films. Since its inception in 2013, IIFTC's single minded objective is to bring the global film locations to the Indian film industry.
9.Indian-origin US author Ruchika Tomar wins 2020 PEN/Hemingway Award
Indian-origin American author Ruchika Tomar has been named the winner of the prestigious 2020 PEN/Hemingway Award for her debut novel ''A Prayer for Travelers''. The award, honouring a "distinguished" first novel, includes a USD 25,000 prize and a month-long Residency Fellowship at the Ucross Foundation in Wyoming, a retreat for artists and writers, valued at USD 10,000. The PEN/Hemingway Award for Debut Novel honours a debut novel of exceptional merit by an American author who has not previously published a full-length book of fiction.
DEATHS
10.IAF veteran Air Vice Marshal (retd) Chandan Singh Rathore
Prime Minister Narendra Modi consoled the demise of former Air Vice Marshal Chandan Singh Rathore. Maha Vir Chakra (MVC) Recipient, Rathore had distinguished himself as a young air warrior during the Sino-India 1962 war and the 1971 Indo-Pak war. During the war with Pakistan, Rathore was at the forefront of air operations conducted for the liberation of Bangladesh. Rathore was also responsible for the planning and execution of the special helicopter operations to airlift two companies of troops of the Sylhet area in Bangladesh.
11.Thomas Schaefer
Thomas Schaefer, the Finance Minister of Germany's Hesse state, had committed suicide. He was reportedly concerned over the coronavirus pandemic, and how to deal with the economic fallout from the crisis. Hesse is the German state which is home to Frankfurt, considered to be the financial capital of Germany. Schafer belonged to Angela Merkel's centre-right Christian Democrats (CDU).
12.Ken Shimura
Veteran Japanese comedian Ken Shimura died of pneumonia caused by the coronavirus. The 70-year-old comic was declared coronavirus positive on March 23. He was the first Japanese celebrity to contract the highly contagious virus. The icon joined a Japanese comic series group 'Drifters' in 1974. The group later became one of the biggest successes in the history of Japanese Comedy. Shimura rose to prominence after he starred in the prime-time television comedy show of the group 'Hachijidayo Zeninshugo.'
13.Brahma Kumari's Chief Dadi Janki
Rajyogini Dadi Janki, the Chief of Brahmakumaris Sansthan, the world's largest spiritual organization run by women, passed away at the age of 104 after prolonged illness. She was suffering from respiratory and stomach-related problems for the last two months. Rajyogini Dadi Janki was born on 1st of January 1916 in Hyderabad city located in Sindh province now in Pakistan. She had embraced the spiritual path at the age of 21. In the 1970s, she moved to western countries to establish Indian philosophy, Raj Yoga and human values. She had set up 'Seva Kendras' in 140 countries around the world. Dadi janki was appointed the brand ambassador of Swachh Bharat Abhiyaan (Clean India Mission) by the government for her work in the field of maintaining cleanliness.
14.Floyd Cardoz
Renowned chef Floyd Cardoz, who ran the successful 'Bombay Canteen', 'O Pedro' and 'Bombay Sweet Shop' in Mumbai passed away due to complications from the coronavirus. The 59-year-old co-founder of Hunger Inc Hospitality, tested positive for Covid-19 in the USA on March 18. The culinary star, committed to making the food industry more sustainable, began his hospitality training in his native Mumbai. He later moved to Switzerland, where he honed his skills in French, Italian and Indian cuisine before moving on to the kitchens of New York City. Cardoz also competed on 'Top Chef' and won 'Top Chef Masters'.
15.Satish Gujral
Satish Gujral, 94, one of India's most well known artists, passed away. He was an Indian painter, sculptor, muralist and writer of the post-independent era. He was awarded the Padma Vibhushan, the second-highest civilian award of the Republic of India, in 1999. His elder brother, Inder Kumar Gujral, was the former Prime Minister of India.
16.Nemai Ghosh
Veteran photographer Nemai Ghosh, who had a long association with directing the great Satyajit Ray, passed away. Nemai Ghosh debuted with 'Goopy Gyne Bagha Byne' (1969) and was with Satyajit Ray till his last film 'Agantuk' (1991). A Padma Shri recipient, Nemai Ghosh had also penned books such as 'Manik Da: Memoirs of Satyajit Ray', which are invaluable references for Ray enthusiasts. He also served as a jury member at the 2007 National Film Awards.
17.Abdul Latif
Former India midfielder Abdul Latif, who was also a key member of the bronze medal winning team at the 1970 Bangkok Asian Games died. He also represented India in Asia Cup Qualifier in 1968 in Myanmar and Merdeka Cup in 1969 in Kuala Lumpur. Latif represented Mohammedan Sporting from 1963-1967 and later took over as coach.
18.Kenny Rogers
Legendary country music singer Kenny Rogers, best known for global hits such as "Lucille", "Lady", "The Gambler" and "Islands in the Stream", has passed away. He was elected to the USA's Music Hall of Fame in 2013. In a career spanning six decades, Rogers won three Grammys and six CMA Awards.
SPORTS
19.IAAF suspends Indian shot putter Navin Chikara for four years for failing dope test
Indian shot putter Navin Chikara was suspended for four years by global athletics body's (IAAF) Athletics Integrity Unit for failing an out-of-competition dope test in 2018. Chikara was banned for the presence and use of a prohibited substance and his four-year suspension starts from July 27, 2018. On 27 July 2018, the Athlete was subject to out-of-competition Testing pursuant to the Testing Authority of the National Anti-Doping Agency of India in Patiala.
20.Canada becomes first country to withdraw from 2020 Tokyo Olympic
The 2020 Olympic and Paralympic Games in Tokyo have been thrown into further doubt after Canada became the first major country to withdraw. Japan's Prime Minister Shinzo Abe has admitted for the first time that the games could be postponed. The International Olympic Committee is expected to decide the fate of the games in four weeks' time. The games are currently due to begin on 24th July.
INTERNATIONAL
21.North Macedonia becomes NATO's 30th member
North Macedonia officially became the 30th member of the NATO military alliance. North Macedonia's flag will be raised alongside those of the other 29 member countries at NATO headquarters in Brussels. North Macedonia previously was known as Macedonia, a name it shared with a Greek province. This membership comes after North Macedonia's 2017 deal with Athens, the country changed its name and Greece agreed to drop objections to its NATO and eventual EU membership.
22.ULA's Atlas 5 launches AEHF-6 communications satellite
A United Launch Alliance Atlas 5 rocket lifted off carrying a $1.4 billion Advanced Extremely High Frequency (AEHF-6) communications satellite for the U.S. Space Force. This was the sixth and final satellite of the AEHF constellation that provides secure, jam-proof voice and data communications for U.S. national leadership, military forces. It has international partners like Canada, the Netherlands, the United Kingdom and Australia. Atlas 5 rockets launched the first five AEHF satellites in 2010, 2012, 2013, 2018 and 2019.
23.World Theatre Day: 27 March
World Theatre Day (WTD) is celebrated on 27 March. It was initiated in 1961 by the International Theatre Institute. It is celebrated to generate awareness about the importance of theatre arts. It is also celebrated to showcase the important role artists play in the field of entertainment. It also talks about the changes theatre brings in people's lives.
24.US Senate passes 2.2 trillion dollar economic rescue package
The United States Senate has passed an unparalleled 2.2- trillion-dollar economic rescue package steering aid to businesses, workers and health care systems engulfed by the Corona virus pandemic. The 880-page aid package is the largest economic relief bill in US history, its value equivalent to more than half of the nation's entire $4 trillion annual budget. President Donald Trump has called for Americans to dedicate themselves for 15 days to social distancing, including staying home from work and closing bars and restaurants to help try to stall the spread of the disease.
25.Bangladesh Independence Day: 26 March
Bangladesh observes its 50th Independence Day on 26 March. It commemorates the country's declaration of independence from Pakistan in the late hours of 26 March 1971 by the leader of the Nation Sheikh Mujibur Rahman. But this year, the government cancelled all programmes of the day as the country fights to contain the transmission of novel coronavirus (COVID-19).
26.US, UAE troops launch major exercise 'Native Fury'
The United Arab Emirates and U.S. Marines and Emirati forces held a major military exercise amid tensions with Iran and despite the new coronavirus pandemic. The biennial exercise, called Native Fury, shows the close ties between American forces and the UAE. The exercise saw 4,000 U.S. troops from the Army, Marines and Navy position armored vehicles and other equipment from Kuwait and the island of Diego Garcia in al-Hamra using a portable pier system. The barren desert, some 200 kilometers (125 miles) southwest of Abu Dhabi, is home to the UAE's vast oil reserves as well as its new Barakah nuclear power plant.
27.Saudi Arabia proposes to convene "extraordinary virtual G20 Leaders' Summit" on March 26
Saudi Arabia which is in chair has proposed to convene an "extraordinary virtual G20 Leaders' Summit" on 26th March to advance a coordinated response to the COVID-19 pandemic and its human and economic implications. King Salman Bin Abdulaziz Al Saud will chair the meeting of this "extraordinary Summit". G20 members will be joined by leaders from invited countries, Spain, Jordan, Singapore, and Switzerland as well as international organizations. Regional organizations will be represented by Vietnam the Chair of the Association of Southeast Asian Nations (ASEAN), South Africa the Chair of the African Union (AU), the United Arab Emirates the Chair of the Gulf Cooperation Council (GCC) and Rwanda the Chair of the New Partnership for Africa's Development (NEPAD). G20 is one of the major forums for international cooperation on financial and economic issues and a primary platform for global economic governance.
28.Bangladesh govt to release Former Prime Minister Khaleda Zia for Six months
Government of Bangladesh has decided to suspend the sentence of the former Prime Minister and Chairperson of the main opposition Bangladesh Nationalist Party (BNP) with certain conditions on humanitarian grounds. Khaleda Zia will be allowed to receive treatment at her home but she would not be allowed to go abroad. BNP Chairperson is in jail since 2018 after the court sentenced her to five years imprisonment in 2017 in connection with the Zia Orphanage Trust graft case. Khaleda Zia is a Bangladeshi politician who served as the Prime Minister of Bangladesh from 1991 to 1996, and again from 2001 to 2006. She was the first woman in the country's history and second in the Muslim majority countries to head a democratic government as prime minister.
29.World Tuberculosis Day: 24 March
Every year, World Tuberculosis Day is celebrated on March 24. World Tuberculosis Day is observed all around the world to raise public awareness about the devastating health, social and economic consequences of Tuberculosis. The day is observed on March 24 to mark the day when Dr. Robert Koch announced that he had discovered the bacterium that causes TB in 1882.
The World TB Day 2020 theme is 'It's Time'.
30.Singapore tops economic freedom index, India at 120th place
Singapore overtook Hong Kong as the world's freest economy for the first time in the latest Heritage Foundation Index of Economic Freedom. India has been ranked in 120th position in the study, it has been slowly but steadily making progress. The World Index of Economic Freedom covers 12 freedoms including property rights, financial freedom, government integrity, labour freedom, trade freedom, investment freedom and business freedom. The Index was first published in 1995 and Hong Kong has topped the charts ever since.
31.Bangladesh, Nepal, Afghanistan jointly contribute $3.5 mn to SAARC corona emergency fund
Bangladesh and Nepal pledged to contribute $1.5 million and $1 million respectively to the SAARC Corona Emergency Fund proposed by PM Narendra Modi with an initial offer of $10 million from India to help combat the fast-spreading COVID-19 pandemic in the region. India first announced to provide $10 million to the fund and subsequently Nepal and Afghanistan promised $1 million each and the Maldives and Bhutan committed $200,000 and 100,000 respectively. Pakistan and Sri Lanka are yet to declare their contribution for the fund.
32.World Meteorological Day: 23 March
World Meteorological Day is observed every year on 23 March. The day was established on March 23, 1950. This year, World Water Day and World Meteorological Day share the same theme: "Water and Climate Change". World Meteorological Organization (WMO) is an intergovernmental organization with a membership of 193 Member States and Territories.
33.World Water Day 2020: 22 March
World Water Day is celebrated on March 22 every year. It is celebrated to mark the importance of freshwater and spreading awareness for the sustainable management of freshwater resources. World Water day is an opportunity to talk about initiatives and measures to save water
2020 theme: "Water and Climate Change"
34.International Day for the Elimination of Racial Discrimination : 21 March
The International Day for the Elimination of Racial Discrimination is observed annually on 21 March. On that day, in 1960, police opened fire and killed 69 people at a peaceful demonstration in Sharpeville, South Africa, against the apartheid pass laws. International Day for the Elimination of Racial Discrimination 2020 is focused on the midterm review of the International Decade for People of African Descent.
35.Navroz, the Iranian New Year
Navroz, the Iranian New Year, Persian New Year or the Parsi New Year was observed on March 20 in India. While the festival is a holy festival for the Zorastian, some Muslim and Iranian communities, it is celebrated by several faiths across the world. Navroz marks the first day of spring, and while it usually takes place on March 21, the date may vary by a day before or after depending on where it is celebrated. Navroz marks the first day of the month of Farvardin on the Iranian calendar. Navroz comes from the Persian words 'Nav' meaning new and 'roz' meaning day, so it literally translates to New Day.
36.World Poetry Day: 21 March
The World Poetry Day is observed every year on 21 March. The initiative is organized by the United Nations Educational, Scientific, and Cultural Organization (UNESCO). Poetry Day can be aptly called as a time to appreciate and support poets and poetry around the world. UNESCO designated March 21 as the World Poetry Day in its 30th session held in Paris in November 1999. The first World Poetry Day was held on March 21, 2000.
37.World Down Syndrome Day : 21 March
World Down Syndrome Day is observed every year on March 21. It is observed in order to raise awareness among people about Down Syndrome and educate people about this disorder. According to the United Nations, every year 3,000 to 5,000 children are born with this chromosome disorder called Down syndrome. Down Syndrome occurs when an individual is born with an extra partial copy of chromosome 21. Down syndrome commonly results in variable effects on learning styles, health, and even physical characteristics. World Down Syndrome day 2020 theme is "We Decide".
38.World Happiness Report 2020
India was at a dismal 144 rank of a total 156 nations surveyed on the World Happiness Report 2020. Finland was once again crowned as the world's happiest country, extending its lead over Denmark and Switzerland. The World Happiness Report is an annual survey by the Sustainable Development Solutions Network for the United Nations. The data used to compile this ranking was collected in the years 2018 and 2019.Afghanistan ranked lowest among 153 countries, with South Sudan and Zimbabwe just above it.
NATI ONAL
39.ADB to invest $100 million in NIIF fund of funds
Asian Development Bank (ADB) will invest $100 million into the National Investment and Infrastructure Fund (NIIF) of India Fund of Funds. With ADB's investment into the NIIF platform, the FoF has now secured $700 million in commitments. ADB will now join the Government of India (GOI) and Asian Infrastructure Investment Bank (AIIB) as an investor in the Fund. NIIF is India's first sovereign wealth fund that was set up by the Government of India in February 2015.
40.Rajasthan statehood day: 30 March
Prime Minister Narendra Modi greeted Rajasthan on the state day and wished the progress of the people will continue. Rajasthan, the largest Indian state by area, was established on this day in 1949. The state was formed on 30 March, when Rajputana, the name adopted by the British Raj for its dependencies in the region, was merged into the Dominion of India.
Points to Remember: Rajasthan
Capital: Jaipur
Number of District : 33
Governor: Kalraj Mishra
Chief Minister: Ashok Gehlot
High court: Rajasthan High Court (Jaipur)
Chief Justice: Indrajit Mahanty
Members of the Legislative Assembly: 200
Lok Sabha Seats : 25
Rajya Sabha Seats : 10
41.Nagaland CM launches Self Declaration COVID-19 App
Nagalad Chief Minister Neiphiu Rio launched the Self Declaration COVID-19 Nagaland App at Kohima. The app will be mandatory for any person who entered Nagaland after March 6. He added that the app is crucial for tracking and surveillance of high-risk cases.
42.GDP likely to grow just 2% in 2020-21: ICRA
According to ICRA, Despite the Reserve Bank of India's (RBI) massive actions to spur the economy, India's gross domestic product (GDP) is likely to contract by 4.5 per cent in the April-June 2020 quarter. It will rise by only 2 per cent in 2020-21 on the coronavirus impact. The Indian economy was already supposed to clock a decadal low growth of 5 per cent in 2019-20, according to official estimates.
43.Chennai Port Trust Acquires 67% Stake in Kamarajar Port
Chennai Port Trust has acquired from the Centre 67% stake in Kamarajar Port Ltd for INR 2,383 crore making the latter its wholly-owned subsidiary. This agreement comes into force with immediate effect. Both ports would operate as different entities for the betterment of exim trade KPL as corporate firm and ChPT as trust. ChPT will continue to handle clean cargo such as containers, cars, liquid cargo, cruise and passenger traffic, while KPL will create additional capacity for all other types of bulk, dry and liquid cargo. Kamarajar Port Limited, formerly Ennore Port, is located on the Coromandel Coast in Tamil Nadu, it is the 12th major port of India, and the first port in India which is a public company.
44.Abbott gets approval to launch 5-minute COVID-19 test for use almost anywhere
Abbott announced it has received the United States Food and Drug Administration's Emergency Use Authorisation (EUA) for its rapid, portable, point-of-care molecular test for the detection of novel coronavirus (COVID-19). The test, called ID NOW COVID-19, delivers positive results in as little as five minutes and negative results in 13 minutes. Abbott said it makes the tests available next week to healthcare providers in urgent care settings in the US. At the moment Abbott's testing will be confined to the US, but given the urgency of the situation, it could be a matter of weeks before it is available in other countries including India.
45.Panama govt permits cruise ship with Coronavirus infected people through its canal
Panama's government has given permission to a cruise ship on which four passengers have died during travel through its canal. Earlier, the Panama Government had denied access to the Panama canal over Coronavirus fears. It decided to allow the ship to pass on humanitarian ground but stressed that no passenger nor member of crew can disembark on Panamanian soil. The Panama Canal is an artificial 82 km waterway in Panama that connects the Atlantic Ocean with the Pacific Ocean.
46.India to participate in WHO solidarity trial for developing potential drugs for COVID-19
India will soon participate in the WHO solidarity trial for developing potential drugs for COVID-19. Earlier India did not do so because the numbers were so small that contribution would have looked minuscule. The trial will not only test different drugs but will also compare their effectiveness.
SOLIDARITY will test:
Remdesivir
Chloroquine and hydroxychloroquine
Ritonavir/lopinavir
Ritonavir/lopinavir and interferon-beta
47.Army Chief starts 'Operation Namaste' to combat COVID-19
Army Chief Gen Manoj Mukund Naravane launched an initiative christened 'Operation Namaste' to extend all possible assistance to the government in containing the spread of coronavirus. He also asked all Army personnel to take prescribed precautions against the virus and assured soldiers and officers deployed along borders with Pakistan and China that special care is being taken of their families in the wake of the pandemic. Isolation wards are being set up at hospitals in formations along the border areas besides launching communication campaigns for the soldiers and officials. Social distancing among the Army personnel may not be possible to implement in key formations due tactical and operational reasons. Under 'Operation Namaste', the Army has issued a series of directives to all its bases to insulate the force from the coronavirus.
48.PM Narendra Modi announces PM-CARES fund to fight coronavirus outbreak
Prime Minister Narendra Modi announced the creation of an assistance and emergency situation relief fund where people can contribute and help in the government's fight against coronavirus. The Prime Minister's Citizen Assistance and Relief in Emergency Situations (CARES) Fund will go a long way in creating a healthier India. This Fund will also cater to similar distressing situations, if they occur in the times ahead. This fund enables micro-donations as a result of which a large number of people will be able to contribute with the smallest of denominations. People can visit www.pmindia.gov.in to make contributions using credit and debit cards, UPI, net banking and RTGS or NEFT.
49.Dept. of Disaster Management designated as Nodal dept. for COVID-19 related procurement in A&N Islands
In the wake of the Coronavirus outbreak the Department of Disaster Management has been designated as the Nodal department for COVID-19 related procurement in the A&N Islands. The department is taking various steps to ensure procurement of medical equipment considering the nationwide lockdown. Two lakh three-ply masks and 5,000 N-95 masks have been delivered at Hindon Airbase, Gaziabad and will be airlifted with the help of A&N Command soon.
50.UP CM constitutes 'Team-11' to beat corona
UP Chief Minister Yogi Adityanath has set up "Team-11" comprising as many inter-departmental committees to fight the coronavirus spread on multiple fronts ranging from ensuring medicare to victims to the supply of essentials and tackle long marches of jobless workers back home. Each of the committees will be headed by a senior bureaucrat of the state while the chief minister himself will be the head of Team 11. He has formed 11 inter-departmental committees with over two dozen senior government officials working at crucial levels under the CM's supervision. There will also be a committee to study the impact on the economy due to the epidemic and to prepare a future strategy besides ensuring effective procurement of farmers' crops like wheat, potatoes, mustard etc.
51.Shilpa Shetty Kundra partners with Fit India
In a first-of-its-kind step, the government''s flagship fitness movement, Fit India, has partnered with Bollywood actor and fitness icon Shilpa Shetty Kundra to provide her premium 21-Day Weight Loss Programme. The program includes diet tips, free of cost on the Shilpa Shetty App (SS App), during the 21-day lockdown owing to Covid-19. For this period of lockdown that India is in right now, we have made the App''s premium ''21-Day Weight Loss Program'' free for all Indian and global users.
52.Odisha announces Covid-19-dedicated hospitals with 1,000 beds
The Odisha government announced it will set up two 500-bed hospitals to exclusively treat Covid-19 patients. The hospitals, being set up in partnership with Kalinga Institute of Medical Sciences and SUM Hospital, will be functional in a fortnight. While there were three positive cases of Covid-19 in the state as of March 26, the state government is preparing for any possible deterioration in the situation. About 84,000 people had returned to the state recently from other states and abroad. Panchayats across the state have already readied 7,200 beds for isolation and quarantine purposes.
53.PESO takes measures to ensure uninterrupted supply of oxygen to hospitals, other health care facilities
Petroleum and Explosives Safety Organization, PESO has taken various measures to ensure uninterrupted supply of Oxygen to hospitals and other health care facilities due to nationwide lock down for containment of COVID-19 pandemic. Instructions have been issued by PESO to all its offices to ensure grant of licences for storage and transport of medical oxygen on an urgent basis. The validity of licenses for transportation of oxygen and other gases which will expire on 31st of this month has been extended up to 30th June this year. The advisory has been also issued to all States, requesting them to allow uninterrupted transportation and manufacturing of medical oxygen and nitrous oxide.
PESO Headquarters location: Nagpur
Founded: 9 September 1898
54.IIT Gandhinagar launches Project 'Isaac' to engage students in creative projects during Corona lockdown
Indian Institute of Technology, Gandhinagar (IITGN) has launched Project Isaac to engage its students in creative projects to enhance their critical skills while they are confined to their homes because of Coronavirus. The project is inspired by Sir Isaac Newton, who was similarly sent home by Trinity College, Cambridge, because of the Great Plague of London in 1665. During this year, Newton, then a 22-year-old college student developed some of his most profound discoveries, including early calculus, as well as his theories of optics and gravity. Project Isaac is a model for academic institutions worldwide to explore ways to engage students in the midst of the pandemic.
55.MoTA writes to all states for rescheduling of Holidays in Ekalavya model schools
Ministry of Tribal Affairs has written to Tribal Development Departments of all states for rescheduling of Holidays in Eklavya Model Residential Schools and Eklavya Model Day Boarding Schools due to COVID-19. Summer Holidays to be advanced as a special case and schools to remain shut till 25th of May or till further orders. During this period, entry of outsiders into the campus is completely banned. Eklavya Model Residential School (EMRS) is a Government of India scheme for model residential school for Indian tribals (ST, Scheduled Tribes) across India. It is one of the flagship interventions of the Ministry of Tribal Affairs, Government of India.
56.Extraordinary Virtual G20 Leaders' Summit
An Extraordinary Virtual G20 Leaders' Summit was convened on 26 March 2020 to discuss the challenges posed by the outbreak of the COVID-19 pandemic and to forge a global coordinated response. The extraordinary G20 Summit was a culmination of the Finance Ministers and Central Bank Governors Meeting and G20 Sherpas Meeting on the COVID-19 pandemic. At the meeting, G20 Leaders agreed to take all necessary measures to contain the pandemic and protect people. G20 countries committed to inject over USD 5 trillion into the global economy to counter the social and economic impact of COVID-19.
57.RBI cuts repo rate by 75 bps to 4.40% to mitigate Covid-19 impact
The Reserve Bank of India (RBI) finally responded to the coronavirus-induced crisis with a whopping 75 basis points cut in the repo rate, bringing it down to 4.4 per cent. The repo rate has thus fallen to the lowest ever. Before this, it had hit the lowest point of 4.74% in April 2009 in the wake of the Global Financial Crisis. The central bank also lowered the reverse repo rate by 90 basis points. The rate cut was warranted by disruptive force of coronavirus, the central bank said.
58.Govt postpones Census 2021, NPR updation amid coronavirus crisis
Amid the outbreak of COVID-19 pandemic, the first phase of Census 2021 and the updation of the National Population Register (NPR) was postponed until further orders. The exercises were scheduled to be carried out from April 1 to September 30. The announcement came a day after the Prime Minister Narendra Modi announced a 21-day lockdown across the country, effective from March 24. The Census 2021 was scheduled to be conducted in two phases during April-September, 2020. Besides, the updation of controversial NPR was proposed to be held along with phase I of Census 2021 in all the states and union territories (except Assam).
59.Digital Industry to temporarily default HD content streaming to SD
All companies from the digital industry have decided upon temporarily defaulting HD (High-Definition) & ultra-HD streaming to SD (Standard-Definition) content or offering only SD content, at bitrates no higher than 480p on cellular networks until 14th April. The move comes looking at potential impact on the cellular network infrastructure caused by the unprecedented surge in mobile internet consumption as people are staying at their homes responding to the Prime Minister's call for social distancing & now a total lockdown. The digital industry has decided to act immediately in the larger national and consumer interest and to ensure the robustness of the cellular network.
60.EC allows use of indelible ink stamp for home quarantine
Election Commission has decided to allow usage of indelible ink on persons for stamping for home quarantine by health authorities in view of COVID-19. The Health Ministry may standardise the mark and the location on the body where the mark has to be applied so that it does not come in the way of conducting elections. The concerned authorities will be instructed not to use the Indelible Ink on any finger on the left hand of any persons. Indelible in is applied to the forefinger of voters during elections in order to prevent electoral fraud such as double voting. Electoral stain typically contains a pigment, a silver nitrate which stains the skin on exposure to ultraviolet light.
61.Odisha government launches 'Mo Jeeban' programme
Odisha Chief Minister Naveen Patnaik launched 'Mo Jeeban' programme and urged people to take a pledge to stay indoors. Striking an emotional chord with the people who have voted him to power five times in a row since the year 2000, Patnaik said, During the last 20 years, I have made several appeals and you have responded. Today, I am seeking your cooperation and support to keep everyone safe. Patnaik asked people to take an oath in the name of their children and parents that they will not be the reason of danger for their family and community. He also asked the people to paste a sticker on the front gate of their houses to show their resolve.
62.PM Modi allocates Rs 15,000 Cr for Healthcare Infra to combat Covid-19
Prime Minister Narendra Modi has announced that the entire country will go into complete lockdown for 21 days. The government has allocated 15,000 crore rupees to strengthen health infrastructure to the spread of coronavirus. Testing facilities, Personal Protective Equipments, Isolation Beds, ICU beds,ventilators,and the number of other necessary tools will be increased rapidly.
63.First 'Made in India' COVID19 Test Kit to diagnose COVID-19 gets the commercial approval
First Made in India Test Kit to diagnose COVID-19 has got commercial approval by the Central Drugs Standard Control Organisation (CDSCO). According to the developers, it would cost nearly one-fourth of the current procurement cost and is faster as it screens and detects the infection within 2.5 hours as compared with over 7 hours by others. The kit has been developed by Pune-based molecular diagnostics company Mylab Discovery Solutions Pvt Ltd. The kit has been named as 'Mylab PathoDetect COVID-19 Qualitative PCR kit'.
64.Madhya Pradesh: CM Shivraj Singh Chouhan wins trust vote
In Madhya Pradesh, Chief Minister Shivraj Singh Chouhan proved his majority by winning the trust vote in the Assembly. He previously served as the Chief Minister of Madhya Pradesh, between 2005 and 2018, and holds the record as the state's longest serving Chief Minister. He is often referred to as Mamaji. In the 230-member Assembly, the BJP has 107 legislators. The Congress' strength has now been reduced to 92 following the resignation of its 22 MLAs. At present, 24 seats in the Assembly are lying vacant, reducing the size of the house to 206.
65.38th district to be formed in Tamil Nadu
In Tamil Nadu, a new district is going to be formed after bifurcating the Nagappattinam district. The new district will be headquartered at Mayiladuthurai, in the heart of the Delta region. Mayiladuthurai, located at a distance of 281 kilometres from Chennai, is home to several temples dating back to the medieval Chola era. There are currently 37 districts in Tamil Nadu, of which five new districts were formed only last year. The state Chief Minister Edappadi Palaniswamy made the announcement saying it would be the 38th district in the state.
66.IIT Madras to host India's first 'Global Hyperloop Pod Competition'
Indian Institute of Technology Madras is organizing India's first Global Hyperloop Pod Competition to increase awareness and enthusiasm about Hyperloop in India. The competition is open globally and the final round will take place in the IIT Madras campus in July 2020. The objective of this competition is to encourage student teams in India and abroad to develop a Hyperloop Pod and compete to build the fastest, most innovative and efficient design and prototype of the relevant technologies in the field. Hyperloop is the 5th mode of transportation, a high-speed train that travels in a near-vacuum tube. The reduced air resistance allows the capsule inside the tube to reach speeds of more than 1000 km/h.
67.Centre waives ATM withdrawal charges for three months
Union finance minister Nirmala Sitharaman waived minimum balance charges for savings bank accounts to help citizens deal with the lockdown due to the coronavirus crisis. Also, debit card holders can now withdraw cash from ATMs of all banks free of charge for the next three months. Sitharaman further extended the deadline for filing GST (goods and services tax) returns for March-May to June 30. On late filing of GST returns, no late fee, penalty or interest will be charged for companies with turnover of up to Rs 5 crore. The minister also said 'Sab ka Vishwas' indirect tax dispute redressal scheme has also been extended to June 30 and no interest on payment made till June 30 will be charged.
68.National Forensic Sciences University bill introduced in Lok Sabha
A bill seeking to establish a National Forensic Sciences University as an institution of national importance by upgrading the Gujarat Forensic Sciences University in Gandhinagar was introduced in Lok Sabha. The National Forensic Sciences University Bill, 2020 was introduced by Minister of State for Home G Kishan Reddy. Forensic sciences, criminology and applied behavioural sciences play a critical role in criminal investigations and prevention of crimes. The proposed National Forensic Sciences University will promote studies and research in forensic science in conjunction with applied behavioural science studies, law, criminology and other allied areas for strengthening the criminal justice system in the country.
69.Satyarup Siddhanta becomes first Indian to complete volcanic Seven Summit, enters 'Limca Book of Records'
An Indian mountaineer, Satyarup Siddhanta has been nominated for the coveted Limca Book of World Records for his extraordinary achievement to be the first Indian to climb the highest volcanoes of each of the 7 continents. After Guinness Book of World Records, the Bengaluru-based 37-years-old techie mountaineer is now shining on the prestigious index of 'Limca Book of records'. It is to be noted that he achieved this feat last year in Jan 2019 but received the official acknowledgement and certificate recently. He climbed the highest volcano of Antarctica - Mt Sidley to complete his 7 summits and Volcanic 7 summits. Satyarup holds a world record for being the youngest in the world to summit the highest mountains (7 Summits) of each continent, including the Mt Everest in Nepal, and highest Volcanoes (Volcanic 7 summits) of each continent.
70.Punjab become 1st State to impose curfew amid Lockdown
The Punjab government imposed a curfew to stop the spread of coronavirus, making it the first state to take the drastic measure. Chief Minister Amarinder Singh announced the curfew as people were defying the lockdown imposed in the state. Curfew was imposed as people were still coming out in large numbers. So the idea is to keep them inside. Anybody seeking relaxation to the restrictions will get them for a given period and purpose.
71.Gujarat Police first in India to introduce taser guns
The Gujarat Police is now equipped with taser guns as a part of their modernization drive to ensure public safety and security. According to Gujarat Police officials, taser guns have been introduced to find an alternative between "ineffective lathis" and "deadly guns". By introducing these as part of the police arsenal, Gujarat becomes the first state in India to do so. In cases of unruly mob indulging in violence, at present, police exercise lathi strikes and use tear gas shells. These electricity signals temporarily overwhelm communications to muscles, rendering the subject temporarily incapacitated and allowing officers to safely restrain and handle the situation.
72.IOC becomes 1st company to begin supply of BS-VI fuel across country
Indian Oil Corp, the nation's biggest oil firm, has begun the supply of the world's cleanest petrol and diesel across the country with all its 28,000 petrol pumps dispensing ultra-low sulphur fuel a good two weeks before the April 1 deadline. Other fuel retailers, Bharat Petroleum Corp Ltd (BPCL) and Hindustan Petroleum Corp Ltd (HPCL), are also progressively supplying BS-VI grade fuel and the entire country will switch to the cleanest fuel within this week. The government had set April 1 as the deadline for starting supply of Euro-VI emission compliant fuels. With this India joins the select league of nations using petrol and diesel containing just 10 parts per million of sulphur.
73.Martyrs' Day/Shaheed Diwas: 23 march
Every year on March 23, Shaheed Diwas is celebrated. On this day, those who laid out their lives for us, and our Independence, are remembered. The day, in particular, pays tribute to Bhagat Singh, Sukhdev Thapar, and Shivaram Rajguru who died on March 23 in 1931. They were hanged to death for assassinating John Saunders, a British police officer in 1928.
74.'Wonderchicken': oldest fossil of modern bird discovered
The oldest fossil of a modern bird, dating from the age of dinosaurs, has been discovered. The tiny fossil, nicknamed the "wonderchicken," includes a nearly complete skull hidden inside nondescript pieces of rock, and dates to more than 66 million years ago. That's less than 1 million years before the asteroid impact that killed off all the large dinosaurs. The seagull-size shorebird had features of both ducks and chickens as well as turkeys. Field describes the skull as a kind of "mash-up" of a chicken and a duck. The bird's face likely looked like a modern-day chicken, while from the back, it looked like a duck.
75.Coronavirus test should not cost more than Rs 4500
The government has recommended that the maximum cost for testing samples for COVID-19 or novel coronavirus by private laboratories should not exceed 4,500 rupees. This may include 1,500 rupees as a screening test for suspect cases and additional 3,000 for confirmation tests. The Indian Council of Medical Research (ICMR) has issued guidelines in this regard which were notified by the Union Health Ministry. All private laboratories which have NABL accreditation for real-time PCR assay for RNA virus will be allowed to conduct COVID-19 tests. The ICMR has called for ensuring appropriate biosafety and biosecurity precautions while collecting respiratory samples - oropharnygeal and nasal swab from a patient. All the laboratory staff involved in COVID-19 testing should be appropriately trained in good laboratory practices and performing real-time PCR. All the biomedical waste should be disposed off in accordance with national guidelines.
76.PM Modi thanks Bhutan & Nepal for contributing to COVID-19 emergency fund
Prime Minister Narendra Modi thanked Bhutan and Nepal for contributing to the COVID-19 emergency fund to tackle the spread of the deadly virus in the SAARC countries. Addressing the SAARC leaders and representatives on March 15 via video, Modi had proposed the emergency fund with an initial offer of USD 10 million from India for the purpose. The South Asian Association for Regional Cooperation is the regional intergovernmental organization and geopolitical union of states in South Asia. Its member states are Afghanistan, Bangladesh, Bhutan, India, the Maldives, Nepal, Pakistan and Sri Lanka.
Headquarters: Kathmandu, Nepal
77.UP govt seeks Central Grant of Rs 100 cr for Lucknow University & Kashi Vidyapeeth
The Uttar Pradesh Government has sought a Central Grant of 100 crore rupees for Lucknow University and Kashi Vidyapeeth. The Deputy Chief Minister and Education Minister of Uttar Pradesh Dr. Dinesh Sharma met Union HRD Minister Ramesh Pokhriyal Nishank in Delhi and made the request. Mr. Sharma said that both the educational institutions have completed 100 years of their establishment and there is a provision of special grant of Rs 100 crores for these institutions.
78.UP government announces ₹1,000 financial aid to 35 lakh labourers
The Uttar Pradesh government announced that around 35 lakh labourers in the state will get ₹1,000 each as financial aid while free ration for one month will be provided to 1.65 crore construction workers amid the coronavirus outbreak. Chief Minister Yogi Adityanath has directed officials for immediate release of payment to MGNREGA workers in the state and to make food grains available to the poor in cities and villages. This payment will be sent directly to their accounts through direct bank transfers," said the statement issued. Daily wage labourers in urban areas who do not have ration cards will get the document on priority basis.
79.IIT Delhi researchers develop affordable test for COVID-19
Researchers at the Indian Institute of Technology here have developed a method to detect COVID-19 which can significantly reduce the test cost making it affordable for large sections. The National Institute of Virology (NIV), Pune is in the process of validating this test on clinical samples. The central government recommended that the maximum charge for each COVID-19 test by private laboratories should not exceed Rs 4,500.
80.Govt has fixed prices for face masks & sanitizers in light of COVID - 19 outbreak
Government is keeping a close watch on the prices of every essential commodity. The government has fixed the prices for face masks and sanitizers in light of the COVID-19 outbreak. Under the essential commodities act no extra charges can be levied on the fabric used for manufacturing of face masks. He informed that the two and three layered mask would cost 8 and 10 rupees respectively while a two hundred milli-litre bottle of hand sanitiser is priced at 100 rupees. The prices would remain the same till 30th June this year.
Business
81.NTPC concludes acquisition of govt's stake in THDC, NEEPCO at Rs 11,500 cr
Power generating f irm NTPC concluded the acquisition of Centre's entire stake in two hydropower generating firms, THDC India and North Eastern Electric Power Corporation (NEEPCO), at Rs 11,500 crore. The company informed the exchanges that it signed a share purchase agreement to buy the government's entire 74.49 per cent stake of THDC for an aggregate consideration of Rs 7,500 crore. Similarly, NTPC has also acquired an entire 100 per cent government stake in NEEPCO for Rs 4,000 crore. NTPC Limited, formerly known as National Thermal Power Corporation Limited, is an Indian Public Sector Undertaking, engaged in the business of generation of electricity and allied activities.
82.Merger of 10 state-run banks into 4 to come into force from April 1: RBI
Reserve Bank of India has said that the merger of 10 state-run banks into four will come into force from April 1. The branches of merging banks will operate as of the banks in which these have been amalgamated. The government on March 4 had notified the amalgamation schemes for 10 state owned banks into four as part of its consolidation plan to create bigger size stronger banks in the public sector. As per the scheme, Oriental Bank of Commerce and United Bank of India will be merged into Punjab National Bank; Syndicate Bank into Canara Bank; Allahabad Bank into Indian Bank; and Andhra and Corporation banks into Union Bank of India. Customers, including depositors of merging banks will be treated as customers of the banks in which these banks have been merged with effect from April 1, 2020.
83.RBI permits 3 month moratorium on EMI payments on all outstanding loans
The Reserve Bank permitted banks, NBFCs (including housing finance companies) and other financial institutions to allow a three-month moratorium on payment of installments on term loans in view of the disruption caused by the coronavirus outbreak. Deferment will not impact the credit history of the borrower. Financial institutions have been allowed to shift repayment schedule and all subsequent due dates, as also the tenor for such loans, across the board by three months, in respect of all term loans outstanding as on March 1, 2020.
84.Microsoft, US CDC tie-up to create 'Clara', a COVID-19 self-screening bot
The U.S. Centers for Disease Control and Prevention has introduced an AI bot called 'Clara' to help people assess potential symptoms of COVID-19. The CDC has partnered up with CDC Foundation and Microsoft Azure's Healthcare Bot service to create Clara, the "coronavirus self-checker." The bot is currently only available in the US on the CDC website. The bot that can quickly assess the symptoms and risk factors for people worried about infection, provide information and suggest the next course of action such as contacting a medical provider or, for those who do not need in-person medical care, managing the illness safely at home.
85.RBI to inject additional Rs 30,000 cr to maintain financial stability in wake of COVID-19 outbreak
The Reserve Bank of India decided to infuse additional liquidity with a second tranche of bond purchase worth ₹30,000 crores amid the Covid-19 pandemic. In the backdrop of the Coronavirus outbreak, the Apex Bank has decided to ensure that all market segments function normally with adequate liquidity and turnover. The central bank will conduct purchase of government securities under open market operations (OMOs) for an aggregate amount of Rs 30,000 crore in two tranches of Rs 15,000 crore each in March. The auctions would be conducted on March 24 and March 30.