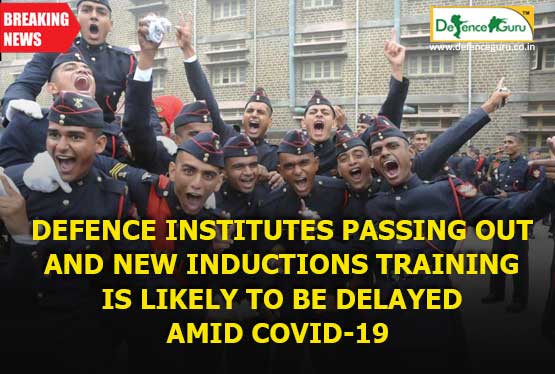 Defence institutes passing out and new inductions training is likely to be delayed amid Covid-19.
Covid -19 pandemic daily updates and news is the major concern for the nations. Several defence exams are postponed due to Covid-19 outbreak and lockdown, here comes the latest updates for the graduation of the current batch of students and the induction of new trainees at the defence forces training institutes is likely to be delayed. Tampering the final phases of the training at these institutes the passing out parade of the current batch of students that are still left to be completed is delayed.
The new batches of trainees at the National Defence Academy (NDA), the army's Indian Military Academy (IMA), OTA Chennai and OTA Gaya, and the navy's Indian Naval Academy (INA) for officers and INS Chilka for sailors are delayed due to lockdown.
Amid Covid-19 the central guidelines followed against it, the outdoor activities- including mass physical training, exercises and mandatory specialised camps is being conducted in some institutes in small batches, while maintaining social distancing norms. For theoretical classes the trainees are being made to attend online classes by solving mock tests on their tablets and computers.

The institutes held and organized at various levels by Indian Armed Forces are prominently working out on fresh schedules for selections of officers and sailors. Training institutes are hopeful that they can catch up with the lost training schedule, because the passing out parade or graduation of most of them is next month.

The official said that there is scope for catching up. "In case the situation stabilises, then we would be able to recover quickly as the POP at INA is at the end of May and POP at Chilka is in early July".
The aspirants are requested to Stay at Home in Coronavirus outbreak prevailing situation and maintain social distancing to fight the COVID-19 in India. The further notice will be shortly updated on the official website of designated training institutes till further updates prepare from home and clear your concepts more widely through online learning and live classes of Centurion Defence Academy.