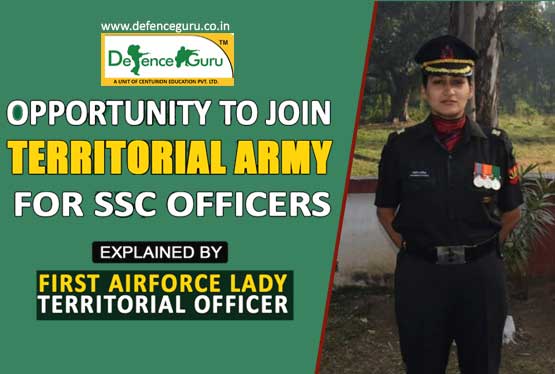 Opportunity to join Territorial Army for SSC Officers, Explained by First Air Force Lady Territorial Officer.
Have your way by joining the Territorial Army, second line of defence after the Regular Indian Army in combating insurgency, terrorism and restoration of essential services during natural calamities. We civilians are our already civilian soldiers despite we don't recognize the militarized part of our identity of our consciousness.
There are jobs meant for those people who are already in mainstay civilian professions; in fact, gainful employment or self-employment in a civil profession willing to join Indian Army. The Citizens Army amalgamates the best of the skills gained in civil life with professionalism, dedication and discipline of military life.
Territorial Army is giving an opportunity of donning the uniform and serving the nation as Territorial Army Officers (Non Departmental), based on the concept of enabling motivated Ex-Service Officers to serve in a military environment without having to sacrifice their primary professions.
Role of Territorial Army
To relieve Regular Army from static duty.
To aid civil authorities in dealing with natural calamities and maintenance of essential services in situations where life of community is affected or a security of country is threatened.
Provide units for the Regular Army as and when required.
Encounter experience of an exceptional lady officer who served in the Indian Air Force and Indian Army. Major Nasreen Fatima, Squadron Leader (Retd.), the first lady Officer from the Indian Air Force in the Territorial Army. She is commissioned in Indian Air Force as a Short Service Commissioned Officer in Education Branch for tenure of 10 years and currently working as an Academic Head in Centurion Defence Academy, one of the renowned defence institute in India offering maximum numbers of Officer level selection each year.
The complete analysis in this article is explained about- How Ex Service Officer and Short Service Commissioned (SSC) Officer can join Territorial Army. Territorial Army provide opportunity to Ex Service Officer in serving Indian Army on part time and full time bases.
Territorial Army Recruitment Dates for Ex-Servicemen 2020
| | | |
| --- | --- | --- |
| Events | Dates (For 2020) | Salient Features |
| Last date of Application form | January 31 | The application form needs to be downloaded from the official website and filled by candidates in their own hand. |
| Date of Interview | April | Candidates are selected based on Interview. The exact date of Interview will be informed to candidates by post. |
The Territorial Army guidelines for TA 2020 highlights:
Notification
Territorial Army notification for Ex Service Officer released each year in December month on official website of Territorial Army www.jointerrotorialarmy.gov.in, advertisement published in leading national newspaper, employment news and Indian army website www.indianarmy.nic.in
Eligibility
Only Ex-service officer can apply
Nationality
Citizen of India (male and female)
Age Limit
18 to 42 years on of application day
Educational Qualification
Graduate from recognized university
Physical standard
Must be physically and mentally fit in all respects
Mandatory Criteria for Ex Service Officer
Employment
Gainfully employed in Central Govt/ Semi Govt/Pvt Firm/Own business/self-employed.
Serving Employees of Regular Army/Navy, Air Force/Police/GREF/Para Military and like Forces are not eligible.
Serving in other government services or private units they have to obtain No Objection Certificate (NOC) from Employer.
Self employed candidates has to present Affidavit.
After sending TA application form who will receive call letter within 2-3 month of Interview by Office of Additional Directorate General of Territorial Army.
Territorial Army Selection Procedure
The Ex-Service Officers will be screened by the Army Selection Board (ASB) held at Additional Directorate General of Territorial Army, Integrated HQ of Ministry of Defence (Army), L-Block, Church Road, New Delhi- 110 001.
Before Interview document verification is done i.e. documentation (required documents are mentioned in call letter).
After successful documentation verification Ex Service Officer undergo Interview.
Recommended Ex Service Officer undergoes Medical Examination at Armed Forces Clinic, New Delhi followed by their Police verification for final selection.
Vacancy for male and female candidates will be determined as per organization recruitment.
Pay Scales (VIIth Pay)
Ex-Service Officers are required to bring the following document in original along with the tested copies at the time the interview.
All those Ex-Service Officers whose complete document are not produced for verification will not be allowed to attend the interview
Training
One month basic training in the first year of commission.
Two month Annual training Camp every year including the first year.
Terms and Condition of Service
Territorial Army is part time concept with mandatory two month training in a year and does not provide full term career.
Service in TA do not guarantee pension and the same is subject to embodied service as per organization requirement
Commission is guaranteed in the rank of Lieutenant
Pay and Allowances will be same as Regular Army officer when embodied for training and military services.
Promotions up to Lt. Col by time scale subject to fulfilling laid down criteria. Promotion to Colonel and Brigade by selection
Officers commissioned in Infantry TA may be called out for military service for longer duration depending on the requirement.
Once previous service is verified from concerned PCDA (O) they are granted Anti-Date Seniority for Pay and Promotion.
Territorial Army Salary & Career Growth
The Commission is granted in the rank of Lieutenant. Pay, allowances and privileges will be same as regular army officers. Candidates can be promoted up to Lt. Col subjected to fulfilling the criteria. Officers commissioned in Infantry TA may be called for military for longer duration depending on the requirement. Candidates are not entitled to pension. Candidates can check below the salary structure.
| | | | |
| --- | --- | --- | --- |
| Rank | Level | Pay Matrix (In Rs) | Military Service Pay (In Rs) |
| Lieutenant | Level 10 | 56,100 - 1,77,500 | 15,500 |
| Captain | Level 10A | 6,13,00-1,93,900 | 15,500 |
| Major | Level 11 | 6,94,00 - 2,07,200 | 15,500 |
| Lt Colonel | Level 12A | 1,21,200 - 2,12400 | 15,500 |
| Colonel | Level 13 | 1,30,600- 2,15,900 | 15,500 |
| Brigadier | Level 13A | 1,39,600-2,17,600 | 15,500 |
The sheer variety, sense of purpose, responsibility and pride, validate job satisfaction in the duty of nation. You can serve the nation in two capacities– as a civilian and as a soldier. Territorial Army is giving an opportunity of donning the uniform and serving the nation as Territorial Army Officers.
Major Nasreen Fatima, Squadron Leader (Retd.) special video link is below provided on the Territorial Army.
To get detailed information on Notifications, Syllabus, Tips and Tricks, Admit Card Dates, Result, Cut off, Trend Analysis, Information about Physical Fitness Test and Medical Examination and Current Affairs, simple Follow us on You tube, Instagram, Twitter, Facebook. Visit our official website www.centruiondefenceacademy.com. Read articles related to defence and defence examination at defenceguru.co.in.