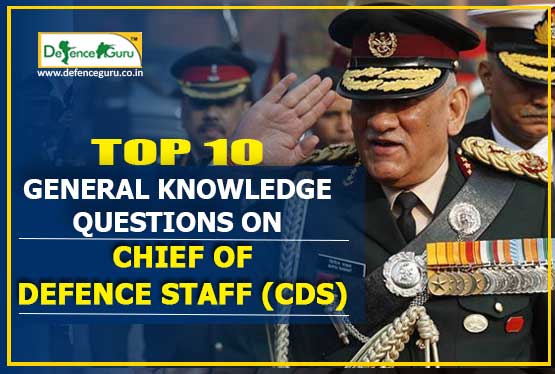 The Latest and Revised Top 10 GK Questions and Answers on Chief of Defence Staff (CDS) Rank relating to its uniform and insignia (Badges, Belt Buckle, Peak Cap and Buttons) in defence are assembled in this article. While you are going to face upcoming defence exam or SSB Interview strong current affair knowledge improves your chances in beating the bottle neck competition, topic covered in this article will make you aware on the latest development in defence.
Targeting the upcoming defence exam then you might be aware on the latest happenings and its detail here we provide you the basic information in question format that would help you in practice and revision sessions. Therefore, now all the candidates can check them. And can even recite them to memorize.
Top 10 General Knowledge Questions on Chief of Defence Staff (CDS) Rank-
Question 1: Who is the first Chief of Defence Staff?
Answer 1: General Bipin Rawat
Question 2: Who appoints Chief of Defence Staff?
Answer 2: Appointments Committee of the Cabinet
Question 3: Where is the office of CDS located?
Answer 3: Chief of the Defence Staff (CDS) office is in South Block.
Question 4: What is the tenure of CDS?
Answer 4: Three years or until the age of 65; whichever is earlier
Question 5: What's a parent service uniform?
Answer 5: The colour of the uniform remains olive green with the gold-wreathed tri-service emblem of the Indian Armed Forces (the Naval anchor, crossed Army swords and Air Force eagle, all surmounted by the Indian national emblem) is used in place of service insignia and unit emblems.
Question 6: What is there in shoulder batch of CDS uniform?
Answer 6: There will not be any sword and baton and stars- representing rank- on the shoulder badges. The shoulder badge of CDS will be maroon and also have the Ashoka lion. The CDS will also not have a lanyard. The shoulder flashes and the shoulder rank badges of a four-star officer substituted with the four-star gorget patches.
Question 7: What is there in Rank stars?
Answer 7: The tri-service emblem is substituted for the rank stars
Question 8: What is there in cap badges, button and belt badge?
Answer 8: The wreathed tri-service emblem is substituted for service cap badges, uniform button and belt badge service insignia.
Question 9: What is the flag on vehicle
Answer 9: The car flag on the CDS's official vehicle will bear the national flag and also symbolise the three services.
Question 10: Role of CDS
Answer 10: The principal military adviser to the defence minister on all matters relating to tri-services. A key mandate of the CDS will be to facilitate restructuring of military commands for optimal utilisation of resources by bringing about jointness in operations, including through establishment of joint/theatre commands.
Know About 1st Chief of Defence Staff (CDS):
General Bipin Rawat took over as the first CDS on 1st January 2020. He will serve a full three-year term till December 2022.
Head of the Indian Armed Forces, he is the senior-most uniformed military adviser to the Government of India, ex-officio Secretary of Government of India and the head of Department of Military Affairs under the Ministry of Defence.
Four-star officer selected from among the serving officers of the Indian Armed Forces described by officials as the "first among equals" among service chiefs.
The head of all tri-service command structures, assisted by a deputy, the Vice Chief of the Defence Staff to replace the post of Chief of Integrated Defence Staff.
Head a newly-created Department of Military Affairs (DMA), under the Ministry of Defence, as its Secretary.
The Permanent Chairman of the Chiefs of Staff Committee (PC-CoSC).
The Principal Military Adviser to the Minister of Defence
As the Permanent Chairman of Chiefs of Staff Committee, CDS General Bipin Rawat will perform the following functions:
The CDS will be tasked with trimming weapons procurement procedures and integrating operations of the Indian armed forces- Army, Air Force and Navy.
Authority to direct the service chiefs of Army, Navy and Air Force and will also has the authority to create theatre commands as and when needed.
Command tri-service agencies, organisations, and commands including those related to cyber and space.
CDS will be member of Defence Acquisition Council chaired by the Ministry of Defence and Defence Planning Committee chaired by the National Security Advisor.
Function as the Military Advisor to the Nuclear Command Authority.
Bring about jointness and ensure optimal utilisation of infrastructure in the three Services.
Implement Five-Year Defence Capital Acquisition Plan (DCAP), and Two-Year roll-on Annual Acquisition Plans (AAP), as a follow up of Integrated Capability Development Plan (ICDP).
Bring about reforms in the functioning of three Services aimed at augmenting combat capabilities of the Armed Forces by reducing wasteful expenditure.
Assign inter-Services prioritisation to capital acquisition proposals.
The CDS's salary and perquisites will be same as the service chiefs. The CDS will come under the Right To Information Act.
The role and function about the first Chief of Army Staff is significantly drafted in this article along with the Latest and Revised Top 10 General Knowledge Questions And Answers on Chief of Defence Staff (CDS) Rank.
We are expecting that with this article all your doubts have met clarity as well as made you more vigilant, cautious and attentive decision towards your career. Regarding your desired courses if you have any query/doubt/FAQ's or questions related to exam pattern, exam syllabus, paper format, books to refer, official notification news are not clear, how to apply, where to apply, when to start preparation and many more questions will be shortly answered back to you personally or in an article form by the trusted defence team of Centurion Defence Academy.
Feel free to show your interest with us as we are here to nurture your dream, it is our duty that your minor or major questions should never come up as a set-back reason in your dreams.
To get detailed information on Notifications, Syllabus, Tips and Tricks, Admit Card Dates, Result, Cut off, Trend Analysis, Information about Physical Fitness Test and Medical Examination and Current Affairs, simple Follow us on You tube, Instagram, Twitter, Facebook. Visit our official website www.centruiondefenceacademy.com. Read articles related to defence and defence examination at defenceguru.co.in.