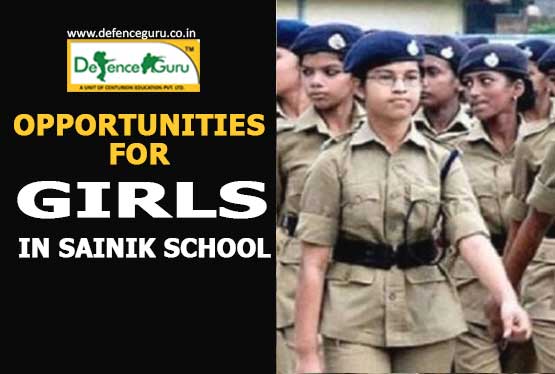 OPPORTUNITIES FOR GIRLS IN SAINIK SCHOOL
Great equal opportunity for girls in Indian Armed Forceswho are worthy of her talents and dreams. This is the perfect time of year for young girls, who aimto attain their fullest potential in serving the nation.
Many ways opening up for girls to go ahead in Sainik Schools
Defence Ministry has approved the proposal for Admission of Female students in Sainik Schoolgirls can study in these hallowed all-boys institutions from 2021-22 session.
As per Defence Ministry official statement:
"Defence Minister Rajnath Singh has approved a proposal for admission of girl children in Sainik schools with effect from the academic session 2021-22 in a phased manner. The concerned authorities have been directed to ensure availability of necessary infrastructure and sufficient female staff in for smooth implementation of the directive."
TAKE A LOOK AT PRESENT SITUATION IN SAINIK SCHOOLS.
Initially, girls candidates were not allowed to seek admission in Sainik Schools. First opened in 1961, there are now a total of 33 Sainik Schools running in India, that till now allowed only male candidates to study in it. The schools are intended to allow boys to prepare themselves for being a part of the National Defence Academy (NDA).
This initiative of rectifying the class and regional imbalance among the boys and girls admissionin the Sainik Schools comes up as an historic decision in line with the objective of the Government towards greater inclusiveness, gender equality, enabling greater participation of women in Armed Forces and strengthening the motto of 'BetiBachaoBetiPadhao', propagated by Prime Minister Narendra Modi.
Since the mid-1990s, the armed forces started to recruit women but they were limited to the education, engineering and medicals sector. It was in the year 2016, that three women fighter jets were launched. Opening the doors for girls' admission in the Sainik Schools will encourage women to be a part of the armed forces.
Work on floor for girls admission in Sainik Schools can be viewed:
There are currently 31 Sainik schools all over the country and agreements have been signed between the Defence Ministry and governments of Rajasthan, Uttar Pradesh, Uttarakhand, Odisha and Telangana to set up five more such schools at Alwar, Amethi, Rudraprayag, Sambalpur and Warangal respectively.
The decision comes two years after the success of the Pilot Project launched by the defence ministry at ChhingchhipSainikSchool in Mizoram. It was in the year 2017 when six girls were given admission in the Sainik School under the influence of the Pilot Project initiated by the Central Government.A successful pilot project in which06 girls, along with 154 boys, joined the school after a tough selection process.
Peek into Pilot Project admission- ZonunpuiiLalnunpuia had always dreamt of being an army officer like her dad. What we can ask for a girl where herdreams met reality as a part of pilot project. She had registered among 31 girl applicants who had to clear a written entrance examination with boys along with a personal interview before the final 6 girls were given admission.
Admission of Female students in Sainik School for academic session 2021-22:-
- Females candidates can visit on official website of SainikSchool as per state which will release official notification for the Sainik School Entrance Exam for the upcoming 2021-2022 admissions.
- All India Sainik School Admission Form 2021-2022 will be released in August month 2020.
- Candidates will be able to Apply through Online/Offline Mode from August to September 2020 on the website sainikschooladmission.in (http://sainikschooladmission.in/index.html).
- All India Sainik School Entrance Exam 2021 is conducted every year in the month of Jan.
This decision is in line with the Government's objective towards gender equality, greater inclusiveness and enables greater participation of women in armed forces. According to a press release, the Defence Minister has asked the authorities to ensure the availability of necessary infrastructure and the sufficient number of women staff for running the educationaland institutes in a smooth way.
Young girls who are valuable, powerful and deserving can lift every chance and opportunity in the way to pursueand achieve their fullest potential in serving the nation. Girls opportunity in Sainik School are heightened manifolds by Central and State Government initiatives, aspiring girls can avail this golden opportunity.
To get detailed information on Notifications, Syllabus, Tips and Tricks, Admit Card Dates, Result, Cut off, Trend Analysis, Information about Physical Fitness Test and Medical Examination and Current Affairs, simple Follow us on You tube, Instagram, Twitter, Facebook. Visit our official website www.centruiondefenceacademy.com. Read articles related to defence and defence examination at defenceguru.co.in.