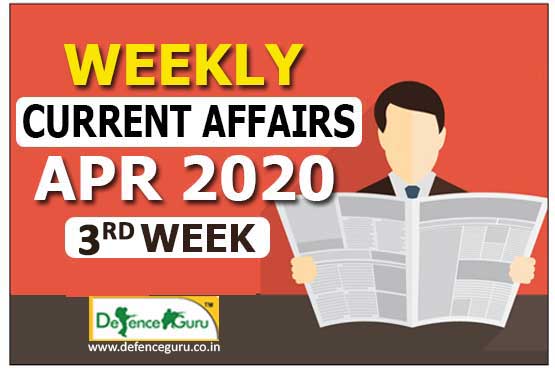 APPOINTMENTS
1.David Li
Huawei Telecommunications India has appointed David Li as its Chief Executive Officer. He replaces Jay Chen who has been promoted to handle Asia Pacific level business roles. Li joined Huawei in 2002 and has experience of working in the India market, including in roles like vice president sales and vice president HR during different phases of his career. He was serving as CEO of Huawei Cambodia before returning to India to take on his new role.
2.N Kamakodi
The Reserve Bank of India has given its approval for the re-appointment of N Kamakodi as MD & CEO of City Union Bank (CUB). He has been appointed for three years with effect from May 1. Kamakodi has been associated with the Kumbakonam (Tamil Nadu)-headquartered CUB since 2003. He was elevated as MD and CEO in 2011.
3.Sudarsanam Babu
US President Donald Trump appointed Indian-American Sudarsanam Babu to the country's top science board. Babu, who is from the prestigious Oak Ridge National Laboratory (ORNL), has been appointed as a member of the National Science Board for a six-year term. Babu would be the third Indian American in this prestigious board. The other two being Sethuraman Panchanathan from Arizona State University and Suresh V Garimella from University of Vermont.
4.Kapil Dev Tripathi
Former IAS officer Kapil Dev Tripathi has been appointed as the Secretary to President Ram Nath Kovind. The Appointments Committee of the Cabinet approved the appointment of Mr Tripathi for a term co-terminus with the tenure of the President. Mr Tripathi, a 1980 batch IAS officer ( Retired) of Assam-Meghalaya cadre, is at present the Chairman of Public Enterprises Selection Board (PESB).
5.Bombay, Orissa, Meghalaya high courts to get new chief justices
The Supreme Court Collegium recommended the appointment of new Chief Justices for Bombay, Orissa and Meghalaya High Courts. The top court panel decided to recommend the elevation of Calcutta High Court judge Dipankar Datta as Chief Justice of Bombay High Court. The collegium, headed by Chief Justice SA Bobde, also decided to recommend elevation of Allahabad High Court judge Biswanath Somadder as Chief Justice of Meghalaya High Court. The collegium also recommended the transfer of Meghalaya High Court Chief Justice Mohammad Rafiq to Orissa High Court.
6.P K Purwar
BSNL chairman and managing director P K Purwar has taken over additional charge of Mahanagar Telephone Nigam Limited. This is the third time Purwar has been given charge of MTNL CMD in the last six years. The appointment of Purwar comes at a time when both the PSU are reeling under heavy debt despite the government offering them a relief package. While MTNL has been able to resolve salary related issues and has only debt of around Rs 20,000 crore, BSNL is yet to clear dues of employees and vendors.
7.Ajay Mahajan
CARE Ratings has appointed Ajay Mahajan as the Managing Director & Chief Executive Officer for a period of 5 years commencing from 15 April 2020 up to 14 April 2025. Mahajan started his career with Bank of America in 1990 and went on to become the MD and Country Head of Global Markets Group. CARE Ratings Limited is a credit rating agency. The Company is engaged in providing financial services other than securities dealing activities.
AWARDS
8.Adam Higginbotham wins William E. Colby Award
Adam Higginbotham's "Midnight in Chernobyl: The Untold Story of the World's Greatest Nuclear Disaster" has won a $5,000 prize. Higginbotham has received the William E. Colby Award, given for an outstanding book on military or intelligence history. The award is named for the late CIA director. The Colby award was established in 1999. Previous winners include Karl Marlantes' novel "Matterhorn" and Dexter Filkins' "The Forever War." Colby was CIA director during the Nixon and Ford administrations.
9.Algerian author wins top Arab fiction prize for 'Spartan Court'
Algerian author Abdelouahab Aissaoui won a prestigious prize for Arabic fiction with his novel "The Spartan Court". Backed by the UK's Booker Prize Foundation, the International Prize for Arabic Fiction (IPAF) is financed by Abu Dhabi's Department of Culture and Tourism. Aissaoui will receive $50,000 and funds will be provided to translate the book into English. Published by Dar Mim, "The Spartan Court" is a historical novel that relates the power struggle between Ottoman and French colonial powers in Algeria at the start of the 19th century.
DEATHS/resigns
10.Tamas Ajan
Tamas Ajan has resigned as president of the International Weightlifting Federation (IWF) while an investigation into alleged corruption is ongoing. Ajan, from Hungary, had been at the IWF since 1976, serving 24 years as general secretary and 20 as president. American Ursula Papandrea will continue to lead the sport's governing body as Acting President.
11.Rudratej Singh
Rudratej Singh, the President and CEO of BMW Group India, passed away. He was 46. Rudratej Singh joined BMW Group India on August 1, 2019. Prior to that, he was serving as the Global President at Royal Enfield. The 46-year-old had also worked with Unilever in India and international markets for more than 16 years.
12.Gene Deitch
Gene Deitch, an American Oscar-winning illustrator, animator, film director and producer has died. Deitch's movie Munro won the Academy Award for Best Animated Short Film in 1960. Earlier, he had created the Tom Terrific series, while Sidney's Family Tree, which he co-produced, was nominated for an Academy Award in 1958. Working from behind the Iron Curtain, he directed 13 episodes of Tom and Jerry and also some of the Popeye the Sailor series.
13.Samir Goswami
Veteran journalist Samir Goswami, a much-liked figure in Kolkata sports journalism fraternity passed away. Goswami worked for more than two decades in the popular Bengali newspaper 'Bartaman'. Goswami was one of the few journalists, who would devotedly cover first division cricket league games and unfailingly updated the scores of hockey league matches as well results of lower division (second to fifth division) football leagues. He also diligently covered senior and junior level swimming competitions as well as table tennis events.
14.Saharai Oram
Veteran tribal leader and former Odisha Minister Saharai Oram died following a prolonged illness. Saharai Oram was a long associate of Biju babu and had contributed immensely for the development and welfare of tribal people. Oram was first elected to the Odisha Assembly from Champua constituency in 1971 as an Utkal Congress candidate. In 1977, he was elected from the same constituency as a Janata Party candidate, in 1980 as Janata-S candidate, 1990 as Janata Dal candidate and in 2000 as an Independent. Popular for his versatility, Oram not only worked for the welfare of the poor, orphans and destitute but also contributed towards promoting tribal and folk culture.
15.Abba Kyari
Abba Kyari, the Chief of Staff to Nigeria's president Muhammadu Buhari, has died from Covid-19 after a nearly month-long infection. Kyari was in his 70s and had underlying health problems including diabetes. He was the top official aide to 77-year-old President Muhammadu Buhari.
16.R V Bhuskute
Freedom fighter R V Bhuskute, who had participated in the Quit India Movement, died of prolonged illness in Maharashtra's Raigadh district. Bhuskute, who had participated in the Quit India Movement, wrote several books on land laws and worked for the release and rehabilitation of bonded labourers in tribal areas of the state. The Quit India Movement also known as India August Movement or Bharat Chodo Andolan was launched at the Bombay session of the All India Congress Committee (AICC) by Mahatma Gandhi on August 8, 1942.
17.Ranjit Chowdhry
Actor Ranjit Chowdhry, best known for his roles in Baton Baton Mein, Mississippi Masala and Bollywood/Hollywood among more, passed away. Son of renowned theatre actor Pearl Padamsee, Ranjit Chowdhry made his silver screen debut with Khatta Meetha in 1978. He went on to star in Hindi films like Baton Baton Mein, Khubsoorat, Bandit Queen and Kaante among more. Ranjit found fame overseas starring in crossover films like Lonely in America, Mississippi Masala, Bollywood/Hollywood, Fire and Kama Sutra: A Tale of Love. He also featured in US shows like The Office and Prison Break.
18.Zafar Sarfraz
Former Pakistani first-class cricketer Zafar Sarfraz became the first professional player in the country to die after contracting the novel coronavirus. Sarfraz, a middle-order batsman, played 15 first-class games in Peshawar and retired in 1994. Pakistan has recorded more than 5,000 coronavirus cases to date and nearly 100 deaths. Lack of testing and an underfunded health care sector, however, has raised fears the country is ill-equipped to handle a spike in cases.
SPORTS
19.Leclerc wins F1 virtual Chinese Grand Prix
Charles Leclerc has claimed his second straight Formula One Virtual Grand Prix on the Shanghai track. The Ferrari driver started the Chinese GP in pole position and finished ahead of Red Bull's Alex Albon and Zhou Guanyu. The actual Chinese GP, originally scheduled for April 19, was postponed in February. With the F1 season halted by the coronavirus pandemic, the sport launched a virtual series to keep fans entertained. The F1 world championship has yet to get underway this season due to the spread of the coronavirus. Nine of the scheduled 22 races have either been cancelled or postponed.
20.Mohun Bagan declared I-League champions as season gets called off
Mohun Bagan were officially crowned as the winners after the remaining 28 matches of the I-League were cancelled as coronavirus continues to rage. The committee recommended that the 2019-20 season be deemed to be concluded. Mohun Bagan declared as the I-League champion for the 2019-20 season as they stand atop current standings in the Hero I-League until the point of suspension.
21.Bhaichung Bhutia among 50 footballers to take part in FIFA's initiative to applaud 'humanity's heroes'
Former Indian captain Bhaichung Bhutia was among the 50 footballers to take part in the FIFA's initiative to pay tribute to 'humanity's heroes' amid the coronavirus pandemic. FIFA expressed gratitude towards all the healthcare workers and other professionals who are giving their all to ensure society continues to function in the face of the coronavirus. FIFA shared a video on their official Twitter handle where footballers from present and past came been seen applauding the frontline workers.
22.Mascot for Hangzhou 2022 Asian Para Games unveiled
The mascot for the 4th Asian Para Games scheduled to be held from October 9 in 2022 in Hangzhou, China was unveiled. The design of 'Fei Fei' is inspired by the motif of the 'Divine Bird' in the Liangzhu Culture. The mascot is the fusion of Hangzhou's heritage and its drive for technological innovation, carrying the longing for harmonious coexistence between humans and nature. The 4th Asian Para Games will be held from October 9-15, 2022, featuring 22 sports with Taekwondo and Para-Canoe to make their Games debuts.
INTERNATIONAL
23.Earth Day: 22 April
Earth Day is observed every year on 22 April. The day is celebrated worldwide to demonstrate support for environmental protection. The day was proposed at the UNESCO conference in 1969 and the first Earth Day celebrations took place in 1970. World Earth Day 2020 will mark the 50th Anniversary of the day since it started being observed in 1970.
The theme of Earth Day 2020: 'Climate Action'.
24.Donald Trump to temporarily suspend immigration to US
President Donald Trump said he will suspend all immigration into the United States temporarily through an executive order. He has said his forthcoming executive order barring new immigration will apply only to people seeking green cards, will last 60 days. It won't affect workers entering the country on a temporary basis. Instead, President Trump said the provision would amount to a 60-day pause only on people seeking permanent resident status in the United States. He would review the executive order at the end of that period and decide if it should be renewed.
25.Britain's Parliament prepares for virtual debates amid COVID-19 lockdown
Britain's Parliament is preparing for MPs to return to the House of Commons to hold virtual debates and pave the way for a historic hybrid parliamentary setting amid the coronavirus lockdown. Unprecedented changes to the main House of Commons chamber will be rolled out to let politicians tune into statements and question sessions via video link. Screens have been installed in the chamber to allow MPs to speak remotely while the limited number attending in person will be signposted where to sit. The new practices will initially operate until May 12, although could remain in place for longer.
26.Israel's Netanyahu and rival Gantz agree to form 'emergency' coalition government
Israeli Prime Minister Benjamin Netanyahu and his chief rival signed an agreement to form an "emergency" coalition government. The deal between Netanyahu's Likud Party and former military chief Benny Gantz's Blue and White ends months of political paralysis and averts what would have been a fourth consecutive election in just over a year. After the last vote on March 2 ended in a stalemate, Netanyahu and former military chief Benny Gantz agreed late last month to try to form a unity government because of the burgeoning coronavirus crisis. The power-sharing agreement means that Netanyahu will almost certainly remain in office for the duration of his upcoming trial on corruption charges.
27.World Creativity and Innovation Day: 21 April
World Creativity and Innovation Day is a global UN day celebrated on April 21. The day is observed to raise awareness around the importance of creativity and innovation in problem solving with respect to advancing the United Nations sustainable development goals, also known as the "global goals". The founder of the day was the Canadian Marci Segal.
28.UN Chinese Language Day: 20 April
The UN Chinese Language Day is observed annually on April 20. This event is celebrated every year by UNESCO. It was first observed in 2010 by the organisation to celebrate multilingualism and cultural diversity as well as to promote equal use of all six of its official working languages (Arabic, Chinese, English, French, Russian and Spanish) through the organisation. The first UN Chinese Language Day was held on November 12, 2010. In 2011, the date was moved to April 20.
29.World liver day: 19 April
World liver day is observed on every 19 April, to spread awareness about liver related disease. The liver is the second largest and the most complex organ in the body, with the exception of the brain. It is a key player in your body's digestive system.It is also responsible for detoxification of drugs, alcohol and control of infections.
30.NASA will launch astronauts from US soil for the first time in nearly a decade, with help from SpaceX
NASA and SpaceX are targeting May 27 for the launch of Demo-2, the first launch of NASA astronauts from the U.S. since 2011 and the first crewed launch for Elon Musk's space company. As its name implies, Demo-2 will be the second time SpaceX launches its Crew Dragon capsule to the International Space Station. But, unlike Demo-1 last year, this time two astronauts will be on board. NASA astronauts Bob Behnken and Doug Hurley will be strapped into a SpaceX Crew Dragon capsule that is sitting on top of a Falcon 9 rocket. The Demo-2 mission will represent a major milestone for Musk's SpaceX in its goal to begin regularly flying people to space. The company has been launching spacecraft, satellites and cargo since its founding in 2002 but never humans.
31.World Heritage Day: 18 April
World Heritage Day is observed every year on April 18. The aim of celebrating this day is to promote cultural heritage through activities which are undertaken by the International Council on Monuments and Sites. The International Council on Monuments and Sites (ICOMOS) in 1982 announced 18th April as the World Heritage Day. It aims to conserve and enhance awareness about the importance of cultural heritage and monuments. The World Heritage Day Theme 2020 is 'Shared Culture, Shared Heritage and Shared Responsibility'.
32.Indian Tricolour projected onto Switzerland's Matterhorn mountain to send a message of hope
The Indian flag has been projected onto the Matterhorn mountain in the Swiss Alps as part of a breathtaking light illumination series as part of an effort to spread hope amid the coronavirus pandemic. Renowned Swiss light artist Gerry Hofstetter has been lighting up the 14,690 feet mountain with spectacular displays of country flags and messages of hope to inspire solidarity as people face up to the alarming spread of the deadly pandemic. The Matterhorn is a mountain of the Alps, straddling the main watershed and border between Switzerland and Italy.
33.World Haemophilia Day: 17 April
World Haemophilia Day is observed every year on 17 April. The day is observed to raise awareness regarding the disease and other hereditary bleeding disorders. 17 April is also the birthday of Frank Schnabel, a businessman born with severe haemophilia who was the founder of the World Federation of Haemophilia (WFH). Haemophilia is a mostly inherited genetic disorder that impairs the body's ability to make blood clots.
2020 Theme: 'Get + involved'
34.S Korea governing party sees big gains in parliamentary election
Parliamentary elections in South Korea have resulted in a big win for the governing Democratic Party. Moon's Democratic party and its allies took 180 seats in the 300-member National Assembly, while the opposition United Future Party (UFP) won 103. South Korea was among the first countries to hold a national election during the pandemic. The citizens are still being asked to maintain social distancing, wear protective masks, clean their hands with sanitiser and don plastic gloves. At each of the 14,000 polling stations, voters had their temperature checked before they were allowed to enter. Those found to have fevers cast their ballots in separate booths that were disinfected after each user.
S Korea Capital: Seoul
President: Moon Jae-in
Currency: South Korean won
Prime minister: Chung Sye-kyun
35.Emirates claims to be first airline to conduct on-site rapid COVID-19 tests for passengers
The Emirates Airline claimed to have become the first airline to conduct on-site rapid COVID-19 tests for its passengers. Emirates in coordination with Dubai Health Authority (DHA) will be introducing additional precautions. The quick blood test, according to the statement, was conducted by the Dubai Health Authority (DHA) and results were available "within 10 minutes." This test was conveniently done at the Group Check-in area of Dubai International Airport Terminal 3. The airline said its check-in and boarding formalities have also been adapted with social distancing in mind.
36.IMF proposes to deploy its full 1 trillion US Dollar lending capacity to support countries
The International Monetary Fund (IMF) has proposed to deploy its full 1 trillion US Dollar lending capacity to support countries battling COVID-19 outbreak. Describing the COVID-19 pandemic as a crisis like no other, International Monetary Fund head Kristalina Georgieva said, the world is now in the worst recession since the Great Depression. The IMF Board has already approved debt relief for 25 of its poorest members. The IMF chief expressed satisfaction that during the G20 Finance ministers discussion, there was unanimous support for the Fund to raise more capacity for concessional funding poor countries.
37.44th session of World Heritage Committee of UNESCO scheduled in Fuzhou, China postponed
China's Ministry of Education announced that the 44th session of the World Heritage Committee of UNESCO, initially scheduled from 29th of June to 9th of July, in Fuzhou of eastern China's Fujian Province, has been postponed. The decision to host the 44th session in China took place at the 43rd session of the World Heritage Committee in Baku. Also at the meeting, Chinese Vice Minister of Education Tian Xuejun was elected as chairman of the 44th session of the committee. The World Heritage Committee selects the sites to be listed as UNESCO World Heritage Sites.
NATI ONAL
38.Agriculture minister joins G-20 meet over Covid-19 impact on food safety
Union Agriculture Minister Narendra Singh Tomar participated in a virtual meeting of G-20 Agriculture Ministers to address the issue of Covid-19 impacts on food security, safety and nutrition. The G-20 Agriculture Ministers virtual meeting was organized through video conferencing by the Saudi Presidency to deliberate on the ways and means of ensuring continuity of the food supply value chain including livelihood of farmers. Agriculture Ministers of all G-20 members and the representatives of some guest countries and International organizations attended the meeting. The G-20 nations resolved to have international cooperation in the backdrop of the Covid-19 pandemic, to avoid food wastage and losses, and maintain the continuity of the food supply value chain across borders.
39.Dr Harsh Vardhan launches COVID INDIA SEVA to provide solutions to coronavirus queries
The Health and Family Welfare Minister Dr Harsh Vardhan has launched an interactive platform, 'COVID INDIA SEVA' aimed at providing real time solutions to Covid-19 related queries. People can post their queries to the COVID INDIA SEVA twitter handle for getting swift replies from the team of trained experts. This initiative is aimed at enabling transparent e-governance delivery at large scales especially in crisis situations like the ongoing COVID-19 pandemic. The responses by the experts will be available for everyone and users will not be required to share any personal details or health records on this account.
40.Third edition of Gujarat's ''Sujalam Sufalam Jal Sanchay Abhiyan'' begins
Amid the lockdown for the coronavirus outbreak, Gujarat Chief Minister Vijay Rupani gave the green signal for the third edition of his government''s ''Sujalam Sufalam Jal Sanchay Abhiyan''. This is a conservation plan to deepen water bodies in the state before monsoon. The scheme, which will continue till June 10, will see the deepening of lakes, check dams and rivers by removing silt, and it will be done with people''s participation as well as under MGNREGA. Apart from maintaining social distancing, local authorities need to provide masks and sanitizers to the workers. The scheme was started in 2018 after a weak monsoon, and till date, the state''s water storage capacity has increased by 23,000 lakh cubic feet due to deepening of lakes, check-dams, rivers and reservoirs.
41.Manipur becomes second state after Goa to be Corona free
Manipur Chief Minister N Biren Singh has declared the state now has no COVID-19 active case as the second coronavirus patient was discharged from hospital after he tested negative for the deadly virus. Though the State has no COVID-19 active case now but people should keep vigil all the time. Manipur had two confirmed COVID-19 cases but both the patients, a 23-year-old woman and a 65-year-old man have recovered and have been discharged from hospital. Goa was declared a Corona free State a few days back.
42.Pune's mobile App 'Saiyam' tracks home quarantined citizens
A mobile application named Saiyam has been developed by the Pune Municipal Corporation under Smart Cities Mission to effectively track the home-quarantined citizens and ensure that they are staying in the home. The city administration has appointed dedicated teams for five zones to conduct a follow-up with people under home quarantine on a daily basis. The teams will also check if those under home quarantine have downloaded the Saiyam Mobile Application. The Mobile Application has GPS tracking so that whenever quarantined citizens leave their homes, City Administration gets ed and the local ward or the local police station gets informed. All the Home Quarantined citizens are given the mandate to download the app and install it.
43.Civil Services Day: 21 April
The National civil services day is observed on April 21. The civil service system is the backbone of the administrative machinery of the country. The civil servants are responsible for implementing all the government policies and schemes successfully up to the root level. April 21 was chosen to be celebrated as Civil Service Day to commemorate the day when the first Home Minister of Independent India, Sardar Vallabhbhai Patel addressed the probationers of Administrative Services Officers in 1947 at Metcalf House, Delhi. In his address, he called Civil Servants, the 'steel frame of India'.
44.Sown area of summer crops registers 36% rise over previous year
The government said that the sown area of summer crops has registered an increase of 36 per cent over the previous year. The rise has been mainly observed in rice cultivation. Farming operations have been exempted from lockdown, but social distancing measures have to be maintained while doing farming related work. The "Krishi Rath App" was launched to help farmers find the right transport services for their harvested food grains. The food grain production has been fixed at an ambitious 298 million tonnes at the recently held Kharif Conference 2020.
45.HRD Minister reviews National online education platform 'SWAYAM'
Human Resource Development Ramesh Pokhriyal 'Nishank' held a detailed review of the National online education platform SWAYAM and the 32 DTH Television Education Channels SWAYAM PRABHA in New Delhi. In the lockdown condition there has been a tremendous increase in demand and the usage of SWAYAM Courses and SWAYAM PRABHA videos. The Ministry in a statement said that 1902 courses are available currently in SWAYAM, which have been offered to 1.56 crore students since launch. It was decided that all the 1900 SWAYAM Courses and 60 thousand SWAYAM PRABHA videos would be translated into ten regional languages and made available to the students so that more benefits can be derived from the same. On SWAYAM PRABHA, the Ministry said that it is a group of 32 DTH channels devoted to telecasting high-quality educational programmes on 24X7 basis using the GSAT-15 satellite.
46.Madhya Pradesh Anganwadi workers, Assistants to get benefit of Chief Minister COVID-19 Yoddha Kalyan Yojana
In Madhya Pradesh, around one lakh Anganwadi workers and Assistants of the state will get the benefit of Chief Minister COVID-19 Yoddha Kalyan Yojana. Under this initiative, they will also get a special health insurance cover of Rs 50 lakhs. It is noteworthy that a special insurance scheme has been launched by the Central Government for health workers who are fighting against the COVID-19 epidemic. Anganwadi workers are taking risks by conducting door-to-door surveys in every district. Besides, they are also visiting from house to house for provide nutritional food to the children. In such a situation, they have contact with many people, which pose a risk of corona infection. Therefore, they should be given the benefit of this insurance scheme.
47.Himachal Pradesh to provide free online medical consultation to sick people through e-sanjeevani-opd
In order to provide health services in the wake of COVID-19 Pandemic, the Himachal Pradesh Health Department has come up with a unique idea of providing free online medical consultation to sick people at their residence through e-sanjeevani-opd. This free online health service has been started throughout the state and now people can consult to take health advice from the doctors of different medical colleges from 9:30 AM to 4:00 PM on all working days. In view of COVID-19 pandemic sick people were feeling uncomfortable to visit hospitals, hence for this, the state government with the health department has come up with an idea of 'esanjeevaniopd' through which general health advice will be provided to the people at their residence throughout the state. To take advantage of this facility one should have a computer, laptop, tablet with webcam mike, speaker and internet connection.
48.Facebook launches third party fact checking in Bangladesh
Facebook announced the launch of its third party fact checking system in Bangladesh to discourage the spread of fake news in the country. Facebook in partnership with Boom Fact check will review and rate the stories. It will debunk misinformation on topics from health and medicine to current affairs so that Facebook users in Bangladesh are able to identify factual information and news online. When third party fact-Checkers rate a post as false or fake, it will appear less or at the bottom of the news feed. This will reduce the spread of the post. Boom is an Indian fact checking website which is available in English, Hindi and Bengali. Facebook started its fact-checking programme in 2016 and now it covers 60 partners in 50 languages.
49.ARI researchers develop bug sniffer for efficient detection of pathogens
Researchers at the Agharkar Research Institute (ARI), Pune have developed a sensitive and low-cost sensor to rapidly detect bacteria. The device has been called as 'bug sniffer,'. The portable device can detect as low as ten bacterial cells from a sample size of one milliliter in just 30 minutes. The bug sniffer is affordable, and the raw materials required for making it are readily available.
50.Home Ministry issues guidelines for movement of stranded migrant labourers for their work engagement within States and Uts
The Home Ministry issued Standard Operating Procedures (SOP) for the movement of stranded migrant labourers for their engagement in industrial, manufacturing, construction, farming and MNREGA works within States and Union Territories where they are currently located. Under it, they have been allowed to go to places of work within a state with certain conditions. The SOP said, in the event that a group of migrants wish to return to their places of work within the state where they are presently located, they will be screened and those who are asymptomatic will be transported to their respective places of work. During the journey by bus, it will be ensured that safe social-distancing norms are followed and the buses are sanitized as per guidelines of the health authorities.
51.IIA scientists connect Lithium abundance in interstellar space to new Lithium rich red giants
Researchers at the Indian Institute of Astrophysics (IIA) have discovered hundreds of Li-rich giant stars indicating that Li is being produced in the stars and accounts for its abundance in the interstellar medium. They have also associated such Li enhancement with central He-burning stars, also known as red clump giants, thereby opening up new vistas in the evolution of the red giant stars. Lithium (Li), is one of the three primordial elements, apart from Hydrogen and Helium (He), produced in the big bang nucleosynthesis (BBN). However, the present measurement of Li in the interstellar medium and very young stars is about 4 times more than the primordial value.
52.Uttar Pradesh becomes first state to geotag community kitchens
Uttar Pradesh has become the first state in the country to geotag its 7,368 community kitchens and community shelters across 75 districts which produce 12 lakh food packets a day. The state government has also tied up with Google to 'Geo-map' the locations of all these establishments on the Google Maps app for ease of beneficiaries. Out of these 7,368 community kitchens, 668 are being run by NGOs and religious institutions. More than two crore food packets have been distributed in Uttar Pradesh since March 25.
53.Air India announces opening of bookings for select Domestic flights for travel from 4th May; International Flights to start from 1st June
Air India has announced that it has opened bookings for select Domestic flights for travel from 4th of May and for International Flights from 1st of June this year. Air India has said that in the light of the ongoing global health concerns, it has currently stopped accepting bookings on all domestic flights for travel till 3rd of May and on all international flights for travel till 31st of May. This means the national carrier's domestic and international flights will remain suspended during this period.
54.Postal employees to get Rs 10 lakh compensation in case they succumb to COVID-19
All postal employees, including Gramin Dak Sevaks, will get Rs 10 lakh compensation in case they succumb to COVID-19. The postal services come under essential services and apart from regular services, the post offices are also delivering food packets, rations and essential medicines, among others, across the country by liasioning with local administration and police. The above guidelines have been implemented immediately and continues for the entire period till the crises of COVID-19 is over.
55.CSIR-CFTRI's protein-enriched biscuits reach COVID-19 patients
The Mysuru-based CSIR-Central Food Technological Research Institute (CRTRI) has made available high-protein biscuits to the COVID-19 patients undergoing treatment in the All India Institute of Medical Science (AIIMS), New Delhi. CFTRI supplied 500 kg of high-protein biscuits and 500 kg of high-protein rusks to the Dietetics department of AIIMS to supply to the patients. The biscuits contain 14% of protein while usual biscuits contain around 8-9% protein. A 100-g packet of biscuits clearly pack a punch with its energy quotient of 400 kcal and its nutritional value: carbohydrate (63.2 g), protein (14 g), fat (17.1 g) and minerals (1.2 g). The biscuits are being manufactured in Noida, Uttar Pradesh, by Seven Seas Private Limited based on the formulation developed by CSIR-CFTRI.
56.Union Minister for Culture launches the National List of Intangible Cultural Heritage (ICH)
Union Minister for Culture Prahlad Singh Patel launched the National List of Intangible Cultural Heritage (ICH) of India in New DelhI. India houses a repository of unique Intangible Cultural Heritage(ICH) traditions, 13 of which have also been recognized by UNESCO as Intangible Cultural Heritage of Humanity. The National ICH List is an attempt to recognize the diversity of Indian culture embedded in its intangible heritage. This initiative is also a part of the Vision 2024 of the Ministry of Culture.
57.CSIR-NAL develop Personal Protective Coverall Suit to Combat COVID-19
CSIR constituent Lab in Bengaluru, CSIR-National Aerospace Laboratories (CSIR-NAL), along with MAF Clothing Pvt. Ltd, Bengaluru has developed and certified the overall protective coverall suit. The polyproplylene spun laminated multi-layered non-woven fabric based coverall can be used to ensure the safety of Doctors, Nurses, Paramedical staff and Health Care workers working round the clock on COVID-19 mitigation. The Coveralls have gone through stringent testing at SITRA, Coimbatore and have been qualified for use. CSIR-NAL and MAF have plans to augment the production capacity to about 30,000 units per day within four weeks' time.
58.BCCI Creates 'Team Mask Force'
Featuring India's most revered cricketers such as Virat Kohli and Sachin Tendulkar, the BCCI has created a new video to promote wearing masks in public places and help the country battle the COVID-19 pandemic. The 'Team Mask Force' has been created to spread awareness about wearing masks in public places. The video has messages from BCCI President Sourav Ganguly, Smriti Mandhana, Rohit Sharma, Harbhajan Singh, Harmanpreet Kaur, Virender Sehwag, Rahul Dravid and Mithali Raj, all of them speaking about the importance of wearing masks and following the directives of the government in this fight.
59.CSIR to begin trial on anti-leprosy drug
Council Of Science and Industrial Research (CSIR) is slated to begin clinical trials on the anti-leprosy vaccine called Mw (Mycobacterium w) to see if it can be used as a vaccine against coronavirus. Mw is a cousin of BCG and it has been used as a vaccine for leprosy. CSIR along with Gujarat-based pharma-giant Cadila Healthcare Ltd would be working on Mw vaccine for Covid-19. Three hospitals will also be involved in this clinical trial which includes AIIMS Delhi, AIIMS Bhopal and PGI Chandigarh. The objective of the study is to carry out controlled clinical trials to compare the efficacy and safety in Covid-19 positive patients but not the ones who are critical. The immune-boosting drug which was developed in 1966 by Indians as an anti-leprosy drug has found some success in the cure for TB, cancer, and warts.
60.DRDO innovates automatic sanitiser and ultraviolet devices to fight coronavirus
The Defence Research and Development Organisation introduced two new technologies that are aimed at preventing the spread of the coronavirus. These two are Automatic Mist Based Sanitiser Dispensing Unit and UV Sanitisation Box and Hand-held UV device. Ultraviolet device, which is hand held, can disinfect office and house objects like chairs, files and food packets. It also comes as a box, which has been designed to disinfect personal belongings such as mobile phones, files and wallet. Automatic mist based sanitiser dispensing unit is a contactless sanitiser dispenser, which sprays alcohol based hand sanitiser, for use at the entry of buildings and office complexes.
61.MEA announces COVID-19 training programme for SAARC countries, first session held by AIIMS-Raipur
India has announced a capacity building programme for healthcare professionals in SAARC countries to assist them in their fight against coronavirus and an e-ITEC short training live webinar was held by AIIMS-Raipur. India is assisting SAARC countries in their fight against COVID-19 by having set up a USD 10 million fund, helping them with Rapid Response Teams of doctors, specialists and testing equipment, medical supplies as well as capacity building and exchange of best practices amongst health care professionals. A series of such free and interactive training programmes have been made available for SAARC countries. These will help exchange best practices and connect healthcare professionals and providers across the SAARC region.
62.Rate of doubling of COVID-19 cases improves to 6.2 days from three days due to Lockdown
India has been doing better than many other countries on outcome ratio- the ratio of number of COVID-19 recoveries Vs number of deaths. India's doubling rate was about 3 days, before the lockdown. For the past 7 days, the doubling rate is 6.2 Days. 19 states have shown a higher doubling rate better than the national average. Indian government has set up 1,919 dedicated COVID Hospitals and COVID Health Centres have been set up in the country, with capacity of 1.73 lakh isolation beds and 21,800 ICU beds.
63.Rajasthan claims to be first State in country to carry out Rapid Testing for COVID-19
In Rajasthan, Health minister Raghu Sharma claimed that it became the first state in the country to carry out Rapid Testing for COVID-19. Beginning, 52 persons were tested and all the 52 persons tested negative. Health minister Raghu Sharma told that this test will be done at a large scale to assess the prevalence of COVID-19 in hotspots - both in the containment and the buffer zones around the clusters. In addition to rapid testing, PCR based testing will continue to be done in an aggressive manner in the containment zones all over Rajasthan.
64.Delhi government launched 'Assess Koro Na' app for door-to-door survey in containment zones
The Delhi government has asked officials to use the new 'Assess Koro Na' app for door-to-door survey in COVID-19 containment zones. Officials say the delay in collecting and analysing the data of a person in a physical form is a major challenge. With this app, the data collected can be uploaded on the servers in real-time and immediately analyse. This will help the control centres in making a quick decision on the requirement of ambulances and other medical equipment and personnel in the area. During the process, surveyors ask questions like travel history, contact history, flu-like symptoms and shortness of breath.
65.Centre unveils PUSA decontamination, sanitizing tunnel
Minister of State for Agriculture Kailash Chaudhary inaugurated a 'PUSA decontamination and sanitizing tunnel' developed by the government research body ICAR-Indian Agricultural Research Institute in the national capital. The sanitization protocol includes hand washing with foot operated soap and water dispenser and fogging in a sanitizing tunnel for 20 seconds. In this tunnel, Quaternary Ammonium Compounds (QAC) are used at concentrations of 0.045 per cent, which is recommended by the health department. The Indian Agricultural Research Institute (IARI), commonly known as the Pusa Institute, is India's national Institute for agricultural research, education and extension. The name Pusa Institute is derived from the fact that the institute was originally located in Pusa Bihar as the Imperial Institute of Agricultural Research in 1911. Indian Agricultural Research Institute HQ: New Delhi
66.CeNS develops a compact solid-state sensor to detect the heavy metal ions in water
The Centre for Nano and Soft Matter Sciences (CeNS) has developed a compact solid-state sensor to detect the heavy metal ions in water. It is a portable device which can help onsite detection in remote areas. Heavy metal ions such as lead, mercury and cadmium pose severe potential threats to living beings as they can easily be accumulated in the body and cannot be detoxified by any chemical or biological processes. The health hazards associated with heavy metal ions in water demands the development of efficient and portable sensors for rapid onsite detection of these ions. A team of researchers led by Dr. Pralay K. Santra have developed a compact solid-state sensor to detect the heavy metal ions, e.g., lead ions (Pb2) down to 0.4 parts per billion (ppb) for efficient onsite detection.
67.Bihar Reports 3 Acute Encephalitis Syndrome Cases
Amid coronavirus outbreak, Bihar has now reported 9 cases of Acute Encephalitis Syndrome cases, also known as brain fever. Last month, a three-year-old boy died due to acute encephalitis syndrome at ICU of state-run Sri Krishna Medical College and Hospital (SKMCH) in Muzaffarpur around 48 hours after his admission. Last year over 140 children had died due to AES in the district. As per official data, 121 deaths were reported at the government-run SKMCH, which handled the largest number of patients in the district. AES is a viral disease that causes flu-like symptoms such as high fever, vomiting and in extreme cases, brain dysfunction, seizure, and inflammation of the heart and kidney.
68.Viswanathan Anand joins WWF India as ambassador for environment education
Five-time world chess champion Viswanathan Anand has joined WWF (World Wide Fund) India as its ambassador for the environment education programme. WWF India is celebrating its 50 years of conservation in India. In the midst of the coronavirus pandemic, governments, development organisations, corporates and individuals around the world are doing their bit to prevent the spread of the disease. The environment education programme currently reaches out to over 5,00,000 children across 2000 schools in the country.
69.Air India flight carrying four tonnes of medical items arrives in Seychelles
An Air India flight carrying four tonnes of medical items including essential lifesaving medicines being gifted to Seychelles arrived at Victoria airport. The flight carried 4 tonnes of medical items being gifted to Seychelle. It said the medicines have been requested by the Seychelles government. India has reached out to countries in its neighbourhood and beyond with help in the form of medicines and other things as they battle with the coronavirus pandemic. The Seychelles is an archipelago of 115 islands in the Indian Ocean, off East Africa.
Seychelles Capital: Victoria
Currency: Seychellois rupee
70.China dispatched total of 650,000 kits to India
A consignment of 550,000 antibody testing kits and 100,000 RNA extraction kits was dispatched by Chinese firms to India. They will be used in the country's efforts to prevent and control the spread of Covid-19. The consignment includes part of the large orders placed by India for medical supplies and equipment with Chinese firms. Chinese companies have been contracted for nearly 15 million personal protective equipment (PPE) kits comprising gowns, gloves, masks and goggles, and 1.5 million rapid testing kits for Covid-19 by the Indian government and private companies
71.Spitting in public now an offence under Disaster Management Act
Union Home Ministry has made spitting in public without caring as a punishable offence under the strict Disaster Management Act in its revised guidelines for lockdown. The guidelines issued by the ministry also make wearing of face masks in public places mandatory. The Brihan Mumbai Municipal Corporation has imposed a fine of Rs 1,000 if anyone is caught spitting in public. Similar measures are also in place in municipal corporations of Delhi, and several other states.
72.IMD announces that it expects monsoon rainfall to be normal this year
The India Meteorological Department (IMD) announced that it expects monsoon rainfall to be normal this year. Southwest monsoon seasonal (June to September) rainfall over the country as a whole is likely to be normal (96-104%). It said that quantitatively, the monsoon seasonal (June to September) rainfall is likely to be 100% of the Long Period Average (LPA) with a model error of 5%. The LPA of the season rainfall over the country as a whole for the period 1961-2010 is 88 cm. Monsoons are expected to hit Kerala's Thiruvananthapuram on June 1. Monsoons are expected to withdraw in south India on October 15. Neutral El Nino Southern Oscillation (ENSO) conditions are prevailing over the Pacific Ocean and Neutral Indian Ocean Dipole (IOD) conditions are prevailing over the Indian Ocean. IMD will issue the updated forecasts in the last week of May/ first week of June as a part of the second stage forecast.
73.Tata AIA becomes the first Life Insurance company to announce Additional Benefits Related to COVID-19
Tata AIA Life Insurance announced additional benefits for its Policyholders and Agents. As part of Tata AIA Life's initiative, its individual policyholders will get COVID-19 related additional benefits up to Rs 500,000 at no additional cost. Further, to extend the Circle of Protection to its own Agents, all 'active' Agents of Tata AIA Life Insurance along with their spouse and children will be reimbursed up to Rs 25,000 in case of hospitalisation due to COVID-19. This is a first of its kind initiative in India. All policyholders of Tata AIA will get an additional benefit equal to the base sum assured or Rs 500,000 whichever is lower for valid death claims due to COVID-19. This benefit is applicable for all valid death claims with a date of death on or before June 30 2020.
74.Ministry of Tourism launches its "DekhoApnaDesh" webinar series
The Ministry of Tourism has launched its "DekhoApnaDesh" webinar series. The series have been started to provide information on the many destinations and the sheer depth and expanse of the culture and heritage of our Incredible India. The first webinar which is a part of this series that shall unfold, touched upon the long history of Delhi. The webinar was titled " City of Cities- Delhi's Personal Diary'. The webinar shall be available in public domain soon on the Ministry's social media handles- IncredibleIndia on Instagram and Facebook. The next webinar is on the 16th of April from 11 am to 12 noon and shall take visitors to the amazing City of Kolkata.
75.Fit India, CBSE to organise 1st-ever live fitness sessions for School students
Fit India and CBSE will organise first-ever live fitness sessions for school students in the second phase of lockdown. Live sessions will commence from 9:30 in morning and students can get access to these live sessions on Facebook and Instagram handles of Fit India Movement and CBSE. During the programme guidelines of the Ministry of AYUSH to stay healthy will be shared with students. The live sessions will cover all aspects of children's fitness from daily workouts to yoga, nutrition to emotional well-being.
76.Robots to serve food, medicine to COVID-19 patients in Jharkhand
'COBOT-Robotics' Robots are serving food and medicine to COVID-19 patients in two hospitals in Jharkhand's West Singhbhum district. It is a step to protect doctors and health workers from getting infected with coronavirus. Developed by District Deputy Development Commissioner (DDC) Aditya Ranjan, the remote-controlled 'COBOT-Robotics' will provide food and medicine to patients without human intervention.
77.e-comic Textbooks launched in Manipur
After releasing the country's first comic textbooks primary classes, the electronic format of comic textbooks for Class III, IV and V respectively was formally launched in Manipur. The electronic format comic textbook for each class comprises three subjects namely Mathematics, Environmental Studies and English Language in a single electronic comic textbook format. Manipur had topped the list of the best performing smaller states in NITI Aayog's school education quality Index.
78.UP to become first state to start pool testing of COVID-19 samples
As the number of Covid-19 positive patients in Uttar Pradesh increased, the state government decided to start pool testing of the coronavirus samples. The Indian Council of Medical Research (ICMR) gave permission for pool testing to the state in order to help maximise the testing of samples on a daily basis. During pool testing, if 10 samples are mixed and tested for Covid-19 and if they test negative, then it will be an indicator that all samples are negative. But if the test is not negative, then individual testing will be done. This will increase the testing capacity as well as accelerate the process. The health department at the moment is testing around 2000 samples per day in the state.
89.India, China will register positive growth rate despite Coronavirus pandemic: IMF
The International Monetary Fund (IMF) has said India and China are the only two major countries, which will register a positive growth rate despite the Coronavirus pandemic. In its latest edition of the World Economy report, IMF has projected India's GDP growth to be 1.9 per cent in 2020 from 5.8 per cent in January. For China, it has projected a growth rate of 1.2 per cent. The IMF said, despite the global economy hitting the worst recession since the Great Depression of 1930s, India and China are likely to bounce back strongly in 2021 with India expected to grow at 7.4 per cent and China at 9.2 per cent. Most countries in the advanced economy group are forecast to contract this year, including the US, Japan, the United Kingdom, Germany, France, Italy and Spain.
90.HDFC Chairman pushes for restructuring of NPA norms
HDFC Chairman Deepak Parekh pushed for a one-time restructuring of stressed real estate accounts and relaxation in classification of NPA norms to 180 days from 90 days to help the sector. Unless the stressed accounts are restructured, financial institutions will find it difficult to provide additional liquidity to the sector. Most of the developers are in a stressful situation and many of them are NPAs or will become NPAs. Recommendation has already been made to the RBI for the restructuring following which real estate developers can be given additional money. Under the RBI norms, an account is classified as a NPA if it is not serviced for 90 days.
Business
91.New Development Bank's to provide 1 billion dollar emergency assistance to India
Finance Minister Nirmala Sitharaman appreciated efforts of New Development Bank on fast tracking of financial assistance of about five billion dollars to BRICS countries including Emergency Assistance of one billion dollar to India to combat COVID-19 pandemic. The NDB was established by the BRICS countries -Brazil, Russia, India, China and South Africa in 2014. NDB has so far approved 14 indian projects for an amount of 4,183 million dollar. The purpose of the Bank is to mobilise resources for infrastructure and sustainable development projects in BRICS and other emerging market economies.
92.TVS Motor Company completes acquisition of Norton for Rs 153 crore
TVS Motor Company has announced the acquisition of Britain's iconic sporting motorcycle Norton in an all-cash deal for 16 million pounds (about Rs 153 crore). TVS Motor will acquire certain assets of Norton Motorcycles UK Ltd through one of its overseas subsidiaries. Norton Motorcycles is among the most popular British motorcycle brands of all time and is considered one of the most emotive marques. Since the 20th century, Norton Motorcycles is renowned for its classic models and eclectic range of luxury motorcycles.
93.RBI increases WMA limit for states by another 30%
The Reserve Bank of India (RBI) has provided relief to state governments by raising their short-term borrowing limit by an additional 30%. This is estimated to create a space for Rs 12,000 crore for the state governments looking to raise money. The central bank had on April 1 announced raising the Ways and Means Advances (WMA) limit of states by 30%. It has now been decided to increase the WMA limit of states by 60% over and above the level as on March 31, 2020. The Reserve Bank of India (RBI) gives temporary loan facilities to the central and state governments. This loan facility is called Ways and Means Advances (WMA). Also, The central bank has reduced the liquidity coverage ratio (LCR) requirement for banks to 80 per cent from 100 per cent with immediate effect as a relief to these lenders.
94.Asia expected to witness zero % growth in 2020 : IMF
The International Monetary Fund (IMF) has said that Asia is expected to witness zero percent growth in 2020 due to the COVID-19 pandemic. It will be its worst growth performance in almost 60 years The IMF in a blog titled 'COVID-19 Pandemic and the Asia-Pacific Region: Lowest Growth Since the 1960s' further said the impact of the coronavirus on the region will be "severe and unprecedented". This is the worst growth performance in almost 60 years, including during the Global Financial Crisis, when the growth stood at 4.7 percent; and the Asian Financial Crisis when it stood at 1.3 percent." It further noted that "Asia still looks to fare better than other regions in terms of activity".
95.RBI slashes reverse repo rate by 25 bps to 3.75 per cent to inject liquidity
The Reserve Bank of India (RBI) announced a reduction in reverse repo rate by 25 basis points from 4 percent to 3.75 per cent. This announcement has been made to facilitate bank credit flows amid the coronavirus crisis and subsequent countrywide lockdown which has brought economic activity to a virtual halt. However, it kept the repo rate unchanged. Repo rate is the rate at which the central bank lends money to commercial banks, and reverse repo rate is the rate at which it borrows from them.
96.RBI launches latest round of quarterly survey on manufacturing sector
The Reserve Bank of India launched the latest round of quarterly order books, inventories and capacity utilisation survey (OBICUS) of manufacturing sector. The RBI has been conducting the OBICUS of the manufacturing sector on a quarterly basis since 2008. The information collected in the survey includes quantitative data on new orders received during the reference quarter, backlog of orders, pending orders, total inventories with a breakup between work-in-progress (WiP) and finished goods (FG) inventories and item-wise production.