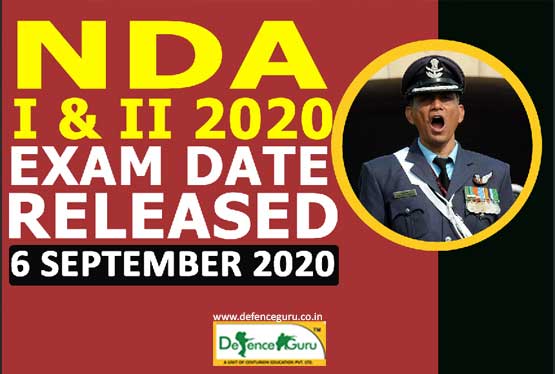 NDA I and NDA II 2020 Examination Date Released
The wait is over N.D.A. & N.A aspirants as UPSC released much awaited NDA I and NDA II pending exam dates on June 5, 2020. Official notification as per UPSC exam date calendar for NDA I and NDA II exams:
"Only one NDA exam this year will be conducted for NDA i.e. combining both NDA I and NDA II exams together on September 6, 2020".
As per the official notification released on UPSC website a complete revised UPSC exam date calendar is out. Union Public Service Commission has released the annual exam calendar of the revised exam dates for UPSC Civil Services, NDA, CMS and other examinations conducted by the commission. All the associated exam dates can be referred on UPSC Exam Dates 2020 Calendar of UPSC. Check the complete list of exams and the UPSC Calendar 2020 on the provided link - Click here
Major Turning Point in the NDA 2020 Exam, the best and better opportunity has never been arrived in NDA examination since its inception. Competition level is on its peak with most renowned opportunity on your way. The most appropriate time to start your preparation for NDA examination for NDA September 2020 exam begins. The total aspirants appearing around 5-6 lakhs where 8000 candidates are expected to be selected for SSB Interview, you can grab the chance to fit in the merit list.
Key Points to be Highlighted Includes:-
· A common examination for both NDA & NA Exam (I) and NDA & NA Exam (II), 2020 will be held on 06.09.2020.
· Vacancies of NDA & NA Exam (I), 2020 i.e. 400 and expected vacancies for NDA & NA Exam (II), 2020 i.e. 400 will be combined all-together for collective NDA 2020 recruitment process.
· For NDA & NA Exam (I) and NDA & NA Exam (II), 2020 a fresh single paper for 6th September will be created conducted on the same day
· Fresh notification for NDA & NA Exam (II), 2020 is tentatively scheduled to be released on June month while no fresh notification for NDA I exam re-notification will be released
· NDA SSB dates to begin with 15th July, 2020 (Expected)
· NDA 2021 joining will be according to NDA II cycle for both NDA I & NDA II batch
· Cut off is expected to be high for NDA 2020 due to maximum time period granted to aspirants i.e. 90 days
· Prepare up to July 1st Current Affairs for September paper
Join Centurion Defence Academy the best NDA Coaching for sure shot success asserted with target-oriented and result-oriented batches for upcoming NDA September 2020 Examination.