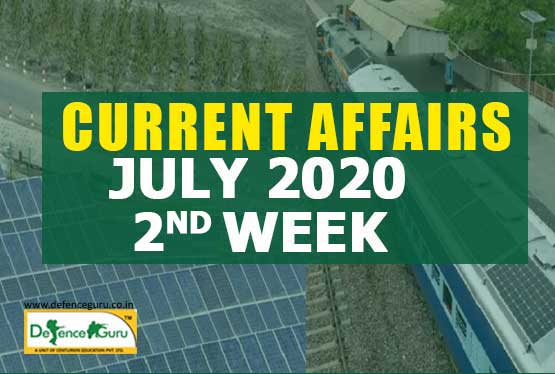 Current Affairs July 2nd Week 2020
APPOINTMENTS
1.Dr. Vidhu P. Nair
Dr. Vidhu P. Nair has been appointed as the next Ambassador of India to Turkmenistan. Dr Nair, who is a 2002 batch IFS officer, is presently Director in the External Affairs Ministry. He is expected to take up the assignment shortly.
Turkmenistan Capital: Ashgabat
Currency: Turkmenistan manat
President: Gurbanguly Berdimuhamedow
2.Bansi Lal Bhat
The National Company Law Appellate Tribunal (NCLAT) has further extended the office term of Justice (Retd.) Shri Bansi Lal Bhat, Member (Judicial) as officiating Chairperson for a period of three months. The National Company Law Appellate Tribunal (NCLAT) is a tribunal which was formed by the Central Government of India under Section 410 of the Companies Act, 2013. The tribunal is responsible for hearing appeals from the orders of National Company Law Tribunal(s) (NCLT), starting on 1 June 2016.
Awards
3."Elites Excellence Awards -2020" to Chhattisgarh at "Elite India Transformation Summit"
Chief Minister Darpan website and mobile app prepared for monitoring Chhattisgarh Government's ambitious Suraji Gaon Scheme and other flagship schemes, has been awarded "Elites Excellence Awards-2020". The state of Chhattisgarh has been awarded this honour by the country's prestigious IT institution Elites Technomedia under the 'Digital India initiative'. The purpose of this website and mobile app is to directly monitor the flagship schemes of the Chhattisgarh Government from the Chief Minister's Secretariat and provide real-time information to the common citizens.
4.ISRO Chief Sivan named as 2020 Von Karman Award recipient
ISRO chief Dr Kailasavadivoo Sivan has been named as the recipient of the 2020 Von Karman Award of the International Academy of Astronautics. The award which is the highest distinction of the Academy will be conferred in March 2021 in Paris. The International Academy of Astronautics (IAA) was also founded by von Karman who was the first President of the organization which is committed to expanding the frontiers in space. The von Karman award was established in 1982 and is the premier award of the Academy. It is given annually to recognize outstanding lifetime achievements in any branch of science without limit of nationality or gender. The award honours the memory of the Academy's founder and first President, a scientist of the highest international reputation. Prior to K Sivan, two Indians namely - Krishnaswamy Kasturirangan and U.R. Rao - have been recipients of the award.
5.CII-ITC Sustainability Awards 2019
National Thermal Power Corporation, NTPC Limited, a Central PSU under Ministry of Power has won the prestigious CII-ITC Sustainability Award 2019, under Outstanding Accomplishment in Corporate Excellence Category. The company has also received Commendation for Significant Achievement in the category of CSR. CII-ITC Sustainability Awards recognize and reward excellence in sustainability practices. It is considered to be the most credible platform for sustainability recognition in the country. NTPCs flagship CSR program Girl Empowerment Mission, a four weeks residential program has been institutionalized in the vicinity of its power stations for the benefit of school going girls to support in their overall development.
6.Dada Saheb Phalke Award-2020
Kezang D Thongdok, an independent filmmaker has bagged the prestigious Dadasaheb Phalke Award 2020. Thongdok's short documentary 'Chi Lupo' artfully sketches the custom of honey hunting practised in the Shertukpen community wherein 'Chi' means honey and 'Lupo' means hunters Honey is an integral part of this community and is used for preparing various delicacies and valued for medicinal properties. To keep this tradition of indigenous practice of honey hunting alive, Kezang D Thongdok documented the age old tradition of honey hunting.
7.UNIFIL environment award
An Indian battalion stationed with the United Nations Interim Force in Lebanon (UNIFIL) has won an environment award for a project that aims to decrease waste generation, reuse plastic, build greenhouses and compost pits. Indian Battalion (INDBATT) was adjudged first for a project that seeks to increase awareness and decrease waste generation by planting seedlings in their positions and areas of responsibility, preventing littering, reusing plastic bottles, building green houses and building compost pits. Other UNIFIL units that received awards and recognitions included French-led Force Commander Reserve, Indonesian Battalion, Republic of Korea Battalion and Italian Battalion. UNIFIL launched the Annual Environment Awards in December last year to recognise environmental achievements within the Missions area of operations. The awards commend individuals, UN positions, contingents, sections and units that have demonstrated leadership, innovation or exceptional activities in protecting the environment.
8.IOC receives Green Building Leadership Award
The International Olympic Committee (IOC) announced that its new headquarters in Lausanne has been awarded the European 2020 US Green Building Council (USGBC) Leadership Award. Olympic House, which also holds the rigorous LEED Platinum certification, is one of the most sustainable buildings in the world. The award recognises "those advancing the development of sustainable, healthy and resilient buildings, cities and communities in regions around the world". The building is powered by renewable energy, part of which is produced on-site.Ninety-five per cent of Olympic House construction waste was recycled, and more than 95 per cent of the former IOC building was recycled or reused.
Books
9.Ruskin Bond's new book will mark 70 years of his writing journey
Ruskin Bond's new book, A Song of India is all set to release in July this year. Published by Puffin Books, the book is set in 1951, and traces the beginning of Bond's writing career. The illustrated book will mark the 70th year of the author's writing journey. It was in England where Bond worked on his first book 'The Room on the Roof' and realised his true calling of becoming a writer. The new book is the fourth instalment in his memoir series after "Looking for the Rainbow" (2017), "Till the Clouds Roll By" (2017) and "Coming Round the Mountain" (2019).
10.His Holiness Dalai Lama's biography to release in 2020
A new biography on the life and times of Tibetian spiritual leader His Holiness Dalai Lama, will be released this year. Titled 'His Holiness the Fourteenth Dalai Lama: An Illustrated Biography', the book is written by Tenzin Geyche Tethong and will be published by Roli Books. It will also be published in other languages including Russian, German, Italian, Ducth. Tenzin Geyche Tethong has been associated with the Dalai Lama for over four decades as his close aide and advisor. The 14th Dalai Lama, Tenzin Gyatso is the current Dalai Lama. He now lives in Dharamshala in Himachal Pradesh, fled from Tibet and came to India at the age of 23. His teachings of peace and non-violence and freedom has won him the prestigious Nobel Peace Prize in the year 1989.
DEATHS
11.Renowned ceramic artist Jyotsna Bhatt passes away
Renowned ceramic artist Jyotsna Bhatt passes away after she suffered a stroke. She was an Indian ceramist and potter. She studied and later taught at the Maharaja Sayajirao University of Baroda for forty years. Apart from ceramics, she also experimented with stoneware and terracotta. In her ceramics, she preferred matte and satin matte glazes as well as teal blue to moss green and other earth tones. She frequently used alkaline earths, amorphous moulds and various minerals.
12.Renowned Gujarati Cartoonist Avad Bin Hassan Jami passes away
One of the most senior and popular cartoonists of Gujarat, Avad Bin Hassan Jami, has passed away. He was 77. He was popularly known as "Jami". His cartoons were published in Gujarati magazine "Abhiyan" for over two decades. He had also worked in Gujarati newspaper Phhulchhab as a cartoonist. He was a drawing teacher at Kendriya Vidyalaya, Jamnagar and became a full-time cartoonist after retirement.
13.Veteran Gujarati writer and journalist Nagindas Sanghvi dies at 100
Veteran Gujarati journalist, columnist, writer and political analyst Nagindas Sanghvi passed away in Surat. He received Padma Shri, Indian's 4th highest civilian honour in 2019. He had written many books on Mahatma Gandhi, Gujarat and other subjects.
14.Ivory Coast's Prime Minister Amadou Gon Coulibaly dies
Amadou Gon Coulibaly, Ivory Coast's prime minister and the governing party's candidate for an October presidential election, died. He died just days after returning from two months of medical treatment in France. The 61-year-old, who had heart surgery in 2012, became unwell during a weekly cabinet meeting and was taken to a hospital where he passed away. Coulibaly's death creates huge uncertainty over the election in Ivory Coast, the world's top cocoa grower, which has returned to normalcy after years of political turbulence and a brief civil war that killed 3,000 people.
Capital of Ivory Coast: Yamoussoukro
15.Dr Suresh Amonkar
Former health minister of Goa, Dr Suresh Amonkar, died due to Covid-19 infection. Dr Amonkar, 68, was found positive on June 22 and admitted to the state's dedicated Covid-19 hospital but his condition deteriorated in the following days. Dr Amonkar was a two-term MLA, being elected to the Goa Assembly in 1999 and 2002, as well as served as minister in the first Manohar Parrikar cabinet in 2000 as a minister of health. He was also the ex-president of the Goa unit of the Bharatiya Janata Party (BJP).
16.Kannada TV actor Susheel Gowda passes away after committing suicide
Kannada TV actor, Susheel Gowda passed away after committing suicide. Susheel Gowda, who is over 30 years of age, had acted in the romantic serial Anthapura. Apart from acting, Susheel was also a fitness trainer. Susheel was looking to establish himself in the Kannada film industry. He has played the role of a cop in the upcoming movie Salaga which has Duniya Vijay in the lead role.
17.Veteran actor Jagdeep, Sholay's Soorma Bhopali, dies at 81

Veteran Bollywood actor Jagdeep, known for his work in films such as Sholay, Andaz Apna Apna and Purana Mandir, has died.In his first film, BR Chopra's Afsana, he was a face in the crowd who later got a speaking part because he could say the dialogues in chaste Urdu. In 1988, Jagdeep also directed the film Soorma Bhopali based on his character from Sholay. In a career spanning over six decades, he acted in over 400 films.
SPORTS
18.Hamilton wins inaugural Styrian GP for Mercedes
Lewis Hamilton has won the first-ever 2020 Styrian Grand Prix for Mercedes-AMG F1 at the second race being held this season at the Red Bull Ring, Austria. Valtteri Bottas (Mercedes-Finland) finished second while Max Verstappen ( Red Bull- Belgium) was third. It was the second race of the 2020 Formula One World Championship and the first running of the Styrian Grand Prix.
19.Former cricketer Chetan Chauhan tests positive for COVID-19
In Uttar Pradesh, Former India cricketer and Uttar Pradesh cabinet Minister Chetan Chauhan has tested positive for COVID-19. Known to be a gritty player, Chauhan played 40 Tests between 1969 and 1978 and scored 2084 runs at an average of 31.57 with 97 being his highest score. He also played in seven ODIs, scoring 153 runs from them. He and Sunil Gavaskar formed a successful opening partnership, scoring over 3000 runs together with 10 century stands in numerous Tests in the 1970s.
20.India's Joshna Chinappa Breaks back Into World's Top-10 Squash Rankings After Raneem El Welily Retires
India's squash star Joshna Chinappa has broken back into the top-10 of the PSA world rankings following the shock retirement of Egyptian world number one Raneem El Welily. Joshna, who has not played since March due to the COVID-19 pandemic, moved up a spot to be in 10th position. The 33-year-old had entered the top-10 for the first time in 2016. Dipika Pallikal is the other Indian female player who has achieved the feat. Egypt's Nouran Gohar is the new world number one following Raneem's retirement. Raneem had held the top spot for 19 months before announcing a sudden retirement. India's top male player Saurav Ghosal remains 13th in the latest rankings.
21.Foreign and Indian coaches will now have a four-year contract
Foreign and Indian coaches for training Indian Athletes will now have a four-year contract in alignment with the Olympic cycle. Speaking about the decision, Union Sports Minister Kiren Rijiju said that by ensuring the right coaching for the country's elite athletes, India's chances in all major international tournaments, including the Olympics will be improved. The contract of all foreign coaches have been extended till 30th September of next year, in light of Tokyo Olympics-2020 being postponed till next year.
22.G Akash becomes India's 66th chess Grandmaster
Tamil Nadu's G Akash became the country's 66th chess Grandmaster while his statemate M Pranesh and Goa's Ameya Audi earned International Master titles. Akash's GM title was confirmed at the second council meet of International Chess Federation (FIDE) for the year 2020 held recently. Having won the national title in 2012 and earned the IM title subsequently, Akash took a break to pursue an engineering degree in 2014. He made a comeback in 2018 and worked hard to earn his coveted GM title.
INTERNATIONAL
23.Bastille Day: 14 July
Bastille Day is the common name given in English-speaking countries to the national day of France, which is celebrated on 14 July each year. In 1789, on this day, a violent uprising helped usher the French Revolution. Citizens stormed the Bastille fortress, which was used to lodge the state prisoners. French poet and philosopher, Voltaire was imprisoned in Bastille for nearly a year after he spoke out against the ruling French regent's family. Bastille had become the symbol of the harsh rule and tyranny of the French monarchy, especially King Louis XVI and his queen, Marie Antoinette.
24.Iran drops India from Chabahar rail line project amid China's multi-billion dollar deal
Iran has dropped India from a railway project linking the Chabahar port to Zahedan city, citing delays from the Indian side in funding and starting the construction. India and Iran had signed an agreement four years ago to construct a 628-kiolmetre railway line from the strategically vital port to Zahedan, along the border with Afghanistan. This comes amid China finalising a 25-year, $400 billion strategic partnership deal with Iran. Chabahar is the only seaport Iran has in its energy-rich Sistan-Balochistan province by the Gulf of Oman and consists of two ports with five berths each. The port is a counter to Pakistan's Gwadar port which is being developed with the Chinese investment. The port, inaugurated in December 2017, has opened a new strategic route connecting Iran with India and Afghanistan bypassing Pakistan.
25.Russia first nation to finish human trials for Covid vaccine
Russia has become the first nation to complete clinical trials of COVID-19 vaccine on humans, and the results have proven the medication's effectiveness. At Sechenov University, the Director of Institute for Translational Medicine and Biotechnology has informed that the research has been completed and it proved that the vaccine is safe. There was, however, no further information on when this vaccine would enter the commercial production stage.
Russia had allowed clinical trials of two forms of a potential coronavirus vaccine developed by the Gamaleya National Research Center for Epidemiology and Microbiology on June 18. The First Group of Volunteers will be released on 15th July 2020 while the Second Group of Volunteers will be released next Monday (20th July 2020).
26.Two new Israeli assault rifles Arad and Carmel now set to be manufactured in India
In a boost to the fledgling domestic small arms industry, two latest Israeli assault rifles - the Arad and the Carmel - are set to be manufactured in India. The assault weapons are to be produced under the 'Make in India' initiative in Madhya Pradesh, where a plant had been set up in 2017 by Israel Weapons System (IWI) in a joint venture called PLR Systems. This will be a major boost to the domestic small arms industry and as well as the Make in India initiative. Both IWI Carmel Assault Rifle and Arad Assault Rifle was a caliber 5.56 X 45 mm, Carmel Assault Rifle has a Rate of Fire (RPM) in between 700-1000 rounds per min.
27.Malala Day: 12 July
Malala Yousafzai, one of the most prominent education activists, was born on 12 July 1997. The date is annually observed as Malala Day, to commemorate her struggle against Taliban and inspire scores of other girls across the world. Malala was born in Mingora town, located in the restive Khyber Pakhtunkhwa province of Pakistan. On July 12, 2013, Malala Yousafzai also delivered an impassioned speech at the United Nations (UN) headquarters on the need for gender equality in education. In 2012, the Pakistan government awarded her the first National Youth Peace Prize. In 2014, at the age of 17, Malala became the youngest-ever recipient of the Nobel Peace prize.
28.World Paper Bag Day: 12 July
World Paper Bag Day is held on July 12 every year, all around the globe. Paper bags are made of natural and biodegradable materials. They are made from renewable and raw materials that are recyclable and can be reused. The World Paper Bag Day is celebrated in order to spread awareness about the need for the usage of paper bags. American inventor, Francis Wolle, has been credited for his patent of the first paper bag machine in 1852.
29.World Population Day: 11 July
World Population Day is an annual event observed every year on July 11 every year. The day is observed in order to spread and raise awareness of the rising global population issues. The event was established by the Governing Council of the United Nations Development Programme in 1989. Day aims to increase people's awareness on various population issues such as the importance of family planning, gender equality, poverty, maternal health and human rights. As per reports, there were an estimated 7.8 billion people living on Earth as of March 2020.
30.Google relaunches Google Plus as Currents
Internet search giant Google has relaunched its social networking platform Google+ as Currents. The company has rebranded the app to Google Currents on both Google Play Store and Apple App Store. The Google Play Store listing describes the app as a place where people can connect with their colleagues, exchange documents, interact with like-minded people who have similar interests. In April 2019, a Google spokesperson announced that the official process for the shutdown of Google+ has started. The reason stated was low usage and some security bugs that were recently discovered.
31.US considering to ban Chinese Apps including TikTok
US Secretary of State Mike Pompeo has said America is looking at banning Chinese social media apps, including TikTok. The Trump Administration is certainly looking at banning these apps as they shared information with the Chinese government. US lawmakers have raised national security concerns over TikTok's handling of user data. They were worried about Chinese laws requiring domestic companies to support and cooperate with intelligence work controlled by the Chinese Communist Party. TikTok is a Chinese video-sharing social networking service owned by ByteDance, a Beijing-based internet technology company founded in 2012.
32.15th meeting of India-EU Summit to be held in virtual mode on 15th July
The 15th meeting of the India-European Union Summit will be held in virtual mode on 15th July. The Summit will be co-chaired by Prime Minister Narendra Modi, President of European Council Charles Michel and President of European Commission Ursula von der Leyen. The Summit is also expected to discuss developments around the Covid-19 pandemic and contemporary global matters of interest to both sides. The 14th India-EU Summit was held on 6 October 2017 in New Delhi.
33.Maldives, Sri Lanka eliminate measles & rubella ahead of 2023 target
Maldives and Sri Lanka have become the first two countries in the South-East Asia region to eliminate both measles and rubella ahead of the 2023 target. Protecting all children against these killer and debilitating diseases is an important step in endeavour to achieve healthier population and health for all. A country is verified as having eliminated measles and rubella when there is no evidence of endemic transmission for over three years by a well-performing surveillance system. Maldives reported its last endemic case of measles in 2009 and of rubella in October 2015, while Sri Lanka reported the last endemic case of measles in May 2016 and of rubella in March 2017. Member countries of WHO South-East Asia region had set 2023 as the target for elimination of measles and rubella. Bhutan, DPR Korea and Timor-Leste are other countries in the region who have eliminated measles.
34.Bangladesh govt launches 'Digital Haat' for sacrificial animals before Eid-Ul-Azha
'Digital Haat' platform has been launched by the government of Bangladesh for online sale and purchase of sacrificial animals ahead of the festival of Eid-Ul-Azha. The platform has been launched to save the cattle farmers and traders from financial loss amid the Corona pandemic. It also aims to avoid crowding in order to stop further transmission of the COVID-19 in the country.
35.Dwayne Johnson named as Instagram's highest-paid celebrity
Wrestler-turned-actor Dwayne Johnson has been named Instagram's highest-paid celebrity, the title which was earlier held by Kylie Jenner and Selena Gomez. The 48-year-old star charges approximately USD 1,015,000 (Rs 7,59,93,050) for a sponsored post. According to a BBC report, Kylie Jenner, who earlier held the position, used to charge USD 1.2 million (Rs 8,98,44,000) for a sponsored post last year. As of now, while Kylie has 184 million followers, and Johnson has 189 million followers. Before this, Dwayne Johnson was also named Hollywood's highest-paid actor of 2019 by Forbes.
36.Even the sickest COVID-19 patients produce T cells that help fight the virus
A new study has found that even the sickest Covid-19 patients produce T cells that help fight the virus. The researchers followed 10 severely ill Covid-19 patients who were on ventilators at Erasmus University Medical Center, Netherlands. Two of the patients eventually died. An in-depth look at their immune system responses showed that all 10 patients produced T cells that targeted the SARS-CoV-2 virus. A T cell is a type of lymphocyte, which develops in the Thymus gland. T cells are a key component of the immune system and their roles include killing infected host cells, activating other immune cells, and regulating the immune response.
NATI ONAL
37.India hands over outdoor fitness equipment for 61 islands across Maldives
India handed over outdoor fitness equipment for 61 islands across Maldives under a cash grant of 8 million US dollars. The equipment were formally handed over by Indian High Commissioner to Maldives Sunjay Sudhir in a ceremony at Male. The installation of equipment would involve participation of all 61 island councils and further strengthen the idea of decentralization and a cherished ideal for President Ibrahim Solih's government.
38.Govt aims to increase public health expenditure to 2.5% of GDP by 2025
The Union Health Ministry has pushed for an increased expenditure on public health. In a meeting with the 15th Finance Commission, the Union Health Minister Dr. Harsh Vardhan, highlighted that the government aims at gradually increasing the public health expenditure to 2.5 per cent of the nation's GDP by the year 2025. The Minister asserted that the outlay for primary health expenditure will also be made nearly two third of the total public health expenditure in the country.
39.206th birth anniversary of Nepali poet Bhanu Jayanti in Sikkim
The 206th birth anniversary of Nepali poet Adikavi Bhanu Bhakta Acharya or Bhanu Jayanti is being celebrated in Sikkim. Bhanubhakta Acharya was born in Nepal's Tanahu district. Adikavi Bhanu Bhakta Acharya laid the foundation of Nepali literature and is revered as a significant literary figure in Nepali communities. He is credited for translating the Ramayana from Sanskrit to Nepali, thereby making it understandable for a wide range of Nepali speaking communities globally.
40.IIT Kanpur develops UV sanitizing device 'SHUDDH' to make your room COVID free
Due to Covid Pandemic People are nowadays afraid of touching anything around, specifically in the areas where masses have to come. To solve this problem Imagineering Laboratory department of IIT Kanpur has developed an Ultraviolet (UV) sanitizing product named SHUDH. Smartphone operated Handy Ultraviolet Disinfection Helper that is SHUDH has six UV lights of 15 Watts each that can be individually monitored from a distance. Initial testing has proved that the device at its full operation can disinfect a 10x10 square feet room in about 15 minutes. The on/off, speed, and location of the product can be controlled remotely using your available smartphone while installing an android application. SHUDH can assist in killing the spread of coronavirus at the highly prone places such as hospitals, hotels, malls, offices and schools.
41.Visa partners with Federal Bank for rolling out Visa Secure for e-commerce
Visa, a global leader in payments technology, has entered into a partnership with Federal Bank to roll out Visa Secure to the bank's cardholders. Visa Secure is a global authentication program that uses the latest standards of the EMV 3DS (3D Secure) protocol. Besides providing additional layers of authentication for issuers and merchants to combat online frauds, the upgraded technology provides a quicker and frictionless checkout experience to consumers. Merchants and issuers have started deployment of Visa Secure globally.
42.Google's Sundar Pichai announces $10 billion investment in India
Google CEO Sundar Pichai announced a $10 billion investment in India at the Google for India virtual live-stream event. The event focused on contributing to accelerate India's digital economy with this investment over the next five to seven years. Firstly, the Rs 75,000 crore investment will focus on help in enabling affordable access and information to every Indian irrespective of the language. The huge investment will also help local businesses to move towards digital transformation. Pichai shared the success of programs like Internet Saathi and claimed that it has helped over 30 million women across India to learn digital skills and incorporate them into their lives and the communities.
43.MP govt to run 'Roko -Toko' campaign for those who do not wear masks
Madhya Pradesh will now run a Roko -Toko means stop and campaign for those who do not wear masks. Now selected voluntary organizations will provide masks to the people who do not wear masks in public places and will charge an amount of Rs 20 per mask from the concerned. The selected organizations will be provided 100 masks created under 'Jeevan Shakti Yojana' on credit. On sale of the mask, the organizations will pay the concerned urban body at the rate of Rs 11 per mask.
44.Union Home Minister Amit Shah launches CAPFs nationwide tree plantation drive
Union Home Minister Amit Shah launched the Central Armed Police Forces-CAPFs nationwide tree plantation drive. Under this drive, saplings were planted by the jawans of Central Armed Police Forces in Chhattisgarh. The personnel of BSF, CRPF, ITBP and CISF - deployed in Chhattisgarh for Anti-Naxal operations, planted saplings in their respective campuses as well as in their places of deployment. All the CAPFs will undertake a drive in their respective organisations to achieve the collective target of planting more than 1.35 crore saplings by this month.
45.US remains India's top trading partner in 2019-20
The US remained India's top trading partner for the second consecutive fiscal in 2019-20, which shows increasing economic ties between the two countries. According to the data of the commerce ministry, in 2019-20, the bilateral trade between the US and India stood at USD 88.75 billion as against USD 87.96 billion in 2018-19. In 2018-19, the US first surpassed China to become India's top trading partner. The bilateral trade between India and China has dipped to USD 81.87 billion in 2019-20 from USD 87.08 billion in 2018-19. The data also showed that China was India's top trading partner since 2013-14 till 2017-18. Before China, UAE was the country's largest trading nation.
46.FICCI survey predicts 4.5% contraction in India's FY21 GDP
Industry body FICCI said its Economic Outlook Survey has projected the country's annual median GDP growth for 2020-21 at (-) 4.5 per cent. With the rapid spread of COVID-19 pandemic manifesting into an economic and healthcare crisis globally, the latest forecast marks a sharp downward revision from the growth estimate of 5.5 per cent reported in the January 2020 survey. The pandemic outbreak has severely impacted the economic activities as the country had to go through a lockdown to check the spread of the virus. In May, the Reserve Bank had said the GDP growth during 2020-21 is likely to remain in the negative territory.
47.Fast-moving Tropical Storm Fay makes landfall in New Jersey
Tropical Storm Fay made landfall in New Jerseystate of the United states amid heavy, lashing rains that closed beaches and flooded shore town streets, before weakening as it moved over New Jersey. The fast-moving storm system was expected to continue weakening overnight. The storm was moving north at 17 mph (27 kph) and producing top sustained winds of 40 mph (64 kph). The storm is expected to bring 1 to 3 inches (3 to 7 centimeters) of rain, a further reduction from earlier forecasts' estimates.
48.Hagia Sophia: Turkey turns iconic Istanbul museum of Hagia Sophia into mosque
Turkish President Recep Tayyip Erdogan has ordered the Hagia Sophia museum, one of Istanbul's most famous landmarks, to be converted into a mosque. He made the announcement after a top court cleared the way for him to make the change. The Hagia Sophia, a major draw for tourists, has a long and complicated history.
The architectural marvel was built as a church by the Byzantines in the 6th century and then converted to a mosque after the Ottoman conquest of Constantinople in 1453.
In 1934, Turkish leader Mustafa Kemal Ataturk's Cabinet decreed that it be turned into a museum. It is widely regarded as a symbol of peaceful religious coexistence.
49.Chhattisgarh organises India's first e-Lok Adalat
Chhattisgarh High Court and Legal services Authority pioneered e-Lok Adalats in the state during the lockdown time and through video conferencing facilities amicably settled over 2,200 cases. In an unique attempt, litigants were connected from their homes to concerned district and tehsil courts as well as to the High Court which took up 156 cases and settled 155 of them. All courts in 23 districts, from Bastar and Dantewada to Raipur, were connected through video conferencing systems to litigants. Raipur saw the highest 515 of 848 cases getting settled. It was followed by Durg where 293 cases of 300 got settled.
50.Rajasthan launches ''Pure for Sure'' campaign to ensure purity of milk, dairy products
The Rajasthan state government has launched a week-long campaign "Pure for Sure" to ensure purity of milk and its products. The campaign will run from July 8-July 14, 2020. Information related to samples will be provided by the food safety officers on the FSSAI app. Under the campaign samples of milk and dairy products will be collected for testing at Food Testing Laboratory available at the divisional level. Information related to samples will be provided by the food safety officers on the FSSAI app on a daily basis.
51.Over 24,000 migrant labourers get job through 'Rozgar Setu'
In Madhya Pradesh, more than 24 thousand migrant labourers have already got permanent employment through the 'Rozgar Setu' portal. This includes 79.5 percent men and 20.5 per cent women. The Madhya Pradesh Government has announced the launch of the 'Rozgar Setu' scheme in May 2020, to help secure employment for skilled workers who have returned back to their homes and were employed at industries elsewhere. Madhya Pradesh was the first state to devise such a work plan for the workers.
52.National Fish Farmers Day: 10 July
The Government of India back in 2001 declared 10th July to be celebrated every year as 'National Fish Farmers Day'. The day is observed in remembrance of scientists K H Alikunhi and H L Chaudhury, who successfully demonstrated the technology of induced breeding (Hypophysation) in Indian Major Carps. The government has launched a new scheme with an outlay of Rs 20,050 crore over the next five years to boost fish production. Minister for Fisheries also announced setting up of fish cryobanks to ensure availability of fish sperms of desired species to fish farmers. The fish cryobanks will facilitate all-time availability of fish sperms of desired species to fish farmers.
53.US aerospace major Boeing completes delivery of 37 military helicopters to India
In the midst of India's tense border standoff with China, US aerospace major Boeing delivered the final five of the 22 Apache attack helicopters to the Indian Air Force. It completed delivery of all 22 Apache and 15 Chinook military helicopters to the IAF and is fully committed to meet their operational needs of the Indian armed forces. The AH-64E Apache is one of the world's most advanced multi-role combat helicopters, and is flown by the US Army. The Chinook is a multi-role, vertical-lift platform, primarily used for transporting troops, artillery, equipment and fuel. India finalised a multi-billion dollar contract with Boeing to procure 22 Apache helicopters and 15 Chinooks for the IAF in September 2015.
54.India to invite Australia to Malabar naval exercise
India plans to invite Australia to join the annual Malabar naval exercise that has so far included just Japan and the U.S. The exercise will bring together the navies of India, Japan, Australia and the U.S. in the Bay of Bengal at the end of the year. Malabar is an annual exercise between the navies of India, Japan, and the U.S. held alternately in the Indian and Pacific Oceans. It began in 1992 as a bilateral exercise between India and the U.S. Then it got permanently expanded into a trilateral format with the inclusion of Japan in 2015.
55.Advisory issued against fraudulent websites claiming registration under PM-KUSUM Scheme
The Ministry of New and Renewable Energy issued a fresh advisory against fraudulent websites claiming registration under PM-KUSUM Scheme. The scheme provides for installation of solar pumps, solarization of existing grid-connected agricultural pumps and installation of grid connected renewable power plants. The Pradhan Mantri Kisan Urja Suraksha evam Utthaan Mahabhiyan (PM-KUSUM) scheme has a target to set up 25,750 megawatts (MW) solar capacity by 2022 to power irrigation pumps. It comes with central financial support of close to Rs 34,000 crore
56.Skill India launches AI-based ASEEM digital platform for skilled workforce across sectors
The Ministry of Skill Development and Entrepreneurship (MSDE) launched 'Aatmanirbhar Skilled Employee Employer Mapping' (ASEEM) portal to help skilled people find sustainable livelihood opportunities. It has been launched to improve the information flow and bridge the demand-supply gap in the skilled workforce market. Apart from recruiting a skilled workforce that spurs business competitiveness and economic growth, the Artificial Intelligence- based platform has been envisioned to strengthen their career pathways by hand holding them through their journeys to attain industry-relevant skills and explore emerging job opportunities especially in the post COVID era.
57.Some more burial urns found at Adichanallur
Archaeologists involved in excavation of ancient burial sites of Adichanallur have found a few more burial urns while one of them has been closed. The sixth phase of excavation began at Adichanallur near here, known as the 'Cradle of ancient Tamil civilization,' on May 25. Adichanallur is an archaeological site in Thoothukudi district in Tamil Nadu. Adichanallur is known as the 'Cradle of ancient Tamil civilization. Carbon dating of samples excavated in 2004 from this site has revealed that they belonged to the period between 1000 BC and 600 BC.
58.Cabinet approves 12 thousand 450 crore rupees investment in three public sector general insurance companies
The Union Cabinet has also approved capital infusion in three Public Sector General Insurance Companies. 12 thousand 450 crore rupees will be invested in Oriental Insurance Company Limited, National Insurance Company Limited and United India Insurance Company Limited. The government had in the budget for FY19 announced its decision to merge these three general insurance companies. The union cabinet has decided to put on hold the proposed merger of these companies.
59.Defence Minister Rajnath Singh inaugurates six new bridges in Jammu Division of Union Territory of J&K
Defence Minister Rajnath Singh inaugurated six new bridges built by the Border Roads Organisation (BRO) in the Jammu Division of the Union Territory of Jammu and Kashmir through Video Conference. Six bridges have been built at the cost of around Rs 43 crores. Of the six bridges, four bridges are in Akhnoor sector and two in Jammu-Rajpura area. Last month, the Central government had approved an additional Rs 1,691 crore for highway works by the BRO in Jammu and Kashmir and Uttarakhand.
60.PM Modi dedicates a 750 MW Solar project at MP's Rewa to nation
Prime Minister Narendra Modi dedicated to the nation a 750 MW Solar project set up at Rewa in Madhya Pradesh. The Rewa project will reduce carbon emission equivalent to about 15 lakh ton of CO2 per year. The project comprises three solar generating units of 250 megawatt each located on a 500 hectare plot of land situated inside a Solar Park. The Solar Park was developed by the Rewa Ultra Mega Solar Limited (RUMSL). It is a Joint Venture Company of Madhya Pradesh Urja Vikas Nigam Limited, and Solar Energy Corporation of India, a Central Public Sector Undertaking. The project is also the first renewable energy project to supply to an institutional customer outside the State. The Delhi Metro will get 24 percent of energy from the project with the remaining 76 percent being supplied to the State DISCOMs of Madhya Pradesh.
61.Himachal Pradesh's Nadaun Police Station ranked as one of best Police Stations of India
Nadaun Police Station of Hamirpur district in Himachal Pradesh has been ranked as one of the best Police Stations of the country. Certificate of Excellence was provided to this Police Station by Union Home Minister Amit Shah. The ranking of police stations is carried out by the Ministry of Home Affairs, Government of India and the same was released by the Union Home Minister in a ceremony during DGPs Conference.
62.Wildlife researchers rediscover 'Ypthima watsoni' butterfly after 61 years in Tripura
In Tripura, a team of wildlife researchers has rediscovered 'Ypthima watsoni' butterfly commonly known as 'Looped three-ring' after 61 years near a village in Jampui Hills under the North Tripura district. Looped Three-ring Ypthima watsoni, 1893 belonging to subfamily Styrene and family Nymphalidae of insect order Lepidoptera has not been recorded for approximately 61 years since its last deion from India. The species was last seen in the year 1958 in Manipur. This rediscovery is also important in the context of updating the status and distribution of the butterfly fauna for Tripura.
63.Tamil Nadu tops market borrowings among States in 2020-21
According to data from the Reserve Bank of India (RBI), Tamil Nadu has raised ₹30,500 crores in the fiscal 2020-21 and has topped market borrowings among States in the country. Tamil Nadu, which has accounted for 17% of the borrowings done through the issue of bonds (known as state development loans), has been followed by Maharashtra ₹25,500 crores (14%), Andhra Pradesh ₹17,000 crores (9%) and Rajasthan ₹17,000 crores (9%). Tamil Nadu raised ₹1,250 crores at the low-interest rate of 6.63% for the 35-year bonds and ₹1,250 crores at the rate of 4.54% for the three-year bonds in the auction conducted by RBI. On July 7, Tamil Nadu borrowed an additional amount of ₹500 crores rather than the ₹2,000 crores originally planned. The State had planned to raise ₹2,000 crores through the issue of bonds of ₹1,000 each with tenures of 35 years and 3 years respectively. Tamil Nadu had an option to raise a further ₹250 crore in each of these securities, through what is known as the 'greenshoe' option.
64.IIT Alumni Council and CSIR-IGIB sign MoU for joint research on COVID-19 and patient data analysis
The IIT Alumni Council has signed an agreement with the CSIR Institute of Genomics and Integrative Biology (CSIR-IGIB) to jointly conduct research on COVID-19 and patient data analysis. It may be noted that the council is setting up the world's largest molecular diagnostic lab 'MegaLab Mumbai'. The council handed over imaging data of over 8,500 patients, who were admitted at the COVID Care Facility at Worli's National Sports Club of India. The Council had announced the launch of the world's largest virology lab testing centre with a capacity of conducting one crore tests. The first phase, with a capacity to carry out 10 lakh tests, will be ready by the end of this month.
65.IITH, NVIDIA establish Joint AI Research Centre
Indian Institute of Technology Hyderabad (IITH) in collaboration with NVIDIA, a multinational technology company, will be establishing India's first 'NVIDIA AI Technology Centre' (NVAITC). It will be established to accelerate research on Artificial Intelligence and its commercial adoption. NVAITC will accelerate research for the 220 faculty at IIT Hyderabad, which is already among India's foremost research institutions in just over a decade into its inception. The State Government recently announced 2020 as the 'Year of AI' with an aim to establish Hyderabad among the top 25 global AI innovation hubs. NVIDIA is already a partner to the government of Telangana in this endeavor.
66.AIIB extends $50 mn loan to L&T Infra Finance for Renewable Energy
Asian Infrastructure Investment Bank (AIIB) has released $50 million in the first tranche of assistance to L&T Infrastructure Finance Ltd for funding Renewable Energy projects in the country. The Beijing-based multilateral development bank, which invests in sustainable infrastructure, has sanctioned a total $100 million loan to the unit of L&T Finance Holdings. This is AIIB's first loan to a non-banking financial company (NBFC) in India. The loan proceeds will be used to on-lend to large and mid-scale wind and solar power infrastructure projects in India.
67.Ujjwala beneficiaries can get free domestic cooking gas cylinder till September
The Union cabinet approved an extension till end September for availing free cooking gas cylinders under the marque Pradhan Mantri Ujjwala Yojana (PMUY). The earlier announced Pradhan Mantri Garib Kalyan Yojana (PMGKY) package included providing women of 83 million below poverty line (BPL) families with free cooking gas cylinders for three months under the Ujjwala scheme. Given that the approved scheme was to end in June, the petroleum ministry proposed for time extension by three months for the Ujjwala beneficiaries to avail the free cylinders.
68.Odisha CM Naveen Patnaik launches eight web solutions for public services under 5T initiatives
Chief Minister Naveen Patnaik launched eight technology driven solutions under 5T initiatives for Home and General Administration departments. The 5T model of governance along with Mo Sarkar has improved the quality of governance and eased delivery of public services. Odisha is the first State in the country to have put in place an advanced system which uses space technology and artificial intelligence to safeguard Government land in the Capital city and ensure planned development. E-Pravesh is a web and mobile based application with facial recognition technology to ease and authenticate entry of visitors to Lok Seva, Rajiv Bhavan and Kharavela Bhavan.
69.Cabinet nod for Rs 1 lakh crore agri-infra fund
The government approved setting up an agri-infra fund with a corpus of Rs 1 lakh crore to provide financial support to agri-entrepreneurs, start-ups, agri-tech players and farmer groups for infrastructure and logistics facilities. The agri-infra fund was part of the over Rs 20 lakh crore stimulus package announced in response to the COVID-19 crisis. The new agri-infra fund, the duration of which will be 10 years till 2029, aims to provide medium-to-long term debt financing facility for investment in viable projects for post-harvest management infrastructure and community farming assets through interest subvention and financial support. Under this, about Rs 1 lakh crore will be provided by banks and financial institutions as loans to primary agri credit societies, farmer groups, farmer producer organisations (FPOs), agri-entrepreneurs, start-ups and agri-tech players.
70.Indian Coast Guard & Indonesia Coast Guard sign MoU to boost maritime relations
In a significant step towards bolstering the comprehensive strategic partnership between India and Indonesia, a MoU has been signed between the Indian Coast Guard and Indonesia Coast Guard. This will enhance collaborative and cooperative engagements in the domains of maritime law enforcement, maritime search and rescue and marine pollution response. This is likely to entail exchange of information towards combating transnational maritime crimes, facilitation of coordinated search and rescue operations at sea and conduct of capacity and capability building activities.
71.India ranks 34th in Global Real Estate Transparency Index 2020 by JLL
India's real estate industry has registered one of the largest improvements globally and regionally in Jones Lang LaSalle's (JLL) biennial Global Real Estate Transparency Index (GRETI). India ranked 34th in the 2020 edition and made a significant improvement in ranking as in the 2014 edition, India was ranked at 39th place globally. United Kingdom (overall score: 1.31) has been ranked at the first place in GRETI 2020 ranking.
72.World Bank, India sign $400 million loan agreement for Ganga rejuvenation programme
The World Bank and Indian government signed a $400 million loan agreement to enhance support for the 'Namami Gange' programme that seeks to rejuvenate the Ganga river. The $400 million operation comprises a loan of $381 million and a proposed Guarantee of up to $19 million. The Second National Ganga River Basin Project will help stem pollution in the iconic river and strengthen the management of the river basin which is home to more than 500 million people.
73.Golden Birdwing butterfly named as India's largest butterfly
A Himalayan butterfly named Golden Birdwing is India's largest, a record an unknown specimen had held for 88 years. With a wingspan of 194 mm, the female of the species is marginally larger than the Southern Birdwing (190 mm) that Brigadier William Harry Evans, a British military officer, had recorded in 1932. But the male Golden Birdwing (Troides aeacus) is much smaller at 106 mm. The female Golden Birdwing with 194 mm wingspan was recorded at Uttarakhand's Pithoragarh district's Didihat town, while the male Golden Birdwing with 106 mm wingspan was recorded at the Wankhar Butterfly Museum (in Shillong).
74.Indian Railways to transform itself as 'Net Zero' Carbon Emission Mass Transportation Network by 2030
Indian Railways is taking decisive steps to transform itself as a 'Net Zero' Carbon Emission Mass Transportation Network by 2030. It is endeavouring to be self reliant for its energy needs by utilising its vacant land for renewable energy projects. Railways is committed to utilize solar energy for meeting its traction power requirements and become a complete 'Green mode of transformation. The Railways Ministry has decided to install solar power plants on its vacant unused lands on mega scale.
75.Darbar Move offices formally opens in summer capital of J&K UT at Srinagar
In Jammu and Kashmir, the Darbar Move Offices formally opened in the summer capital of the Union Territory at Srinagar. The Darbar Move was supposed to open at Srinagar in the beginning of May month but due to the unprecedented circumstances following the outbreak of COVID-19 pandemic situation. However, the civil Secretariat shall continue to remain functional both at Jammu and Srinagar and the move employees shall work on "as is where is" basis. From May to October, governmental offices are housed in the summer capital of J&K, Srinagar, and the other six months in its winter capital, Jammu. Durbar Move acts as a bridge between two diverse cultures of the Kashmir Valley and the Jammu region.
76.Ola partners with PhonePe to enhance its digital payments experience
Ola, Indian mobility platform and one of the world's largest ride-hailing companies, has entered into a strategic partnership with PhonePe, India's leading payments platform. With this integration, Ola users can now enjoy a seamless and superlative payment experience on the Ola app. Millions of Ola's customers across the country can now pay for their ride using PhonePe. This feature is currently rolled out on Android and will soon be available on iOS.
Business
77.Flipkart tie-up with Karnataka Govt to promote Art & Craft
Flipkart has signed an MoU with Karnataka MSME and Mines department to promote the state's arts, crafts and handloom sectors by bringing them on to e-commerce and providing market access. The partnership under the Flipkart Samarth programme will enable local artisans, weavers and craftsmen of Karnataka to showcase their hallmark products to a pan-India customer base. This partnership will help in taking the local handicrafts and handlooms businesses of Karnataka to a national consumer base.
78.India moves up a rank, becomes second-largest foreign investor in UK
India invested in 120 projects and created 5,429 new jobs in the UK to become the second-largest source of foreign direct investment (FDI) after the US in 2019. India moved up from its previous third-largest spot, representing an overall 4 per cent FDI increase for the UK in 2018-2019. The US remains the number one source of FDI for the UK, delivering 462 projects and 20,131 jobs, followed by India, Germany, France and China and Hong Kong. The number of Indian projects at 106, resulting in a job creation figure of 4,858 last year contrasts with 120 projects and 5,429 jobs for this year.
79.MoU Signed By CBDT And SEBI For Data Exchange
A formal Memorandum of Understanding (MoU) was signed between the Central Board of Direct Taxes (CBDT) and the Securities and Exchange Board of India (SEBI) for data exchange between the two organizations. The MoU will facilitate the sharing of data and information between SEBI and CBDT on an automatic and regular basis. In addition to regular exchange of data, SEBI and CBDT will also exchange with each other, on request and suo moto basis, any information available in their respective databases, for the purpose of carrying out their functions under various laws. The MoU comes into force from the date it was signed and is an ongoing initiative of CBDT and SEBI, who are already collaborating through various existing mechanisms. The MoU marks the beginning of a new era of cooperation and synergy between SEBI and CBDT.
80.BDL signs licence agreement with DRDO for Akash Missile Weapon System
Bharat Dynamics Limited (BDL) has signed License Agreement and Transfer of Technology (LAToT) with DRDO (DRDL) for Akash Missile Weapon System (Indian Army Variant). BDL is the Lead Integrator for Akash Weapon System (Indian Army). Akash Missile is the first medium-range Surface to Air missile produced in India which can engage multiple targets from multiple directions. The missile flies at a speed of nearly 860 meters per second at a maximum altitude of 18 km. The Akash missile was designed and developed by DRDO and manufactured by BDL.
81.SBM Bank taps Mastercard SendTM for faster, smarter payments solution for customers across India
SBM Bank (India) Ltd and Mastercard announced a partnership to revolutionize domestic and cross-border payments and remittances through Mastercard SendTM. SBM Bank India customers will be able to make real-time domestic business-to-consumer (B2C) transfers quickly and efficiently using Mastercard SendTM. The Bank has been leading the collaboration narrative to access the best-in-class solutions with its switching partner, YAP. YAP is an API (application programme interface) infrastructure company. SBM Bank India is the first bank to receive a universal banking licence from the RBI to set up and operate as a scheduled commercial bank through the wholly-owned subsidiary mode.
82.Karur Vysya Bank partners with Star Health Insurance
The Karur Vysya Bank (KVB) has entered into a tie-up with Star Health and Allied Insurance to provide health insurance products to its customers. By the agreement, all the health insurance products of Star Health & Allied Insurance will be made available through all 780 branches of the Tamil Nadu-based bank. This agreement helps the bank to provide cost-effective insurance products and quick settlement of claims for its customers.