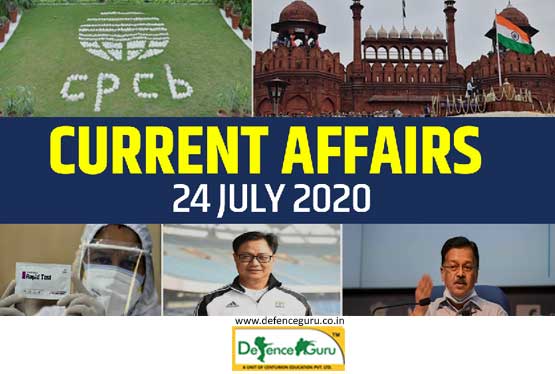 24 JULY 2020 CURRENT AFFAIRS
1- CPCB issues fresh guidelines on disposal of COVID-19 waste
Central Pollution Control Board, CPCB has issued fresh guidelines on disposal of COVID-19 waste. It has directed that masks and gloves used by everyone, whether infected or not, should be cut and kept in paper bags for minimum 72 hours before disposing off them.

The CPCB also directed commercial establishments shopping malls, institutions and offices to follow the same procedure with discarded protective personal equipment,PPE from general public.

It asked to ensure that general solid waste and biomedical waste generated from quarantine centres and quarantine homes is not mixed and they should be collected separately.

It added that leftover food, empty juice bottles or tetra packs, empty water bottles, packaging material, and any other items, generated or handled by COVID-19 patient should be collected along with other general solid waste in bags securely tied for handing over to waste collectors.

The CPCB also recommended use of bio-degradable or non-disposable cutlery to minimize waste generation.

It directed that isolation wards, including temporary healthcare facilities like rail coaches, must keep separate colour coded bins to maintain segregation of waste and use a dedicated bin to collect and store COVID-19 waste and keep it separately.

From COVID-19 isolation wards, used PPEs such as goggles, face-shield, splash proof apron, plastic coveralls, hazmat suits, nitrile gloves must be collected into a red bag.
2- Govt issues guidelines regarding celebration of I-Day on 15th August amidst COVID-19
Government has issued detailed guidelines regarding celebration of Independence Day on 15th August amidst COVID-19.

In a letter written to the Chief Secretaries of all states and union territories, Ministry of Home Affairs (MHA) has informed that the Independence Day celebrations should be held in a way befitting the occasion.

However, in its clear direction to the States, District and Panchayat authorities, MHA has instructed not to allow large congregations keeping in mind mandatory physical distancing norms.

It said, digital technology should be used to maximise people participation.

The Independence Day celebrations at Red Fort this year will have the Prime Minister's speech, Guard of honour, unfurling of national flag, national anthem and release of tricolour balloons.

The guidelines also suggest inviting COVID warriors such as doctors, health workers, sanitation workers as a recognition of their service in fight against the pandemic.

Government has also urged the State and District authorities to maximise the outreach of Aatmanirbhar Bharat Campaign and present programmes and activities based on the theme of self reliance.
3- Rajesh Bhushan appointed as new Health Secretary
Rajesh Bhushan, IAS officer of 1987 Batch, Bihar Cadre has been appointed as the new Health Secretary in the Union Health Ministry.

He was earlier holding the post of OSD in the Health Ministry and will succeed Preeti Sudan upon completion of her tenure on 31st of this month.

Ms. Sudan was granted an extension for three months as Health Secretary in April this year.

In another major reshuffle Ajay Tirkey has been appointed as Secretary, Department of Land Resources in the Ministry of Rural Development.

Ram Mohan Mishra will take over as Secretary in the Ministry of Women and Child Development.

Sushil Kumar has been appointed as Secretary, National Commission for Scheduled Castes in the Ministry of Social Justice and Empowerment.

Anil Kumar Jam has been given additional charge as Secretary, Mines along with his post of Secretary in the Coal Ministry.
4- India, Israel jointly develop ultra rapid testing kit for COVID-19; results within 30 sec
India and Israel have jointly developed an ultra rapid testing kit for COVID-19.

The testing kit which has proven it's efficacy in lab results will now be subjected to broader trials.

Principal Scientific Adviser to Government of India, Professor K VijayRaghavan informed that Indian DRDO scientists along with Defence Research Wing of Israel have been conjointly working on the COVID testing kit.

Speaking exclusively to AIR News, Professor VijayRaghavan said the rapid testing kit can generate preliminary COVID results within 30 seconds.

He said, the kit has been developed by integration of many novel technologies which includes artificial intelligence based online voice test, breathalyser test, isothermal testing and testing using polyamino acids.

India and Israel are also the members of the world consortium of scientists working on COVID Vaccine.

Since the outbreak of Covid19, Prime Minister Narendra Modi and his Israeli counterpart Benjamin Netanyahu have had three telephonic conversations, in which they discussed mutual cooperation in dealing with the Pandemic.
5- FIT India' movement useful in fighting Covid-19 pandemic: Sports Minister Kiren Rijiju
Union Sports Minister Kiren Rijiju said FIT India movement has been useful in fighting the Covid-19 pandemic as building fitness and immunity is crucial.

Mr Rijiju said Commonwealth Secretary General hailed FIT India Movement on global Ministerial Forum.

Mr Rijiju attended the Ministerial Forum of Commonwealth countries to share India's roadmap to resumption of sport, post Covid 19.

He pointed out that India has successfully created awareness about the importance of staying fit through a series of dedicated online programmes for citizens on fitness and well-being, all through the pandemic.

Mr. Rijuju also shared the contribution of the youth volunteers of the Youth Affairs Ministry in the fight against Covid.

While hailing the collaborative spirit of the commonwealth nations, Sports Minister also thanked the Commonwealth Games Committee for agreeing to add the disciplines of shooting and archery to the 2022 Commonwealth Games.