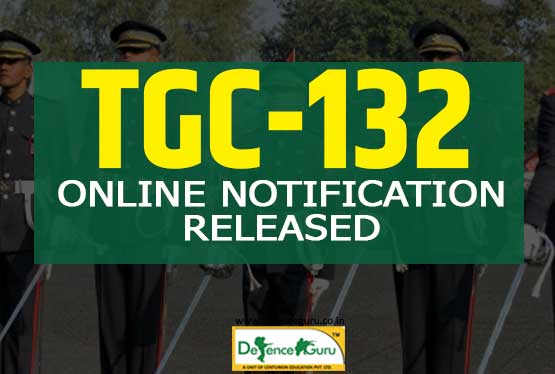 The Indian Army on 23rd July released notification for Technical Graduate Course (TGC-132) on its official website. Reviving to fresh notifications, exams & SSBs, the Indian Army surpassing the anxiety and tensions on young aspirants amid Covid 19 is ready with all updates on its official website.
The Indian Army notifications on its official website:

"Online notification for Technical Graduate Course (TGC-132) commencing in Jan 2021, is open from 28 July 2020 at 1200 HRS to 26 August 2020 at 1200 HRS".
Candidates eligible for the above course can apply online by visiting Indian Army official website joinindianarmy.nic.in. The TGC 132 course will be commencing in January 2021 at IMA, Dehradun, candidates can apply within allotted duration to fix their seat for online entrance examination.
How to Apply TGC-132:
· Online Applications Submission on website "www.joinindianarmy.nic.in"
· Click on 'Officer Entry Apply/Login' and then click 'Registration'
· Fill the online registration form (read the instructions carefully)
· After successful Registration, click on 'Apply Online' under Dashboard
· A page 'Officers Selection – Eligibility' will open
· Click 'Apply' shown against Technical Graduate Course
· A page 'Application Form' will open
· Read the instructions carefully and click 'Continue' to fill details as required
· 'Save & Continue' each time before you go to the next segment
· For last segment, you will move to a page 'Summary of your information' wherein you can check and edit the entries already made
· Click on 'Submit Now'
· Candidates must click 'Submit Now' each time they open the application for editing.
The candidates are required to take out two copies of their application having Roll Number, 30 minutes after final closure of online application.
TGC 132 Course Eligibility:
Gender

Male

Marital Status

Unmarried Males

Age

20 to 27 years

Educational Qualification

Engineering graduates or studying in the final year can apply

Vacancies for Engineering stream)

· Civil

· Architecture

· Mechanical

· Electrical / Electrical and Electronics

· Computer science and engineering / Computer technology / Info tech / MSc Computer Science

· Electronics and Telecommunication / Telecommunication / Electronics and Communication / Satellite Communication

· Electronics, Metallurgical, Electronics and Instrumentation / Instrumentation

· Micro electronics and microwave
Candidates waiting long for TGC vacancy could submit application form from 28 July 2020 at 1200 HRS to 26 August 2020 at 1200 HRS. For course details and study material visit defenceguru.co.in. All the Best Defense Aspirants!
For a complete overview on TGC 132 Online Notification Must Watch.
Be an Efficient Learner! Save Time and Effort! Get Centurion Defence Academy Student App.
Visit www.centuriondefenceacademy.com Just Call or Whatsapp 9795977779 | 9795977776