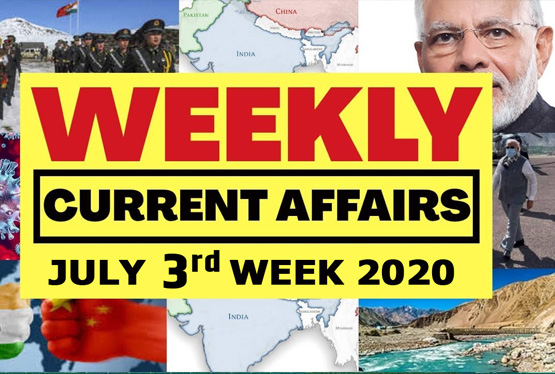 Current Affairs July 2020
APPOINTMENTS

1.P Praveen Siddharth
The Centre curtailed the tenure of Vikram Singh, Private Secretary (PS) to President Ram Nath Kovind, and appointed him as the Joint Secretary in the Ministry of Shipping. Singh, a 1997-batch officer of Indian Railway Traffic Service (IRTS), was appointed as the PS to the President in October 2017. The Appointments Committee of the Cabinet has approved the curtailment of tenure of Singh. P Praveen Siddharth, a 2001-batch officer of Indian Revenue Service (Income Tax), has been appointed as the new PS to the President in place of Singh. Siddharth is Officer on Special Duty in the President''s Secretariat.

2. Rose Christiane Ossouka Raponda
The president of Gabon, Ali Bongo Ondimba, has appointed the country's first female prime minister, Rose Christiane Ossouka Raponda. Ossouka Raponda, 56, was promoted from the defence ministry and took over from Julien Nkoghe Bekale, who was appointed prime minister in January 2019. She is an economist by training who graduated from the Gabonese Institute of Economy and Finance, specialising in public finance. In 2012, she first became budget minister and then the first female mayor of the capital Libreville in 2014, as a candidate for Bongo's Gabonese Democratic Party (PDG).

3.Priyanka Chopra Jonas
Priyanka Chopra Jonas announced that she has been chosen as the ambassador of the Toronto International Film Festival (TIFF) 2020. Priyanka has joined the list of 50 celebrated filmmakers and actors who are invited as the ambassadors of the TIFF. Bollywood filmmaker Anurag Kashyap has also been chosen for TIFF 2020.

3.Brett Lee
SportsAdda has signed former Australian fast bowler and cricket legend Brett Lee, as its brand ambassador. SportsAdda is Indian news and information website for cricket, football, and kabaddi. As ambassador, Lee will be conducting a host of fun activities including contests, quizzes, Q&As, bowling masterclasses, and giveaways that will feature exclusively on the SportsAdda app, website, and social handles. Lee has taken over 700 wickets in his international career across all three formats, and brings with him a wealth of knowledge - not only of bowling and playing at the highest level but also with his insight into the sport and stories from his playing days.

4. 'Chan' Santokhi
South American country Suriname brought an end to dictatorial rule by electing a new President Chan Santokhi. Santokhi is an Indian-origin former police chief, who won a landslide victory in the election that took place in May this year. 61-year-old Santokhi belongs to the Progressive Reform Party and will be sworn in as President on July 16. Santokhi was the sole nomination for President of Suriname.
 Suriname Capital: Paramaribo  Currency: Suriname Dollar
Awards

5.Marianna Vardinoyannis & Morissana Kouyaté win 2020 Nelson Mandela Prize
This year's laureates of United Nations 2020 Nelson Rolihlahla Mandela Prize are Marianna Vardinoyannis of Greece and Morissana Kouyate of Guinea. Vardinoyannis is a Greek philanthropist known for fighting childhood cancer and for a world without borders in health for about 30 years. He is also the world advocate for human rights and the protection of children's health and welfare. Kouyate is another Human rights activist known for her contribution towards violence against women and girls in Africa. He is a leading advocate in the fight against harmful traditional practices against women, particularly female genital mutilation.

6.Gurbux Singh, Palash Nandi to be conferred with prestigious Mohun Bagan Ratna
Indian hockey great Gurbux Singh and former Bengal cricketer and coach Palash Nandi will be conferred with the prestigious Mohun Bagan Ratna this year. Last year Keshav Datt became the first sportsperson from a non-footballing background to get the award. The awards are given on July 29 every year which is celebrated as Mohun Bagan Day. July 29 was the date of Bagan's IFA Shield triumph in 1911 when they defeated East Yorkshire Regiment 2-1.
Books

7.Pema Khandu releases book "The Tangams: An Ethnolinguistic Study Of The Critically Endangered Group of Arunachal Pradesh"
The book titled 'The Tangams: An Ethnolinguistic Study Of The Critically Endangered Group of Arunachal Pradesh' was released by Arunachal Chief Minister Pema Khandu. The Tangams are a little-known community within the larger Adi tribe of Arunachal Pradesh and reside in the hamlet of Kugging in Upper Siang district's Paindem circle. Tangams are now concentrated in only one village (Kugging), with 253 reported speakers. As per the UNESCO World Atlas of Endangered Languages (2009), Tangam — an oral language that belongs to the Tani group, under the greater Tibeto-Burman language family — is marked 'critically endangered'.
DEATHS/RESIGNS

8.Elyes Fakhfakh
Tunisian Prime Minister Elyes Fakhfakh resigned. Ennahdha had earlier tabled a no-confidence motion against Fakhfakh, who took office in February after winning approval from lawmakers following four months of deadlock. He is currently under investigation over allegations of conflict of interest of owning shares in companies that had received public contracts.

9.Bijay Mohanty
Veteran Ollywood actor Bijay Mohanty breathed his last at a private hospital in Odisha. He was 70. The actor made a foray into Ollywood in 1977 with Nagaphasa. The 1978 movie of his Chilika Tire won the National Award for that year. He had also directed the movie Bhuli Huena. He was conferred with the Jayadev Award in 2014.

10. Lalji Tandon
Madhya Pradesh Governor Lalji Tandon has passed away after a prolonged illness. Tandon was first admitted to Lucknow's Medanta Hospital on June 11 following complaints of fever and difficulty in urination. Later, he was diagnosed with liver and urine infection. His health condition worsened on July 16, after which he was put on ventilator support. Uttar Pradesh Governor Anandiben Patel had been given additional charge of Madhya Pradesh amid Tandon's illness.

11. Rajat Mukherjee
Bollywood director Rajat Mukherjee passed away in Jaipur due to kidney-related issues. The filmmaker, known for directing films like Pyaar Tune Kya Kiya…, Love in Nepal, Road among others, was suffering from an illness for a long time. Mukherjee also directed a crime drama TV series called Ishq Kills.

12. CS Seshadri
India's renowned mathematician and Padma Bhushan awardee Conjeevaram Srirangachari Seshadri passed away in Chennai on July 17. He was 88. CS Seshadri founded the Chennai Mathematical Institute (CMI) as part of the SPIC Science Foundation in 1989 and was its directoremeritus until his demise. The mathematician was known for his work in algebraic geometry, the Seshadri Constant, which is named after him. Among his notable works are the Narasimhan–Seshadri theorem, proved together with fellow Mathematician MS Narasimhan in 1965.

13. Barry Jarman
Former Australian skipper and wicketkeeper-batsman Barry Jarman has recently passed away. He was 84-year-old. Born on February 17 in 1936, Jarman made his international debut, in the absence of an injured Wally Grout, for Australia with a Test match against India at Green Park in 1959. Jarman made just one and zero and took just two catches during his debut match before he was once again named as reserve keeper following the return of Grout for the tour to England in 1961. He became a first-choice wicketkeeper for Australia only after the retirement of Grout in 1966.

14.John Lewis
John Lewis, a pioneer of the civil rights movement and longtime member of the United States House of Representatives, died. Lewis was a protege of Martin Luther King Jr, whom he met after writing to him when Lewis was just 18. He was the last surviving speaker from the 1963 March on Washington, having stood beside King when he made his "I Have a Dream" speech. Lewis kept up the fight for civil rights and human rights until the end of his life, inspiring others with calls to make the documentary Good Trouble.

15.Neela Satyanarayan
Former IAS officer and Maharashtra's first woman Election Commissioner Neela Satyanarayan passed away. The 1972 batch IAS officer was admitted to the hospital after she was diagnosed with COVID-19. She was an additional Chief Secretary of Revenue department and post-retirement, in 2009, she was made the state election commissioner. Mrs. Neela retired on July 5, 2014.

16. Suurbier
Netherlands and Ajax defender Wim Suurbier, a key member of the 1970s Dutch squad who played in two World Cup finals, died at the age of 75. With Ajax from 1964 to 1977 he won three European Cups and seven national titles. The club described him as the "first modern back of the Netherlands", able to attack deep as well as defend. Suurbier was also part of the Dutch sides that lost in the 1974 and 1978 World Cup finals, to West Germany and Argentina.
SPORTS

17.Lewis Hamilton Hamilton wins 8th Hungarian GP
Formula One champion Lewis Hamilton won the Hungarian Grand Prix for the eighth time to equal Michael Schumacher's single-venue record. Hamilton's latest victory from pole position was as comfortable as the nearly 9-second margin over second-place Max Verstappen suggested. The British driver's 86th GP win moved him just five behind the German great Schumacher's F1 record of 91. Schumacher won the French GP eight times when it was held at Magny-Cours. Hamilton first won here in 2007 and his first success with Mercedes also came at the Hungaroring track in 2013, the year after replacing Schumacher on the Silver Arrows team.

18.World Cup winner Schurrle retires at 29
The Germany forward player & World Cup winner, Andre Schurrle has announced retirement from the sport. He helped his country to win the 2014 FIFA World Cup. He represented Germany in 57 matches, scoring 22 goals. He also played for Chelsea from 2013-15 and also won a Premier League winners medal in 2015.

19.Qatar releases match schedule for 2022 FIFA World Cup
Fifa announced the match schedule for World Cup 2022, to be held from November 21 to December 18 in Qatar. The Al Bayt Stadium will be the stage for hosts Qatar to kick off the tournament on 21 November 2022. The group stage will last 12 days and, with four matches per day. No air travel will be needed to move between the venues. The 2022 FIFA World Cup will be the first world cup to be held in Arab World and also the first in a muslim-majority country. The World Cup would be the last to involve 32 teams as the teams are to be increased to 48 in the 2026 tournament.

20.Former Socceroos captain Mile Jedinak announces retirement from football
Former Australia captain Mile Jedinak said he has retired from football, having stepped down from internationals in 2018 and not played a professional game since then. The 35-year old, who earned 79 caps for the Socceroos and led them to the 2015 Asian Cup title. Socceroos is the official nickname of the Australia national soccer team that represents Australia in international men's soccer.
INTERNATIONAL

21.World Chess Day : 20 July
The International Chess Day is celebrated on July 20 every year as the founding day of the FIDE (World Chess Federation). This year will mark FIDE's 96th anniversary. In the fifth century, chess was invented in India. It was called "Chaturanga" at the time. Chess is one of the most ancient games of the period. This game was then spread to Persia.

22.UAE launches its first space mission to Mars from Japan
UAE's historic journey to Mars has been successfully started from the Tanegashima Space Center in Japan. The spacecraft Hope Probe took off in an early morning launch. H2A, the rocket carrying the Hope Probe to space, was launched from the Tanegashima Space Centre in Japan. It is the Arab world's first interplanetary landmark mission, putting UAE firmly ahead of all the countries in the Middle East in the area of space and technology. Hope Probe Spacecraft is expected to reach the Red Planet by February 2021, to coincide with UAE's 50th anniversary of its formation. The orbiter Hope is expected to take images and send back data of the distant Red Planet.

23.Researchers discover 'sea cockroach' species in Indonesia
The scientists reported the discovery of the first "Super Giant Isopod" species. It has been found deep in the Indian Ocean by a team of researchers from Singapore. The researchers found the species when they were working on the unexplored waters of Indian Ocean in Banta. Bantan is in the southern coast of West Java in Indonesia. The newly found cockroach species has been named "Bathynomus raksasa".

24.Nelson Mandela International Day: 18 July
Nelson Mandela International Day is an annual international day in honour of Nelson Mandela, celebrated each year on 18 July, Mandela's birthday. The day was officially declared by the United Nations in November 2009, with the first UN Mandela Day held on 18 July 2010. Nelson Mandela was born as Nelson Rolihlahla Mandela in Transkei, South Africa on 18 July, 1918. In 1993, Nelson Mandela and Frederik Willem de Klerk were jointly awarded the Nobel Peace Prize 'for their work for the peaceful termination of the apartheid regime, and for laying the foundations for a new democratic South Africa.'

25.World Day of International Justice: 17 July
World Day of International Justice widely known as International Justice Day is celebrated on July 17 every year. The day recognizes the developing and strengthening system of international justice that has emerged since the Nuremberg trials and Tokyo Trials after World War II. The day aims to promote international criminal justice and as a way of supporting the work of the International Criminal Court(ICC). The first World Day for International Justice was celebrated on 17 July 1998, on the day the Statute of Rome was signed, which marks the creation of the International Criminal Court (ICC).

26.India, Bhutan open new land route to boost trade
With an aim to increase trade and connectivity, India and Bhutan opened a new land trade route. The trade route will link West Bengal's Jaigaon with Ahlay, Pasakha in Bhutan. The new route for Pasakha Industrial Estate in Bhutan will decongest vehicular traffic along the Jaigaon-Phuentsholing route and boost bilateral trade & commerce. It is especially beneficial for the movement of heavy vehicles like trucks and industrial raw materials from India into Bhutan. India is Bhutan's largest trading partner. The bilateral trade stood at Rs 9227 crores in 2018.

27.India, Israel sign agreement on cyber security
India and Israel have signed an agreement to further expand collaboration in dealing with cyber threats amid rapid digitisation due to the coronavirus pandemic. The agreement also involved Indian Computer Emergency Response Team (CERT) that operates under the Ministry of Electronics and Information Technology and INCD. The agreement will expand the scope of exchange of information between the countries on cyber threats. India ranks 11th in the world wide cyber-attacks. In Q4 alone, the number of local cyber threats detected in India account to 40 lakhs.
28.World Youth Skills Day : 15 July
The United Nations celebrates World Youth Skills Day globally on 15 July every year. The day aims to aim to raise awareness about the importance of technical, vocational education training and the development of other skills relevant to both local and global economies. This day also marks the fifth anniversary of the launch of Skill India Mission. The theme of World Youth Skills Day 2020 is "Skills for a Resilient Youth".

29.UK bans its companies from sourcing 5G equipment from Chinese telecom company Huawei
The UK has banned its companies from sourcing 5G equipment from Chinese telecom company Huawei. The move comes despite Beijing's threat to retaliate to any such action by Britain. The new guidelines require the British telecom operators to remove all 5G-related equipment, supplied by the Chinese company, from their infrastructure by 2027. The cumulative cost of the actions against the Chinese telecom giant would come to around £2 billion.
NATI ONAL

30.MoD signs contract with BEML for 1,512 mine plough for T-90 tanks
Acquisition Wing of Ministry of Defence (MoD) has signed a contract with Bharat Earth Movers Limited (BEML) for procurement of Mine Plough (MP) for Tank T-90 S/SK. The contract to procure 1,512 Mine Plough (MP) for Tank T-90 S/SK has been signed with the approval of Raksha Mantri Shri Rajnath Singh. The procurement will cost approximately Rs 557 crore. These mine ploughs when fitted on T-90 Tanks will provide individual mobility to Tanks while negotiating minefield.

31.Indian naval ships conduct Passage Exercise (PASSEX) with US Navy
The Indian Navy conducted Passex (passing exercises) with the United States (US) Navy's USS Nimitz, which is a nuclear-powered aircraft carrier. The Indian Navy ships Rana, Sahyadri, Shivalik and Kamorta, operated together with the USS Nimitz (CVN 68), along with the Nimitz Carrier Strike Group's Ticonderoga-class guided-missile cruiser USS Princeton (CG 59), Arleigh Burke-class guidedmissile destroyers USS Sterett (DDG 104) and USS Ralph Johnson (DDG 114). The cooperative exercises took place near the Andaman and Nicobar Islands and transited through the Indian Ocean region. The Indian Navy had recently conducted similar passing exercises with the Japan Maritime SelfDefense Force and French Navy.

32.Union HRD Minister launches "Manodarpan" for students
Union Human Resource Development Minister Ramesh Pokhriyal launched 'Manodarpan', an initiative under Atmanirbhar Bharat Abhiyan. It provides psychosocial support to students for their mental health and well-being. It will cover a wide range of activities to offer Psychosocial Support to students for their Mental Health & Well-being amid the COVID-19 outbreak and beyond. The 'Manodarpan' initiative is a part of the ATMANIRBHAR BHARAT ABHIYAN launched by the Indian Prime Minister Shri Narendra Modi in May 2020.

33.Union Minister Harsimrat Kaur Badal virtually inaugurates Zoram Mega Food Park in Mizoram
Food Processing Minister Harsimrat Kaur Badal virtually inaugurated the first Mega Food Park, Zoram Mega Food Park in Mizoram. It will benefit farmers, growers, processors, consumers and prove to be a big boost to the growth of the food processing sector in the NorthEast Region. The Mega Food Park will provide direct and indirect employment to 5,000 people and benefit around 25,000 farmers. The park will leverage an additional investment of about Rs. 250 crore in 30 food processing units and would eventually lead to a turnover of about Rs. 500 crore annually. This Mega Food Park is equipped with a dry warehouse of 3000 metric tonnes capacity and cold storage of 1000 metric tonnes.

34.India's first public EV Charging Plaza inaugurated in Delhi
India's first public EV (Electric Vehicle) charging plaza has been inaugurated by the Minister for Power, New & Renewable Energy, R.K Singh at Chelmsford Club in New Delhi. The public EV Charging Plaza has been established by Energy Efficiency Services Limited (EESL) in collaboration with New Delhi Municipal Council (NDMC) to make e-mobility ubiquitous and convenient in India. India's first public EV Charging Plaza will host 5 Electric Vehicle Chargers of different specifications and hence will make EV charging hassle free and convenient for the consumers. During the inauguration ceremony, Union Power Minister also launched "Retrofit of Air-conditioning to improve Indoor Air Quality for Safety and Efficiency (RAISE)". RAISE has been developed for healthy and energy efficient buildings and will help in alleviating the issue of bad air quality in workspaces across the nation.

35.Delhi CM approves 'Mukhya Mantri Ghar Ghar Ration Yojana'
Delhi Chief Minister Arvind Kejriwal announced that his government has approved 'Mukhya Mantri Ghar Ghar Ration Yojana'. The scheme will help the eligible beneficiaries get ration delivered at home. The scheme is expected to be rolled out in the next 6-7 months. Under the scheme, wheat, flour, rice and sugar-packed hygienically in bags will be delivered to the doorstep of people. The scheme is expected to benefit lakhs of people in the national capital through 2016 PDS shops.

36.CBDT signs MoU with MoMSME for sharing of data
The Central Board of Direct Taxes (CBDT) has signed an Memorandum of Understanding (MoU) with the Ministry of Micro, Small and Medium Enterprises, Government of India (MoMSME). As per the signed MoU, CBDT will share certain Income-tax Return (ITR) related information with MoMSME. The exchanged data will enable MoMSME to keep a check as well as to classify enterprises in Micro, Small and Medium categories as per the criteria. For the successful process of data exchange, both the organisations will appoint Nodal Officer and Alternate Nodal Officers. The MoU between the CBDT & MoMSME marks the beginning of a new era of cooperation and synergy between them.

37.Indian direct selling industry records USD 2.47 bn sales in 2019
According to a report by the World Federation of Direct Selling Associations (WFDSA), The Indian direct selling industry has recorded sales of USD 2.47 billion in 2019, reporting a growth of 12.1 per cent. This has helped the direct selling industry improve its ranking to the 15th from the earlier 19th a year before. According to the report, the US is leading in the list contributing 20 percent of the global direct selling industry with sales of USD 35.21 billion, though it has registered a marginal de-growth of 0.4 per cent. It is followed by China with 13 per cent contribution, Korea and Germany with 10 percent each and 9 per cent by Japan.

38.COVID-19 fatality rate in India falls below 2.5% for first time; one of the lowest in world
The Government said that India's Case Fatality Rate of COVID-19 falls below 2.5 per cent for the first time. India has one of the lowest fatality rates in the world. Due to the focused efforts of Centre and State and Union Territories governments on efficient clinical management of hospitalized cases have ensured that the Case Fatality Rate falls to 2.49 per cent. Many States have conducted population surveys to map and identify the vulnerable population like the elderly, pregnant women and those with comorbidities. At the ground level, front line health workers like ASHAs and ANMs have done a commendable job of managing the migrant population and to enhance awareness at the community level. As a result, there are 29 States and UTs with Case Fatality Rate lower than the India average. Five States and UTs have a Zero Case Fatality Rate. While 14 States and UTs have a Case Fatality Rate of less than one per cent.

39.Indian spices' exports up by 23 percent
According to Assocham, India's spices exports rose by 23 per cent to $359 million (around Rs 2,690 crore) in June 2020 from $292 million (Rs 2,190 crore) in the same month last year. A dipstick study by the chamber also noticed how the rising demand for spices in the domestic market led to a sharp increase in their prices by almost 12 per cent in June whereas the headline CPI inflation was half that level. The country's exports in June 2020 stood at $21.91 billion, as compared to $25.01 billion in June 2019, exhibiting a contraction of 12.41 per cent. Pepper, cardamom, ginger, turmeric, coriander, cumin, celery, fennel, fenugreek, nutmeg, spice oils and mint products are the major spices shipped abroad. Indian spices reach almost the entire world while the main importers include the US, UK, Germany, France, Italy, Canada, Australia, UAE, Iran, Singapore, China and Bangladesh, among others.

40.No entry for devotees from outside MP in Mahakal temple
In Madhya Pradesh, devotees from outside the state will not be allowed to enter the Mahakal temple campus in Ujjain from in view of the rising number of COVID-19 cases. Mahakal temple is one of the 12 jyotirlingas of Lord Shiva which attracts lakhs of devotees every year. The decision has been taken by the management committee of the temple due to fear of widespread infection if devotees from outside the state are allowed. Lakhs of devotees from various parts of the country visit the temple during the holy month of Sawan for worshipping Lord Mahakal.

41.UP Chief Minister launches employment scheme for SCs
Uttar Pradesh Chief Minister Yogi Adityanath launched ''Navin Rojgar Chhatri Yojana'' for an all round development of the Scheduled Castes. He also transferred financial assistance of 17.42 crore online to 3,484 people under the 'Pandit Deendayal Upadhyay Swarojgar Yojana' and interacted with some beneficiaries from Rae Bareli, Gorakhpur, Basti, Meerut, Azamgarh and Moradabad districts through video conferencing. The state government is extending financial help to make people selfdependent.

42.Over 108 animals including 9 rhinoceroses have died so far at Kaziranga National Park due to Assam floods
Nine rhinos are among the 108 wild animals that have died during this year's floods at Assam's Kaziranga National Park and Tiger Reserve (KNPTR). Nearly 85% area of the park, spread over 430 sq km, is under water at present. Forty three of the 223 forest camps inside the park are inundated of which 6 have been vacated. Till now, 60 animals (36 hog deer, eight rhinos, three wild buffalo, one python, seven wild boar, two swamp deer, one Sambar and two porcupines) have died due to drowning. Annual floods are common in Kaziranga, the biggest habitat of one-horned rhinos. The park has around 2,400 rhinos and 121 tigers.
43.India attends third G20 Finance Ministers and Central Bank Governors meet
Union Minister for Finance & Corporate Affairs, Nirmala Sitharaman participated in the 3rd G20 Finance Ministers and Central Bank Governors (FMCBG) meeting. The meet was presided over by Saudi Arabia. During the first meeting, India shared its G20 Action plan in response to COVID-19 that was endorsed by all the G20 finance ministers and central bank governors. During the third meet, India shared global economic outlook amid the evolving COVID-19 crisis.

44.BlackRock malware steals password, credit card details from 337 Android apps
A new Android malware has been discovered that steals data such as password and credit card details from 337 apps including some of the popular ones like Gmail, Amazon, Netflix, Uber, and more. The malware that goes by the name BlackRock comes with data theft capabilities, a report from ZDNet stated. The publication was the first to report about malware and was discovered by mobile security firm ThreatFabric. BlackRock malware functions just like any other Android malware. The BlackRock malware is based on the leaked source code of another malware strain Xerxes which in turn is based on other malware strains. The new malware is enhanced with more features related to stealing passwords and credit card details.

45.Private trains to begin plying by March 2023: Railways Ministry
The Railway Ministry has said that the private trains are slated to run from March 2023. The Ministry has issued the clarification regarding timeline of introduction of private trains, as some section of the media had mentioned that the private trains project will start in March 2024. The Railways said the tenders will be finalised by March 2021 and trains will operate from March 2023.

46.Amit Shah, Prakash Javadekar commemorate freedom fighter Mangal Pandey on his birth anniversary
Union Home Minister Amit Shah and Information and Broadcasting Minister Prakash Javadekar remembered freedom fighter Mangal Pandey on his birth anniversary. Mangal Pandey was the forerunner of the 1857 revolution and his patriotism and sacrifice inspired millions of countrymen to participate in the freedom struggle. 29 March 1857, Mangal Pandey attempted to incite his fellow sepoys to rise up against their British officers, attacked two of those officers. He was soon tried and sentenced to death. His execution was set for April 18, but British authorities, fearing the outbreak of a large-scale revolt if they waited until then, moved the date up to April 8. Resistance to the use of Enfield cartridges later that month in Meerut led to the outbreak of a revolt there in May and the start of the larger insurrection.

47.Various important events including Captain Sourabh Kalia Cup cancelled in Kargil due to COVID- 19
Though Kargil Ladakh is slowly getting back to normalcy with relaxations in the Lockdown after unlock 2. However many important events and programmes are being cancelled due to the threat of Spread of Covid 19. The pandemic has also affected the celebration of this year 21st Kargil Vijay Diwas both from the Indian Army Side as well as from the Local Level as no event has been organised. The most popular Captain Sourabh Kalia cricket Cup has also been postponed due to the pandemic in Kargil.

48.India ranks 3rd in global manufacturing locations among 48 countries
India ranks third in the list of most-suitable locations for global manufacturing among 48 countries in terms of cost competitiveness and operating conditions. China and the U.S. retain the top two positions, while India has moved one place higher to rank third. In its annual ranking of the most suitable locations for global manufacturing among 48 countries in Europe, Americas and the AsiaPacific. India is in top-3 countries this year and an upcoming manufacturing hub globally from an operating conditions and cost-competitiveness perspective.

49.PM SVANidhi app launched to provide micro-credit facility for street vendors at their door steps
PM SVANidhi was launched in New Delhi to bring micro-credit facilities for street vendors at their door steps. PM SVANidhi Mobile App aims to provide user-friendly digital interface for lending institutions and their field functionaries for sourcing and processing loan applications of street vendors under the scheme. The app is a step towards boosting the use of digital technology and will enable field functionaries to ensure maximum coverage of the scheme. PM SVANidhi was launched by the government on 1st of June this year, for providing affordable working capital loan to street vendors to resume their livelihoods that have been adversely affected due to COVID-19 lockdown. This scheme targets to benefit over 50 lakh street vendors who had been vending on or before 24th of March, 2020, in urban areas. Under the scheme, the vendors can avail a working capital loan of up to ten thousand rupees, which is repayable in monthly installments in the tenure of one year.

50.Uttarakhand govt to generate electricity from waste
The Uttarakhand government has decided to convert waste generated in the state to electricity under an initiative titled 'Waste to Energy'. This waste can generate up to 5 megawatts of electricity and curb pollution. The scheme also aims to solve the problem of unavailability of landfills to dispose of the solid waste across the hill state which has 10 out of 13 districts as hill areas. At present 900 tonnes of waste is generated in the hill state every day, according to state government data. Out of the total waste generated, half is organic in nature while 17 per cent falls in a recyclable category followed by 21 per cent biomedical waste and 11 per cent of inert nature which is building material waste.

51.Tamil Nadu emerges as country's top investment destination
Tamil Nadu got around 18.63 per cent of the total fresh investment emanated in Q1/FY21 to beat other states, signing 17 agreements in May 2020, gaining the top spot. Fresh investment flow in the state stands at Rs 18,236 crore. This included Rs 2,000 crore wind mill equipment manufacturing unit of Vivid Solaire Energy and Rs 900 crore semiconductor chips project of Polymatech Electronics in Tamil Nadu. These projects are expected to create nearly 4,000 jobs. Second-ranked Maharashtra signed 12 agreements with companies from Singapore, South Korea, and the US.

52.Transgenders in Odisha to get benefit under Madhu Babu Pension Yojana
The Odisha Government has included transgender community under Madhu Babu Pension Yojana, which aims at providing financial assistance to destitute elderly, differently-abled persons and widows in the state. Madhu Babu Pension Yojana (MBPY) is a social security scheme launched by the state government. Under this scheme, around 5,000 transgenders will receive Rs 500, Rs 700 and 900 per month as a pension under various categories depending on their age.

53.India among top ten nations in intellectual property filings
As per World Intellectual Property Indicators-2019 Report, India has emerged as the top tenth nation in the ranking of the total (resident and abroad) Intellectual Property (IP) filing activity. With government push to schemes like 'Make in India', 'Skill India' and now 'Atma-nirbhar Bharat', IP Filing and grant activity is likely to increase. Industry 4.0 is witnessing new inventions and breakthroughs as it faces challenges in providing the right environment to stimulate innovation, especially in Artificial Intelligence and Machine Learning. IP-intensive industries have been identified as an important and integral part of a country's economy and account for more jobs and a larger share of its GDP. The National IPR Policy, launched in May 2016, to promote strong IP regime in the country encourages innovation to achieve Country's industrial and economic development goals. This will provide an efficient IP ecosystem and build up pace of industrial growth in the country.

54.15th Summit between India and EU takes place in virtual format
The 15th Summit between India and the European Union was held in virtual format. India was represented by Prime Minister Narendra Modi. The EU was represented by Charles Michel, President of the European Council, and Ursula von der Leyen, President of the European Commission. The leaders decided to strengthen the India-EU Strategic Partnership, based on shared principles and values of democracy, freedom, rule of law, and respect for human rights, aiming at delivering concrete benefits for the people in India and the EU. The EU is looking forward to India's G20 Presidency in 2022 and its membership in the UN Security Council in 2021-2022.
55.Cochin Shipyard to build two autonomous electric ferries for Norway
Cochin Shipyard Limited (CSL) has signed a contract for the construction and supply of two autonomous electric ferries for ASKO Maritime AS, Norway. ASKO Maritime AS is a subsidiary of NorgesGruppen ASA, one of the largest players in the Norwegian retail segment. The project is expected to catapult CSL into the league of premier shipbuilding yards in the world, capable of handling high tech vessel construction. This project is an ambitious one in Norway, partially funded by the Norwegian government, and aimed at emission-free transport of goods across the Oslofjord. The 67 m long vessels will initially be delivered as a full-electric transport ferry, powered by 1846 kWh capacity batteries.

56.No postal ballot for voters of 65+ age in Bihar polls
The Election Commission will not be extending postal ballot facilities to electors above 65 years of age in the Bihar assembly poll and other bye-elections. The facility of optional postal ballot will be extended to electors who are above 80 years of age, voters with physical disabilities, electors engaged in essential services and those who are COVID-19 positive or are in quarantine (home or institutional) in these elections. The limit the number of voters to be served by each polling station to 1,000, for the ease and safety of voters in Covid-19 situation. The 1,000 voter-limitation had increased the total number of polling stations in Bihar to 1.06 lakh, a rise of 34,000, which would require deployment of 1.8 lakh more polling personnel and other additional resources including vehicles.

57.DCGI approves first fully indigenously developed Pneumococcal Polysaccharide Conjugate Vaccine
Drug Controller General of India (DCGI) has given approval to the first fully indigenously developed Pneumococcal Polysaccharide Conjugate Vaccine. This vaccine is used for active immunization against invasive disease and pneumonia caused by "Streptococcus pneumonia" in infants. This is the first indigenously developed vaccine in the field of pneumonia. Earlier the demand of such vaccines was substantially met by licensed importers in the country since the manufacturers were all vaccine companies based outside India. The vaccine has been developed by Serum Institute of India, Pune.

58.First trial container ship from Kolkata to Agartala through Chattogram Port of Bangladesh flagged off
The first trial container ship from Kolkata to Agartala through Chattogram port was flagged off by the Shipping Minister Mansukh Madaviya. It will open a new chapter in the IndiaBangladesh maritime relations by allowing use of Chattogram and Mongla ports for transit of goods from India. After reaching Chattogram, the consignment will move to Agartala on Bangladeshi trucks. The operationalisation of these ports of transit for Indian goods will significantly reduce the time taken in carrying goods through Bangladesh while it will also enhance business and revenue for Bangladesh as its trucks and vessels will be used to move the Indian cargo.

59.UNICEF India and SAP India partner to improve employability of young people
On World Youth Skills Day, UNICEF India has announced a partnership with SAP India to provide career counselling to young people in the country that will improve their employability skills in a Covid and post-Covid era. UNICEF is collaborating with YuWaah (Generation Unlimited) under this initiative to provide digital education and occupational skillset to the underserved young people of the country. Under the collaboration UNICEF – YuWaah – SAP will strengthen and improve digital skills and life skills for young people, provide young people with career options, reimagine the model in other states with the Government of India, and aim to impact one million young people by the end of 2022.

60.Indian National Centre for Ocean Information Services, Hyderabad observes Swachhata Pakhwada
The Indian National Centre for Ocean Information Services (INCOIS), Hyderabad observed "Swachhata Pakhwada". During the event, several activities were conducted to aware people about the mission objectives such as to eradicate open defecation, efficient management of solid and liquid waste, overall cleanliness etc. It also included plantation of trees at ITCO ocean campus, single-use plastic avoidance pledge, campus sanitization etc. The Indian National Centre for Ocean Information Services (INCOIS), Hyderabad is an autonomous institution under the Ministry of Earth Sciences, Government of India. Tsunami Early Warning Service, Potential Fishing Zone Advisory Service and Ocean State Forecast Service are the three primary services offered by the institution.

61.WHO advises 140 tests per day per million population
The World Health Organization released its Guidance Note on Public Health Criteria to adjust Public Health and Social Measures. Under the guidance note, the organization advised comprehensive surveillance for suspected cases. WHO advises that a country has to conduct 140 COVID-19 tests per day per million population. With the various coordinated efforts made by the Centre and the States/UTs, 22 States/UTs in India are already conducting 140 and more tests per day per million. With 865 labs in the government sector and 358 private labs, the total number of testing labs is 1223, as on date. In addition to the gold standard for a test, RT PCR, TrueNat and CBNAAT are also used to augment this facility. During the last 24 hours, 3,20,161 samples have been tested. The testing per million for India is consistently rising. Today it has touched 8994.7.

62.Government nod for ₹300 crore emergency defence procurement
Defence Acquisition Council (DAC) has decided to entrust capital procurement powers to the Armed Forces. This decision came out after Meeting of the Defence Acquisition Council which was headed by Defence Mantri Rajnath Singh. After this, the Armed Forces will get instant Capital Acquisition Cases upto Rs 300 crores to complete their emergent operational requirements. These powers will help to decrease the procurement timelines of Armed Forces.

63.Indian Railways creates 'post-Covid coach' to ensure safer journey
Rail Coach Factory, Kapurthala, has developed a "post-Covid Coach" to fight the virus. This post-Covid Coach has design improvements like handsfree amenities, copper-coated handrails and latches, plasma air purification and titanium di-oxide coating for Covid free journey. One of the salient features is hands free amenities which include foot operated water tap and soap dispenser, foot operated lavatory door (outside), foot operated flush valve, foot operated latches in lavatory door, outside wash basin with foot operated water tap and soap dispenser and forearm operated handle on compartment door. The coach will be equipped with copper-coated handrails and latches because copper degrades the virus and lands on it within a few hours. When the virus lands on copper, ion blasts pathogens and destroys the DNA and RNA inside the virus.

64.Government to allow Invalid Pension to Armed Forces Personnel with less than 10 years of qualifying service
Government has decided to allow Invalid Pension to Armed Forces Personnel with less than ten years of qualifying service. This pension is granted to the Armed Forces Personnel who is invalided out of service on account of disability which is accepted as Neither Attributable to Nor aggravated (NANA) by Military Service. It will be available to those Armed Forces Personnel who were in service on or after 4th January 2019. Earlier, the minimum period of qualifying service actually rendered and required for invalid pension was ten years or more.

65.Indian Railways' 1st cable-stayed rail bridge, Anji Khad bridge
Indian Railways' Anji Khad Bridge Project is a big milestone for a better and more connected India. The country's "first cable-stayed" Indian Railways bridge, the magnificent Anji Khad Bridge will soon connect Katra and Reasi in Jammu and Kashmir. The ambitious project of Indian Railways is being constructed with superior technology and engineering excellence. The country's first cable-stayed railway bridge is being developed by Konkan Railway Corporation Limited, which is a Government of India undertaking. The cable-stayed railway bridge is a part of the Udhampur-Srinagar-Baramulla Rail Link (USBRL) project. 66.Shri Shripad Naik inaugurates conference on Aerospace and Defence Manufacturing Technologies
Raksha Rajya Mantri Shri Shripad Yesso Naik has inaugurated the 5th edition of the conference on "Aerospace and Defence Manufacturing Technologies". The conference was held with the theme Empowering India with 'Aatma Nirbhar Bharat Mission'. Tamil Nadu Technology Development & Promotion Centre (TNTDPC) jointly organised the conference with Society of Indian Defence Manufacturers (SIDM), and the Confederation of Indian Industry (CII). The Aerospace and Defence industry in India has been projected to reach around 70 billion Dollar by 2030.

67.AAI, BEL sign MoU for co-operation in civil aviation sector
The Airports Authority of India (AAI) has entered into a Memorandum of Understanding (MoU) with Defence PSU Bharat Electronics Ltd (BEL), to collaborate in tapping emerging global opportunities in the airport business, including those in the Asia-Pacific region. AAl, playing the role of a development partner, will assist BEL in its domain of expertise to enable execution of the prestigious MEA projects outside India by BEL. The manufacturing of Communication, Navigation & Surveillance (CNS) equipment in India will reduce the cost substantially and will save foreign exchange outflow, paving the way for an "Atmanirbhar Bharat".

68.NABARD extends grant assistance of Rs 221.89 cr to support 298 watershed projects in Karnataka
In Karnataka, NABARD has extended a grant assistance of 221.89 crore rupees to support 298 watershed projects in over three lakh hectares benefitting 66,500 families. The State has about 75 percent of rainfed area. The projects have resulted in improving the crop productivity, diversification, soil and water conservation and socio-economic condition of the beneficiaries. To mitigate the COVID 19 impact on rural population, NABARD has released 2200 crore rupees in the state to the Co-operative and Regional Rural Banks under a special line of credit over and above the normal limits.

69.Mukesh Ambani becomes 6th richest man in the world, surpasses Larry Page
Reliance Industries Limited Chairman Mukesh Ambani has become the sixth richest man in the world after surpassing Alphabet Co-founder Larry Page, according to data on the Bloomberg Billionaires Index (BBI). Ambani's real-time net worth has increased by $ 2.17 billion to 72.4 billion. Ambani, who was the richest man in India and Asia, is now close to entering the elite club of the world's top five billionaires. According to the latest Bloomberg Billionaires Index, Ambani's net worth now stands at $72.4 billion (Rs 5.44 lakh crore) after a rise of $2.17 billion. In terms of net worth, Ambani is behind American businessman Steve Ballmer who is placed fifth on the list with a net worth of $74.6 billion.

70.India's Only Golden Tiger 'KAZI 106F' in Kaziranga National Park
'Kazi 106F', described as the country's only Golden Tiger, has emerged as the social media sensation right after its picture tweeted by an IFS officer went viral. Kazi 106 F, the tigress, resides in world heritage Kaziranga National Park of Assam. It is also known as 'Tabby tiger' or 'Strawberry tiger'. The skin of tigers is orange-yellow with black stripes and whitish abdominal region. The yellowish background is controlled by a set of 'agouti genes' and their alleles and the black colour stripes are controlled by 'tabby genes' and their alleles. Suppression of any of these genes may lead to colour variation in tiger.

71.Guidelines on digital education announced by HRD Ministry
The Human Resource and Development Ministry has announced guidelines for online classes operationalised by schools amid the COVID pandemic. Union Minister Ramesh Pokhriyal Nishank virtually released the PRAGYATA guidelines on digital education. The HRD Ministry has suggested that the online classes for pre-primary students should not be for more than 30 minutes a day. For Classes 1st to 8th, it has suggested that not more than two online sessions of upto 45 minutes each should be conducted in a day.b For the senior students, from class 9th to 12th, the Ministry has suggested to limit the online classes to a maximum of four sessions of upto 45 minutes each.

72.NABARD organise ''Digital Choupal'' on its 39th foundation day
The National Bank for Agriculture and Rural Development (Nabard) conducted its first ''Digital Choupal'' via video conferencing. Nabard organised Digital Choupal on July 13 to mark its 39th foundation day. During the 'Digital Choupal' session, NABARD also announced Rs 5,000 crore of refinance scheme for banks and financial institutions. It also assigned another Rs 5,000 crore to transform Primary Agricultural Credit Societies (PACS) into multi service centres.
 Headquarters: Mumbai  Chairperson: Harsh Kumar Bhanwala

73.UNICEF India partners with FICCI for #Reimagine campaign
UNICEF INDIA has announced its partnership with Federation of Indian Chambers of Commerce and Industry's (FICCI), Socio Economic Development Foundation (SEDF) to jointly develop UNICEF's#Reimagine Campaign. The campaign aims to support the most vulnerable populations and children during the COVID-19 response and its after-math in India. It will also help in avoiding the potential long-term damage to business operations as well as employment pipeline.

74.Hand sanitisers are essential commodity but will attract 18% GST
Even as the government classifies hand sanitisers as an essential commodity, it will attract a 18 per cent GST on them. The Authority for Advance Ruling (AAR) has said that a GST of 18 per cent will be levied on all alcohol-based hand sanitisers. Merely classifying any goods as an essential commodity will not be the criteria for exempting such goods from GST, the AAR ruling added. Essential Commodities are goods that are considered essential to maintain a minimum acceptable standard of living.