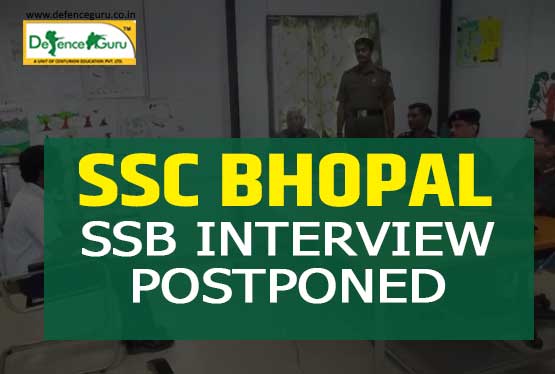 The Indian Army on 24th July, 2020 released notification in respect to scheduled SSB in Bhopal. With an increasing number of COVID-19 cases, Indian Army has postponed its SSB batches which are scheduled at Bhopal selection centre till further order.
The outbreak of Coronavirus has worsened, as per the daily figures the situation is very sensitive. Considering the safety of candidates and following the advisory issued by the government safety measures due to lockdown are extended.
The Indian Army official notice:
"Due to lockdown of Bhopal vide DM Office letter no. 1812/COVID7-19/2020 DT 23/07/2020, Four SSB batches at selection centre at Bhopal have been postponed till further orders. Candidates are advised not to report for SSB Interview for these batches now: (a) SSC (NT)-112 Batch no. 72992 WEF 26 July-30 July, 2020 (b) SSC (NT)-112 Batch no. 40555 WEF 29 July-02 August, 2020 (c) SSCW (NT)-26 Batch no. 42555 WEF 29 July-02 August, 2020 (d) SSC (NT)-112 Batch no. 72993 WEF 31 July-4 August, 2020,Fresh dates will be intimated to affected candidates shortly".
The situation will be reviewed again and when dates are decided for the deferred SSB Interview's the affected candidates will be shortly intimated.
An officer should know how to manage time and how to plan things, all of these qualities are tested in every round of SSB. Candidates are advised not to report at the Bhopal centre and Stay indoors to follow strict guidelines of the Centre and State authorities.
Success is never served nor comes by chance, it is truly and particularly all about your efforts, dedication, hard work, determination and many more unaccountable factors. Targeting major factors for SSB Interview utilize the time and look into that side of human personality we usually miss out the few basic and needful factors.
To get detailed information on 2020 SSB Interview visit CDA official you tube channel, Visit www.centuriondefenceacademy.com, Just Call or Whatsapp 9795977779 | 9795977776
Be an Efficient Learner! Save Time and Effort! Get Centurion Defence Academy Student App.