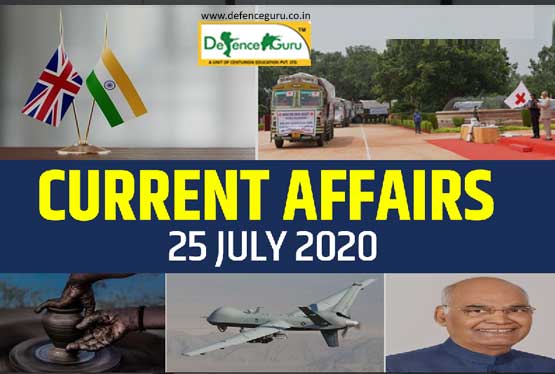 Current Affairs of July 25 2020
1- India, UK affirm their commitment towards Free Trade Agreement
India and the United Kingdom have affirmed their shared commitment towards Free Trade Agreement between both the countries. The two sides will engage into early harvest schemes or limited trade agreements in a staged manner marking preparatory steps towards the free trade agreement.
The declaration was announced during the 14th Joint Economic and Trade Committee meeting which was held virtually yesterday. Minister for Commerce and Industry Piyush Goyal and UK Secretary of State for International Trade, Ms Elizabeth Truss co-chaired the meeting. Minister of State for Commerce and Industry Hardeep Singh Puri and his UK counterpart, Minister of State for International Trade, Mr Ranil Jayawardena were also present during the meet.
It was decided in the meeting that a deliberation led by Mr Goyal and Ms Truss will be held in Autumn 2020 in New Delhi to carry forward the dialogue.
Mr Puri and Mr Jayawardena will have monthly meetings to intensify the dialogue. Both sides also resolved to cooperate in the health sector especially in view of the COVID-19 pandemic.
2- President Ram NathKovind completes three years in office today
President Ram NathKovind has completed three years in office today. Mr Kovind hosted nine state visits by Presidents and Heads of State from July last year to July this year. He hosted Heads of State from the US, Sri Lanka, Zambia, Brazil, Sweden, Mongolia, Netherlands, Portugal, and Myanmar and received 15 global leaders from five continents. For the first time in the history of RashtrapatiBhawan, credentials were also presented through video conference due to COVID 19 pandemic.
The President gave assent to 48 Bills of the Union government and 22 Bills of the state governments. 13 Ordinances were promulgated by the President and 11 Governors of states were appointed.
Mr Kovind visited 19 states and 4 Union Territories during the third year of his presidency. He addressed 9 convocations across India including IIT Roorkee, JamiaMiliaIslamia, and Sikkim University. Plastic bottles were banned in RashtrapatiBhawan and glass bottles were promoted in official meetings and state functions.
3- Trump administration relaxes standards for exporting drones
In a significant development, the Trump administration has relaxed standards for exporting drones to friendly countries. Under the new policy, drones that fly at speeds below 800 km per hour are no longer subject to the Missile Technology Control Regime (MTCR).
White House Press Secretary Kayleigh McEnany said, the move will increase the US' national security by improving capabilities of its partners and increase economic security by opening the expanding drones market to the US industry.
Assistant Secretary of State for Political Military Affairs Clarke Cooper said, this policy change modernises Washington's approach to implementing its MTCR commitments and makes it more reflective of the technological realities. Cooper, however, said higher-speed systems such as cruise missiles, hypersonic aerial vehicles, and advanced unmanned combat aerial vehicles are not affected by this revision.
4- Diplomatic row between US, China escalates
The diplomatic row between US and China has escalated. China has ordered the closure of US consulate in Chengdu in Sichuan province.
The move is being seen as in retaliation to the US decision to close down the Chinese Consulate in Houston two days ago. US State Department had alleged that the Chinese consulate in Houston was engaged in stealing of US intellectual property rights worth millions of dollars.
US Secretary of State Mike Pompeo also stated that today China is increasingly authoritarian at home and more aggressive in its hostility to freedom elsewhere.
5- Kumhar Sashaktikaran Yojana
Seeking to empower and associate the marginalized potters' community with India's quest to become "Aatmanirbhar", the Union Home Minister Shri Amit Shah distributed 100 electric potter wheels to 100 trained artisans under the KumharSashaktikaranYojana of the Khadi and Village Industries Commission (KVIC).
Home Minister Amit Shah distributed the electric potter wheels in his Parliamentary constituency (Gandhinagar Lok Sabha) via Video Conference from New Delhi.
Lauding the KumharSashaktikaranYojana, the Home Minister said the initiative would go a long way in strengthening the marginalized potters' community by incorporating technology to improve productivity while also reviving the traditional art of pottery.
Union Minister also interacted with five potters who have been trained by KVIC in pottery making and provided with electric potter wheels and other equipment for their future endeavours.
The Home Minister assured the potters that arrangements will be provided for selling of their products, including tie-up with the Railways and proper marketing channels. HM Amit Shah appreciated the efforts of KVIC in providing sustainable employment opportunities to the weaker sections through its schemes.
"KumharSashaktikaranYojana is one such step towards making the potters' community "Aatmanirbhar". I am hopeful that KVIC will continue to work for the benefit of marginalized sections," Home Minister said.
In Gandhinagar district, KVIC has trained 100 potters from 14 villages and distributed 100 electric potter wheels and 10 blunger machines.
The average income of potters under the KumharSashaktikaranYojana has gone up from nearly Rs 3,000 per month to nearly Rs 12,000 per month.