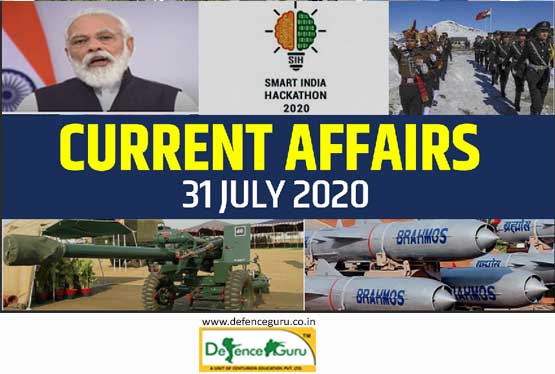 Current Affairs of July 31 2020
1-PM Modi to address Smart India Hackathon of All India Council for Technical Education tomorrow
Prime Minister Narendra Modi will address the Smart India Hackathon of All India Council for Technical Education at 4:30 PM tomorrow. He will also interact with students on the occasion. The Smart India Hackathon is a nationwide initiative to provide students with a platform to solve some of the pressing problems we face in our daily lives. The Grand Finale will be organized online by connecting all the participants throughout the nation together over a specially-built advanced platform. Over ten thousand students will be competing to solve 243 problem statements from 37 Central Government departments, 17 State Governments and 20 industries during the online.

On the occasion, the Prime Minister will also speak on the new National Education Policy 2020. Recently, the Union Cabinet chaired by the Prime Minister Narendra Modi approved the National Education Policy 2020 making way for large scale, transformational reforms in both school and higher education sectors. This new policy will replace the thirty four year old National Policy on Education 1986. Union Education Minister Ramesh Pokhriyal Nishank has termed the new National Education Policy-2020 a revolutionary change in school and higher education systems in the country. He said, this policy will establish India as a superpower of knowledge at the world stage. In an exclusive interview with AIR News, Mr. Nishank said, the aim of this new education policy is to open the door of opportunity for every child so that their holistic development can be ensured.
2-Names of soldiers killed in Galwan clash to be inscribed on
The names of 20 Indian Army personnel, who were killed after valiantly fighting Chinese troops in Galwan Valley in eastern Ladakh on June 15, will be inscribed on the National War Memorial here, officials said on Thursday.
They said the process for inscribing the names of the Army personnel on the memorial may take a few months.
Chinese and Indian troops clashed in Galwan Valley for several hours on the night of June 15 in their deadliest brawl in the last five decades.
3-Navy to test fire weapons on August 7
The Indian Navy will carry out firing drills of the coastal defence weapons on August 7 and has warned shipping and fishing vessels to stay clear of the area.
The Navy will test fire the 105mm light field gun and the 40/60 anti-aircraft guns between 9am and 1pm on August 7 from Mormugao, thenavy said in a statement

4-INDIA OFFERS BRAHMOS SUPERSONIC CRUISE MISSILES TO THE PHILIPPINES
The Philippines is set to become the first export customer of the supersonic BrahMos cruise missile. India and Indonesia on Monday agreed to expand strategic cooperation in a range of areas including , industries and technology sharing, as the two maritime neighbours looked at injecting a new momentum to their security partnership
India and Indonesia, which is also locked in a maritime dispute with China in the contentious South China Sea, have decided to expand their strategic and defence cooperation in a wide range of areas. The further expansion of defence and military relations were discussed during delegation-level talks led by defence minister Rajnath Singh and his Indonesian counterpart General Prabowo Subianto in New Delhi on Monday.
5-India welcomes start of assembling of world's largest fusion reactor; says paves way for clean source of energy
ITER is funded by 7 countries European Union, India, Japan, China, Russia, South Korea, United States. 35 countries are part of the project.
As International Thermonuclear Experimental Reactor (ITER) began the assembly of world's largest nuclear fusion reactor, India which is part of the mega-project said it is a "testimony of relentless human pursuit of knowledge..enduring quest to use science for the welfare of humanity" and in this case "abundant clean and sustainable source of energy".
ITER is funded by 7 countries European Union, India, Japan, China, Russia, South Korea, United States. 35 countries are part of the project.
The project aims to build the world's largest tokamak or a magnetic fusion reactor for large-scale and carbon-free source of energy.
Calling ITER a project of "extraordinary vision and ambition and unparalleled scale and complexity", Indian PM Modi said, "by seeking to emulate sun's energy production on earth it is attempting the task of cosmic proportions."
His message was delivered by the Indian Ambassador to France Jawed Ashraf.
Tuesday's event marks the beginning of the assembly process of the ITER tokamak fusion reactor. Piece by piece, different components of reactor will be put in place in a sequence, to complete the assembly.
Indian PM highlighted the role of Indian scientists saying," India is proud to be part of the global enterprise that is at the frontier of science and engineering. Indian scientists have made a valuable contribution to the development and fabrication" at the facility and have "demonstrated India's capability for design and manufacture at the most advance level".
The project involves international collaboration, which PM said it is a perfect symbol of Indian belief 'Vasudhaiva Kutumbakam' which means the world is one family. The project is located in Saint-Paul-lès-Durance, Provence, southern France.