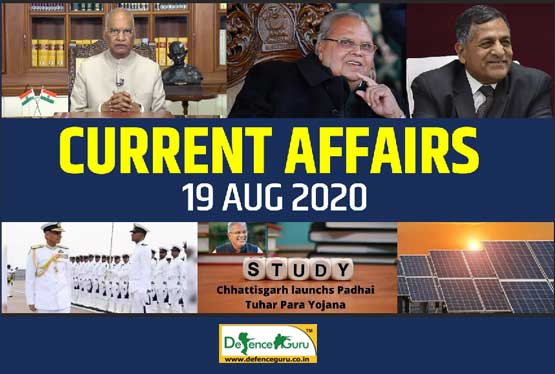 President gives Nod for Renaming of HRD Ministry to Ministry of Education
Satya Pal Malik Appointed as Governor of Meghalaya; Maharashtra Governor Bhagat Singh Koshyari given Additional Charge of Goa
Ashok Lavasa resigns as Election Commissioner of India, appointed as ADB Vice President
10 MCQ's of Current Events
Indian Navy Commanders Conclave
Padhaituharpara Scheme
First World Solar Technology Summit
New DG BSF
President gives Nod for Renaming of HRD Ministry to Ministry of Education
On August 17, 2020, In exercise of the powers conferred by clause (3) of article 77 of the Constitution, President Ram NathKovind amended the Government of India (Allocation of Business) Rules, 1961 by Government of India (Allocation of Business) Three Hundred and Fifty Sixth Amendment Rules, 2020, thereby, changing the name of the Ministry of Human Resource Development (MHRD) as Ministry of Education.
ii.This renaming of ministry was among the key recommendations of the draft new National Education Policy (NEP), which was also cleared by the Union Cabinet in July 2020.
About Ministry of Education:
Union Minister– Ramesh Pokhriyal 'Nishank'
Minister of State (MoS)– Sanjay Dhotre
Satya Pal Malik Appointed as Governor of Meghalaya; Maharashtra Governor Bhagat Singh Koshyari given Additional Charge of Goa
i.RamNathKovind, President of India appointed Satya Pal Malik, Goa Governor as the Governor of Meghalaya.
ii.Meanwhile, Maharashtra Governor Bhagat Singh Koshyari was given the additional charge as Governor of Goa.
iii.Satya Pal Malik replaced Tathagata Roy who completed his 5 year term by serving as governor of Tripura for 3 years and remaining in Meghalaya.
About Goa:
Capital– Panaji
Bird Sanctuary– Salim Ali Bird Sanctuary
About Meghalaya:
National Park– Balphakram National Park, Nokrek National Park
Chief Minister– Conrad Kongkal(K) Sangma
Ashok Lavasa resigns as Election Commissioner of India, appointed as ADB Vice President
Ashok Lavasa resigns as Election Commissioner of India to join the Phillippines-based Asian Development Bank (ADB) as its Vice- President in September 2020. Earlier on 15th July 2020, Lavasa was appointed as the Vice President of Asian Development Bank (ADB
MCQ
1.Which Indian Cricketer has been recommended for the Rajiv Gandhi KhelRatna Award by the National Sports Awards Committee?
a)ShikharDhawan
b)JaspritBumrah
c)Rohit Sharma
d)KL Rahul
1.(c) Rohit Sharma
The National Sports Awards Committee has recommended the names of cricketer Rohit Sharma, table tennis champion ManikaBatra, ParalympianMariappanThangavelu and wrestler VineshPhogat for the prestigious Rajiv Gandhi KhelRatna Award.
2.When will the first-ever World Solar Technology Summit be held?
a)August 20th
b)September 8th
c)September 12th
d)August 31st
2.(b) September 8th
Prime Minister NarendraModi will be inaugurating the first-ever World Solar Technology Summit on September 8, 2020. The summit is being organised by the International Solar Alliance (ISA) on a virtual platform.
3.Who has been appointed as the new Meghalaya Governor?
a)Satya Pal Malik
b)NajmaHeptulla
c)PS SreedharanPillai
d)RN Ravi
3.(a) Satya Pal Malik
Goa Governor, Satya Pal Malik was on August 18, 2020 appointed as the Governor of Meghalaya, replacing Tathagata Roy who completed his five-year tenure on the gubernatorial post.
4.Who has been given the additional charge of being the Governor of Goa?
a)VajubhaiVala
b)AcharyaDevvrat
c)Arif Mohammad Khan
d)Bhagat Singh Koshyari
4.(d) Bhagat Singh Koshyari
Maharashtra Governor Bhagat Singh Koshyari has been asked to discharge the duties of Goa governor in addition to his duties, stated the RashtrapatiBhavancommunique
5.When will PM Modi announce SwachhSurvekshan 2020 results?
a)August 20th
b)September 2nd
c)September 9th
d)September 30th
5.(a) August 20th
Prime Minister NarendraModi will announce the results of SwachhSurvekshan 2020 on August 20, 2020. This is the 5th edition of the annual cleanliness survey of the country. Under SwachhSurvekshan 2020, a total of 129 awards will be conferred to the top-performing cities and states in the programme titled "SwachhMahotsav".
6.Which institute ranked first in the list of top innovative educational institutes in India?
a)IIT Delhi
b)IIT Madras
c)IIT Bombay
d)IIT Kanpur
6.(b) IIT Madras
The Indian Institute of Technology, Madras has retained its top rank in the list of top innovative educational institutes in India for the second consecutive year. The institute was ranked number-one in the 'Atal Ranking of Institutions on Innovation Achievements,' released by Vice President Venkaiah Naidu in a virtual event on August 18, 2020.
7.Israel for the first time established direct phone links recently with which nation?
a)Saudi Arabia
b)Qatar
c)UAE
d)Russia
7.(c)UAE
Israel and UAE have inaugurated direct telephone services between the two countries following their agreement on the historic peace deal brokered by the United States. The foreign ministers of the two nations called on each other and exchanged greetings.
8.Which nation's Presidential Election Results 2020 have caused massive uproar and protests?
a)Armenia
b)Belgium
c)South Korea
d)Belarus
8.(d) Belarus
The President of the European Council, Charles Michel has called for an emergency summit of EU leaders on August 19, 2020 to discuss the situation arising out of the Belarus Presidential Elections.