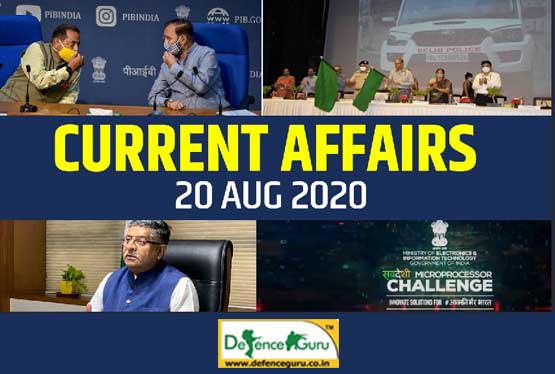 1-National Recruitment Agency gets Cabinet nod to conduct Common Eligibility Test
Union Cabinet gave its approval to set up the 'National Recruitment Agency' for conducting the Common Eligibility Test for all the recruitment agencies such as UGC, RRB,CBSE, SSC and others. The move is expected to boost transparency in the entire recruitment process and will be beneficial for the youth looking out for jobs.
2-Dhanwantari Rath' to bring Ayurveda at Door
i.On 18th August, 2020 a Memorandum of Understanding (MoU) was signed between All India Institute of Ayurveda (AIIA) and Delhi Police for extending ayurvedic mode of preventive and promotive health services in the residential colonies of the Delhi Police through mobile units named 'DhanwantariRath'.
ii.The service 'DhanwantariRath' and Police Wellness Centres will be catered by AIIA, supported by the Ministry of Ayurveda, Yoga & Naturopathy, Unani, Siddha and Homoeopathy (AYUSH).
About AYUSH:
Minister of State (Independent Charge) – ShripadYessoNaik
Headquarters – New Delhi
3-Ravi Shankar Prasad Launched "Swadeshi Microprocessor Challenge- Innovate Solutions for #Aatmanirbhar Bharat" to Support Startups
On 18th August 2020, Ravi Shankar Prasad, Union Minister of Law & Justice, Communications and Electronics & Information Technology launched the "Swadeshi Microprocessor Challenge- Innovate Solutions for #Aatmanirbhar Bharat" to provide a strong ecosystem of startups, innovation and research in India.
ii.Swadeshi Microprocessor Challenge is a part of the series of Effective, advanced and standardized measures taken by the ministry of Electronics and IT to enhance the technology guided innovative ecosystem in India and to stay on top of digital adoption.
About Ministry of Electronics & Information Technology(MeitY):
Union Minister– Ravi Shankar Prasad
Minister of State– Sanjay Dhotre
IMPORTANT CURRENT AFFAIRS MCQ'S
1.ADB has approved how much loan for the Delhi-Meerut Regional Rapid Transit System?
a)USD 1 billion
b)USD 2 billion
c)USD 3 billion
d)USD 1.5 billion
1.(a) USD 1 billion
Asian Development Bank (ADB) has approved a loan of $1 billion to support the construction of the high-speed, modern Delhi-Meerut Regional Rapid Transit System. The officials of NCR Transport Corporation, entity executing the project, confirmed the news on August 18, 2020.


2.Which company has acquired a majority stake in Netmeds?
a)Reliance Retail
b)Tata Sons
c)Amazon
d)Flipkart
2.(a) Reliance Retail
Reliance Retail has acquired a majority equity stake in 'Netmeds' for approximately Rs 620 crores. The announcement was made by the Reliance Industries Limited (RIL) through a statement on August 18, 2020.
3.Who is the new IPL Title sponsor?
a)Tata Sons
b)Dream11
c)Byju's
d)Unacademy
3.(b) Dream11
Dream11 on August 18, 2020 won IPL 2020 title sponsorship bid for Rs 222 crores. The fantasy sports platform outbid IPL Title Sponsor favourites Tata Sons and educational platforms Byju's and Unacademy to win the IPL Title rights.
4.Which nation's President resigned after being detained at gunpoint by mutinying soldiers?
a)Belarus
b)Syria
c)Turkey
d)Mali
4.(d) Mali
Mali President Ibrahim Boubacar Keita announced his resignation and dissolved the Parliament on August 19, 2020 after he was reportedly detained at gunpoint by mutinying soldiers.
6.Which Indian Sports Authority will be providing immediate support to 61 athletes who are not employed due to the COVID-19 pandemic?
a)BCCI
b)Hockey India
c)Badminton Federation
d)Football Federation
6.(b) Hockey India
The Hockey India executive board has announced immediate support for 61 athletes who are not employed due to the ongoing COVID-19 pandemic. The athletes include both junior and senior male and female athletes.
7.Which nation has been promised to be given priority in India's COVID 19 vaccine?
a)Nepal
b)Bhutan
c)Maldives
d)Bangladesh
7.(d) Bangladesh
India's Foreign Secretary Harsh VardhanShringla said during the concluding day of the two-day visit to Bangladesh that the country will get priority in the COVID-19 vaccine produced by India. He stated that India is in an advanced stage of COVID-19 trial and it is going to produce vaccines at a massive level.
8.India will be building a new road to which region?
a)Nathula Pass
b)Pelling
c)Ladakh
d)Lachung
Answers
8.(c) Ladakh
India is planning to build a new road from Manali to Leh to facilitate troop movement to Ladakh without observation from the enemy. The new road will provide the third link between the high altitude Union Territory and the rest of the country.