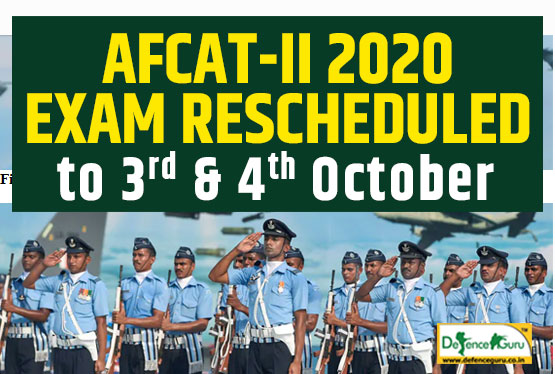 AFCAT-II 2020 exam date shifted from August 31, 2020 to 3rd & 4th October. Indian Air Force has rescheduled the Air Force Common Admission Test (AFCAT) to select Class-I Gazetted Officers in Flying and Ground Duties (Technical).
The Air Force Common Admission Test (AFCAT) is conducted by the Indian Air Force twice a year in February and August/September, respectively, but this year due to Coronavirus outbreak various exams throughout the season has been postponed and rescheduled.
The notice published on the official website reads: "AFCAT 02/2020 has been rescheduled to 03 & 04 Oct 2020, To view/ download Additional Merit List-II for course(s) commencing at AFA from 31 Aug 20, To view/download additional merit list for Adm branch for course commencing Aug 20 at AFA [click here], To view / download merit list for administration, education and meteorology branch or write to us at:- afcatcell@cdac.in , , and contact us on:- 020 - 25503105 / 106, Call Timings: Monday to Friday 9:30 AM to 1:00 PM & 2:00 PM to 5:00 PM ..
For complete details visit Indian Air Force official website: https://afcat.cdac.in/.
AFCAT-II 2020 Examination Pattern
Indian Men and Women applying for the examination should ensure that to be part of this elite force requires an excellence and high quality perseverance towards your physical and mental well do.
Joining the Air Force as Group A Gazetted Officers in Flying and Ground Duty (Technical and Non-Technical) branches provides all the action and adventure and a lot of effort towards academic pursuits. From the moment you are selected, till the time you retire, you are continuously honing your skills with a large number of in-service courses and other educational avenues.

The subjects, the time allowed and the maximum marks allotted to each subject will be as follows:-
| | | | | | | |
| --- | --- | --- | --- | --- | --- | --- |
| Exam | Subject | Duration | No. of Questions | Max. Marks | Marks for Correct Answer | Marks for Incorrect Answer |
| AFCAT | General Awareness, Verbal Ability in English, Numerical Ability and Reasoning and Military Aptitude Test | 2 Hours | 100 | 300 | + 3 | -1 |
| EKT [For Candidates with one of the choices as (Technical) Branch] | Mechanical, Computer Science and Electrical & Electronics | 45 Minutes | 50 | 150 | + 3 | -1 |
Important Points:
The Online examination will consist of objective type questions for both AFCAT and EKT
Objective type questions for both AFCAT and EKT will be in English only
No marks for unattempted questions will be deducted
Check the exam pattern of AFCAT common paper
Section

Questions

Marks

Time

General Awareness

20

60

2 Hours

Verbal Ability in English

30

90

Numerical Ability

15

45

Reasoning and Military Aptitude Test

35

105
As an Officer, a warrior, in the Air Force, you're tasked with upholding the constitution and protecting India's freedom. Robust, renowned, tough, powerful, Indian Air Force has the distinction of producing an officer in the world with a highly technical and specialized fighting force that safeguards our skies against enemy invasions. All the Best!
To get detailed information on Group X Trade Notifications, Syllabus, Tips and Tricks, Admit Card Dates, Result, Cut off, Trend Analysis, Information about Physical Fitness Test and Medical Examination and Current Affairs, simple Follow us on You tube, Instagram, Twitter, Facebook. Visit our official website www.centuriondefenceacademy.com. Read articles related to defence and defence examination at defenceguru.co.in.
Be an Efficient Learner! Save Time and Effort! Get Centurion Defence Academy Student App. Download the App Now
Visit www.centuriondefenceacademy.com Just Call or Whatsapp 9795977779 | 9795977776