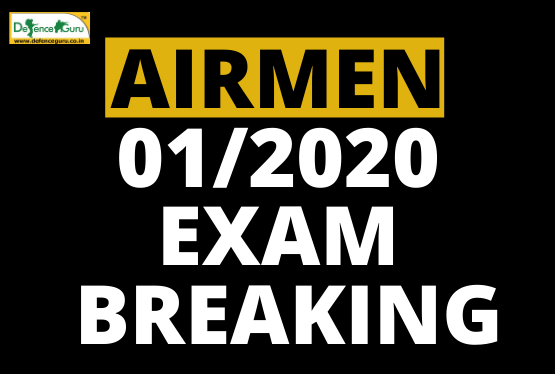 Indian Air Force released latest notification for the post of AIRMEN in Group 'X' trades (except education instructor trade) and Group 'Y' trades (except auto mobile technician, Indian air force (police), Indian air force (security) and musician trades).
STAR 01/2020 exam for the Airmen post will be tentatively scheduled to be conducted in the first week of November 2020. Official notification on the Central Airmen Selection Board website reads:
"STAR 01/2020 e-Pariksha scheduled from 19 - 23 Mar 20 was cancelled due to outbreak of COVID-19. Further, due to various state protocols and lockdown restrictions, pan India online exam could not be conducted till date. Efforts are being made to conduct of STAR 01/20 online examination in the first week of Nov 20. Relevant updates will be uploaded on CASB web portal (https://airmenselection.cdac.in). Candidates are required to follow the web portal regularly."
Several attempts are made on regular bases by the Indian Air Force for the successful scheduling of Airmen Star 01/2020 examination. Due to several attempts Airmen exam rescheduled from 19-23 March 2020 to the first week of Nov 2020.
To get detailed information on IAF Notifications, Syllabus, Tips and Tricks, Admit Card
Dates, Result, Cut off, Trend Analysis, Information about Physical Fitness Test and Medical
Examination and Current Affairs, simple Follow us on You tube, Instagram, Twitter, Facebook.
Visit our official website www.centuriondefenceacademy.com. Read articles related to defence
and defence examination at defenceguru.co.in.
Be an Efficient Learner! Save Time and Effort! Get Centurion Defence Academy Student App.
Visit www.centuriondefenceacademy.com Just Call or Whatsapp 9795977779 | 9795977776