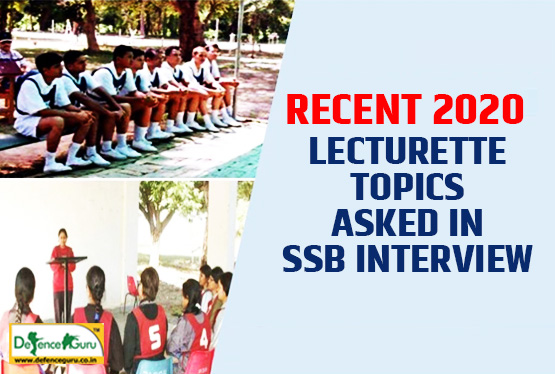 Lecturette topics in SSB
"Words that you utter have power, words can persuade, influence, convert and compel."
The above saying generalizes a fact that given a thought when you weave it in the form of a speech or a general talk it reflects your personality and your attitude. Similar is the notion behind this round that we call up as the Lecturette round that forms an indispensable part of the SSB's. The test is basically an index to assess the personality, attitudes, body language, facial expression, confidence of the candidate because the candidate in here has the disposition and liberty to express his/ her thought process in a positive manner before the GTO. Positivity and being genuine are the keys to the expression of thoughts.
Procedure involved
The candidates are handed over 4 topics and they have an ease and are at liberty in selecting any 1 of the given topics and deliver a free speech on the same. The time frame is of 3 minutes. Try to organize yourself and channelize your thought process on any one of the topics that can prove to be a time savior and a rescuer for your performance. The motto of this test is the basic assessment of the personality, speech fluency, communication, confidence and last but not the least knowledge so try to be aware of all the current situations and happenings around the world that are ongoing and you will be good to go.
Introductory Round
Before the commencement of the tests the GTO tends to ask from every candidate to give a brief over view or an introduction before the actual round kicks off and the candidates need to keep in mind on the following aspects:
1. Name
2. Where he/ she is from?
3. Hobbies or interests
4. The profession of their parents
5. What are they currently doing ( Studying/ doing job )
Handy tips to perform well in Lecturette Round
- Have a tab and hold on the current scenario of the burning topics and issues of in and around the world, keep yourself updated with all the latest current affairs and general know how.
- Control your body language, posture and movements maintaining a firm posture exhibiting positive body language.
- Be communication savvy as the same will render you to deliver an uninterrupted speech without any pause and breaks with utmost fluency and confidence.
- Divide the topic in three parts Introduction, Main body and Conclusion.
- Don't pause or halt too much while delivering your speech as it would decrease the tempo and speed of your speech and also make you less confident in front of others.
- Have a high socially active background as this will not only improve and make your communication skills confident but also provide you ample instances of knowing your surroundings.
- Keep a sequential approach so that you are not stuck and get nervous and rather have a clear and concise hold and grasp of the topic to make your point clear to others.
- Get a hold on your diction and pronunciation skills avoiding any grammatical mistakes thus leaving a bad impression before the others.
Lecturette Topics in SSB
Below is a general synopsis of some latest coverings and happenings on the socio- religious- politico and economic front along with the latest current affairs to be considered to be the most relevant topics for this round presently which are as follows:
The internal situation of Pakistan
Indian Economy
Training in Armed Forces
Higher Education in India
CPEC
South China Sea
Global Warming- Its Effects
Indo-China relations
AFSPA
Peace measures in J&K
Inflation and its effect
India- A Global Research and Destination for development and opportunities
Role of Media in Democracy and its effects
Energy Crisis
India's foreign trade
Indo Pak relations- the future
Abrogation of Article 370
Kashmir Issue
Naxalism
Disaster management in India
Use of technology in agriculture
United we stand, divided we fall
Can India become self-sufficient in energy resources
Cybercrime
Sports in India
India and US Relations
Role of opposition in Indian politics
Indian reservation Policy
India and its Neighbours
Indus Water Treaty
Role of Discipline in Life
Peaceful use of Nuclear Energy
Globalization
India's agricultural problem
The entry of foreign universities in India
Make in India Concept
NRC- CAA
URBAN NAXALISM

ALL LATEST GOVERNMENT SCHEMES

CLIMATE CHANGE/GLOBAL WARMING

BEAUTY PAGEANTS

INDUSTRIALISATION

INDIAN ECONOMY

DEFENCE BUDGET
Above are thus a gist of important topics to be kept in mind that would be fruitful for all the candidates preparing for their SSB Interviews but apart from these it is mandatory to keep a tab on all the recent current affairs and know around of the national and global scenario so as to be prepped up beforehand. The world is a big place abuzz with a lot of happenings here and there with interlinks of the situations and incidents thus just get a hold of what you can the most to make it out of everything the most. All the Best!!!!!