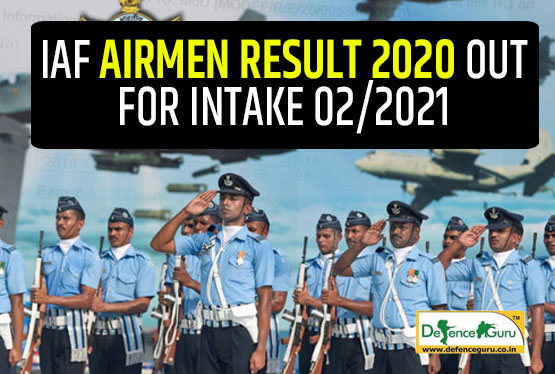 Indian Air Force official website for airmen airmenselection.cdac.in CASB has published the list of the successful candidates for the PHASE -1 written exam conducted for the Airmen Group X and Group Y exam for the Intake 02/2021 on 26 Nov 2020. The exam was held online by CDAC across many online test centerfrom 4 Nov 2020 – 8 Nov 2020. Successful candidates can check the Indian Airforce Airmen 02/20212020 cut off marks and download the admit card for Phase- 2 testing from the official website by login at airmenselection.cdac.in.
As mentioned on the official website airmenselection.cdac :-
Dear Candidates,
RESULT FOR STAR ONLINE EXAMINATION FOR INTAKE 02/2021 HAS BEEN UPLOADED IN CANDIDATE'S LOGIN UNDER VIEW RESULT AND ADMIT CARD FOR CANDIDATES SHORTLISTED FOR PHASE II TESTING IS AVAILABLE FOR DOWNLOAD. DISPLAY LIST OF CANDIDATES SHORTLISTED FOR PHASE II IS AVAILABLE UNDER CANDIDATE'S TAB ------->SHORTLISTED CANDIDATES FOR PHASE II (INTAKE 02/2021). PHASE II ADMIT CARD WILL ALSO BE MAILED ON THE REGISTERED EMAIL ID OF SHORTLISTED CANDIDATES.
CUTOFF OF IAF FOR INTAKE 02/2021 Online Exam
Group X Cutoff - 43 out of 70
Group Y Cutoff - 29.25 out of 50
Indian Air Force Selection Process
The selection process of Indian Air Force involves two phases that needs to be cleared that are Physical Fitness Ability Test (PFA) and after that a Medical Examination Round. Let's take a brief look at what the selection process comprises of which is basically involving a written test, document verification, PFT Test, AT1, AT2 and a Medical Examination Round-:
Physical Fitness Ability Test (PFA) comprises of mainly-
Eligibility for this round commences only after successful qualification of first round wherein you receive a new call letter on your registered E- mail Id and after that only you are eligible for the PFA Test.
1.6 kms run to be completed in 6.5 minutes.
10 pushups
10 sit ups
20 squats.
Medical Examination Round-
As per the IAF Standards after successful clearance of all the necessitated above stages the candidate needs to undergo a full medical clearance round that qualifies him or her to be selected as per their respective posts as an Airmen under Group X and Group Y.
List of candidates who are shortlisted for Phase II testing are mentioned below. Candidates are to download the Admit Card uploaded on their Individual login from website www.airmenselection.cdac.in and are to adhere to Instructions provided therein. They are to carry the Admit Card for Phase II and Instructions provided along with them while arriving for Phase II testing.
List of selected candidates for Phase-2 testing
https://airmenselection.cdac.in/CASB/img/new/final%20shortlist_26Nov2020.pdf