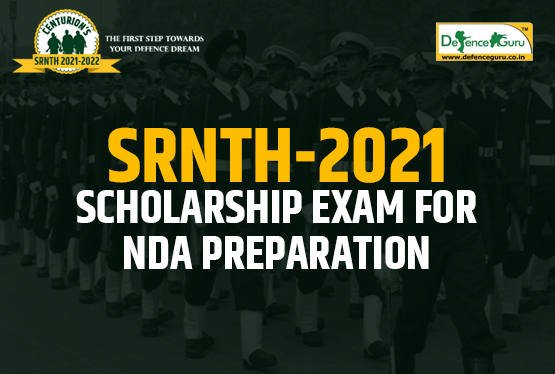 Centurion Defence Academy Launches SRNTH 2021-22 Scholarship Program For Top 400NDA Aspirants Across India, Registrations Open!!!
Centurion Defence Academy is presenting ShishirRameshwar National Talent Hunt Scholarship Examination (SRNTH) 2021-22 for all the NDA (National Defence Academy) aspirants in the country. Team Centurion has launched SRNTH 2021-22, under the guidance of SirShishir Dixit,Founder Director – CEPL for enrollment in the TARGET NDA-1-2021 TEJAS BATCH ( Offline/Online NDA-1-2021 Preparatory Batch of Centurion Defence Academy) .
Centurion Defence Academy is one of the best Defence coaching institutes and a leading academic sector available with superior and at par infrastructure campus for the preparation of SSB, NDA, CDS, AFCAT, Airforce, MNS, INET and other Examinations in India. The Academy imparts training for the complete tests conducted in the 5 days Services Selection Board Test including Interview, all Outdoor and Psychological tests, Group Discussions, Screening Tests, etc. The Academy has a commendable experience of creating 5000+ officers in this field and has the best services selection rate in the past few years.
With its mission and motto of imparting training for Indian Armed Forces examinations to it'saspirants, Centurion Defence Academy has now opened up the registration for ShishirRameshwar National Talent Hunt (SRNTH) 2021. SRNTH is a national level cost effective scholarship program designed to seek the best of the brightest, intelligent and most deserving candidates across India who have the potential to become aDefence personnel. It is a marvellous moment, a golden chance to explore your hidden potential and become a part of the Indian Armed Forces.
SRNTH and its Objective-
ShishirRameshwar National Talent Hunt Scholarship Examination (SRNTH) aims to encourage young and energetic blood of India to join the Indian Armed Forces.The idea or objective behind conducting the program is to address the budget constraints that most aspirants in India face at present - thus facilitating the selected candidates with monetary aid in the form of scholarships and cash rewards, blended with academic guidanceso as to give platform to the worthy and a chance to recognize and shape their talent. This scholarship envisions imparting quality training as well as to make young students realize their potential so that they can connect their skills as per the desired pre requisites.
SRNTH (2021-2022) -
SRNTH has helped thousands of students to achieve their dreams in the Defence career. For the year 2021, this exam has been launched for the admissions to the TARGET NDA-1-2021 TEJAS BATCH ( Offline/Online NDA-1-2021 Preparatory Batch of Centurion Defence Academy).The exam will be conducted on 16th of January 2021 through an online mode on the Centurion Defence Academy, CDA Student App. The last date for registration for the same will be 15th of January. Also, this time Upto 100% scholarship will be provided to a total of 400 candidates based on their scores for enrollment in Offline and Online Courses.This exam will comprise of two rounds namely Writtens as well as the Interview from Rank 1-50 and only upon attempt and successful clearance of both the rounds, the candidates would be liable to receive the SRNTH Scholarship for the TARGET NDA-1-2021 TEJAS BATCH ( Offline/Online NDA-1-2021 Preparatory Batch of Centurion Defence Academy).From Rank 51-400 the Scholarship will be awarded on the basis of their Written Exam.
Registration Process for SRNTH 2021-22 Scholarship Exam
Applicants can register for the Scholarship Exam through the Centurion Defence Academy Student App. You can download the CDA App from the Play store where thousands of students have already enrolled themselves and getting education and training through the E-Media Interface especially in this pandemic era where it was all the more mandatory to expand the possibilities without compromising with the future of the candidates.
After downloading the app, you need to select the Guest User Mode and login by filling your Name, Current Functional Mobile Number and the Gmail id in the Guest user-box. You will be then prompted with the SRNTH 2021-22 option and you need to select the same. After filling these details you will get an option of generating OTP. You can fill the OTP from your mobile number, after which you will immediately get access to the Student's app. You will be prompted with a section of Online Exam wherein you are provided with a facility to give a demo test as SRNTH 2021 NDA DEMO EXAM wherein you can get an idea as to how the actual exam would be and in this Online Exam Tab only you will be briefed and notified of the SRNTH Scholarship Exam and you can prep yourself up for the final day.Also you need to Pay Rs.100 as Registration Fee, for that once you have completed the downloading of App you can go on PAY ONLINE TAB, select SRNTH 2021-22 NDA and Pay Rs.100 only for Registration. Once Registered Team Centurion Counsellors will contact you for further Assistance.
SRNTH 2021-22 Exam Pattern
The exam pattern for NDA, 2021 will be set in bilingual mode, i.e. in both English as well as in Hindi. A total timestamp of 90 minutes will be provided to the candidates with a total of 100 questions. No Negative Marking. Questions will be Based on NDA Pattern .These questions will be further classified as follows-
- English- 25 questions
- Mathematics- 30 questions
- General Science (PCB)- 30 questions
- Polity, History and Geography- 15 questions
SRNTH 2021-22 Scholarship Waivers-
SRNTH Scholarship Program is open and eligible for both Online as well as Offline students with difference in the waiver, exemption and relaxation structure for both the modes depending upon the ranks the candidates secure and hold. The classification for the same is as below-
SCHOLARSHIP MODULE FOR ENROLLMENT IN TARGET NDA-1-2021 TEJAS Online BATCH
RanksWaiver Percentage
1 to 5 100 %
6 to 30 80 %
31 to 50 60 %
51 to 150 40 %
151 to 250 30 %
251 to 400 25 %
SCHOLARSHIP MODULE FOR ENROLLMENT IN TARGET NDA-1-2021 TEJAS OFFline BATCH
RanksWaiver Percentage
1 100 %
2 to 5 80 %
6 to 20 60 %
21 to 50 40 %
51 to 100 20 %
101 to 200 10 %
*Only 200 Seats under Scholarship are available for Offline Batch , subject to Covid 19 Guidelines and Offline Batch Strength. Also The enrollment of 200 amongst Top 400 candidates will be subject to First come , First Serve Basis.
SRNTH is affluent with abundant benefits. Only few lucky and worthy students are lucky to achieve their dreams after battling all the odds and to help and give wings to dreams of such students SRNTH stands as a pillar of support to give them direction and add meaning to their life and remember, "If somebody offers you an amazing opportunity but you are not sure you can do it, just Say Yes then learn how to do it later!!".