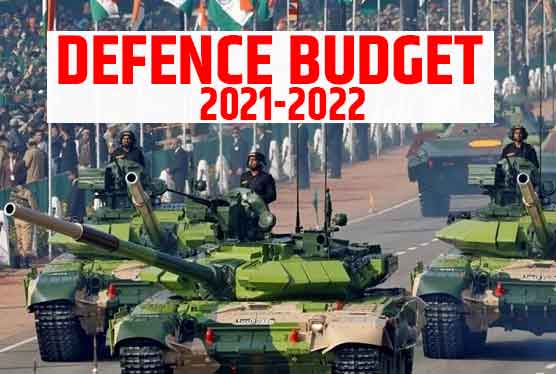 Here comes the massive news, as our finance minister Smt Nirmala Sitharaman on 1 Feb 2021, presented in parliament the union budget of the financial year 2021-22. It's an incredible push to defence modernization by increasing defence capital outlay by 18.75%.
After the declaration of the increment in the budget, defence minister thanks prime minister and finance minister for increasing defence budget to 4.78lakh crore.
The dive of the defence budget has increased to Rs 4,78,195.62 crore for the Financial Year 2021-22. Excluding Defence Pension, the total allocations for Defence Services and other organizations /Departments under Ministry of Defence for the Financial year 2021-22 is Rs 3,62,345.62 crore which is an increase of Rs 24,792.62 crore over the Current Financial year 2020-21.
It's a big achievement for the defence, as this is a highest ever increment in the capital outlay of Defence in the last 15 years. The capital expenditure which comes under modernization and infrastructure development of Armed forces has been significantly increased. The allocation under Capital of Rs 1,35,060.72 crore for the Financial year 2021-22 represents an increase of 18.75 per cent over the Financial year 2020-21 and 30.62 per cent over FY 2019-20.
Capital Outlay on Defence Services
| | | | |
| --- | --- | --- | --- |
| Year | Capital BE | Increase | % increase |
| 2019-20 | 1,03,394.31 | 9,412.18 | 10.01 |
| 2020-21 | 1,13,734.00 | 10,339.69 | 10.00 |
| 2021-22 | 1,35,060.72 | 21,326.72 | 18.75 |

The Capital allocation for Defence Research and Development Organization has been increased to Rs 11,375.50 crore. This is an increase of 8% over 2020-21 and 8.5 per cent over 2019-20. The allocation for Border Roads Organization (BRO) has been increased to Rs 6004.08 crore which is 7.48 per cent increase over FY 2021-22 and 14.49 per cent over FY 2019-20.
Allocation under Non-Salary Revenue to meet operational requirement has been increased to Rs 54,624.67 crore. This is 6 per cent growth over financial year 2020-21.
Defence Minister Rajnath Singh thanked Prime Minister Narendra Modi and Finance Minister Sitharaman for increasing the defence budget to 4.78 lakh crore for the Financial Year 2021-22 (FY21-22), which includes capital expenditure worth Rs 1.35 lakh crore. It is nearly 19 percent increment in Defence capital expenditure. This is the highest ever increment in the capital outlay for defence in 15 years.
The defence minister also praised his government budget said that it has been based on six pillars of good governance.
"Special attention has been paid to economic reforms, employment generation, capital formation and creating infrastructure in India. Based on 6 pillars of good governance this Budget will usher India into a new era of inclusive growth and prosperity," Defence Minister said.
Shri Rajnath Singh in an array of his tweets said, "Several new policies & programmes to support India's farmers, agriculture, infrastructure and reinvigoration of Human Resource have also been announced. I am glad that the Budget has proposed the opening of 100 new Sainik Schools in the country." These schools will be set up in partnership with States, Non-Governmental Organizations (NGOs) and private institutions.
In the middle of the corona pandemic, conflict with China defence forces got the increment of around 7.4 per cent over last year as Rs 3.62 lakh crore were provided to them excluding pensions over Rs 3.37 lakh crores last year. In the previous year, defence force received 18% increment in capital outlay meant for a new weapon of Rs 1.35 lakh crore has been provided over the 1.13 lakh crores last year.
The documentation also divulge, that the Defence Ministry spent an extra amount of Rs 20,776 crore for buying new weapon and other spare under the special financial powers given to the services under emergency and other provisions. The amount has been used to procure the equipments like, Spice-2000 bombs, Spike anti-tank guided missiles, SIG Sauer assault rifles, Excalibur ammunition, multiple types of aircraft spares from Russia along with the ammunition of tanks and fighter jets.
On other side in the 2021-22 Union Budget, has been allotted of Rs 4,78,195.62 crore. Rs 1.15 lakh crore have also been allocated for defence pensions which are accustomed to both military and civilians who have worked for defence Ministry. Last year, the government had given Rs 1.33 lakh crore for the defence pensions.
Now the government is looking to determine the proposal of cherishing the retirement age of defence folk, as the savings crosses around Rs 18,000 crore in terms of defence pension.