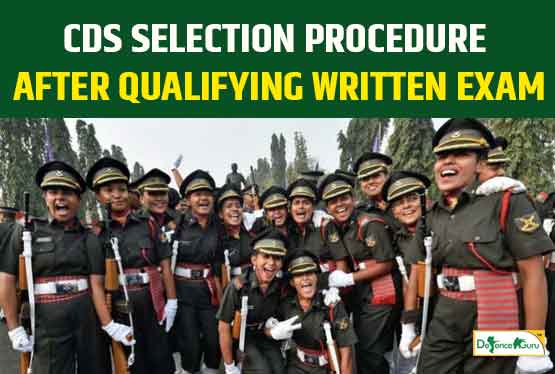 CDS exam is organized by the Union Public Service Commission, twice in a year for both male and female candidates to recruit Candidates as Permanent /Short Service Commissioned Officers in 3 wings of Indian Armed Forces. The CDS selection process 2021 consists of two phases - written exam and SSB interview. Candidates who qualify the written CDS exam 2021 are called for the SSB interview round. The written exam in the CDS selection process is for testing the candidate's aptitude and reasoning abilities. Whereas the SSB round of the CDS exam 2021 selection process tests candidate's psychological aptitude, mental condition and potential Officer like qualities.
Candidates have to clear all the stages of CDS to get recruited as commissioned officers in the Indian Army, Navy and Air force.
CDS Written Exam
The first stage of the CDS 2021 selection process is a written exam. According to the CDS exam pattern 2021, the CDS written exam comprises three papers - English, General Knowledge and Elementary Mathematics for admission in IMA, AFA and INA. For admission in Officers' Training Academy (OTA), candidates just have to appear for two papers - English and General Knowledge. All the questions asked in the CDS written exam are multiple choice questions. Candidates are given 2 hours time to attempt each paper. As per CDS selection process 2021, candidates qualifying the written examination are called for SSB Interview.
CDS Written exam Pattern
The CDS written exam divided into two part, as CDS written exam comprises three papers – English, Maths and General Knowledge for admission in IMA, IFA and INA; eligibility for male candidates only. For admission in OTA (Officers' training academy) candidates have to appear for the two papers English and General Knowledge.Eligibility is for both male and female candidates.
- Each section in exams comprises of 100 questions.
- Each question carries one mark.
- There is a negative marking. One-third mark will be deducted for each wrong answer.
- The time allotted for the examination is 2 hours.
CDS Exam Pattern for For IMA, INA, AFA
| | | |
| --- | --- | --- |
| Subject | Duration | Maximum Marks |
| English | 2 hrs | 100 |
| General Knowledge | 2 hrs | 100 |
| Elementary Mathematics | 2 hrs | 100 |
CDS Exam Pattern for OTA
| | | |
| --- | --- | --- |
| Subject | Duration | Maximum Marks |
| English | 2 hrs | 100 |
| General Knowledge | 2 hrs | 100 |
SSB Interview
The candidates who successfully clear the CDS Written Exam will be required to register for the SSB Interview. Then all the registered candidates will be sent the SSB call letter where SSB Interview date and SSB Centre will be mentioned. SSB Interview will be conducted for 5 days and is basically divided into two stages – Stage 1 and Stage 2.
The SSB Interview for INA, IMA, and AFA will be conducted for 300 marks whereas, for OTA, the total marks are 200.
Now let us see what happens in each of the 5 days.
SSB Interview Day 1 (Stage 1)
Reporting: After arriving at the SSB Centre, candidates need to show their documents and fill forms.
Screening: This process consists of Verbal and Non- Verbal Test, and PPDT (story writing and group discussion). Candidates who clear this stage will go for the next tests.
SSB Interview Day 2 (Stage 2)
On second day there will be a psychological test that consists of the Thematic Apperception Test (TAT), Word Association Test (WAT), Situation Reaction Test (SRT), and Self-Description Test (SD).
SSB Interview Day 3
On day 3 there will be various outdoor activities. The main aim is to test the candidate's ability to perform in group tasks. It consists of Group Discussion (GD), Group Planning Exercise (GPE), Progressive Group Task (PGT), Half Group Task (HGT), and Individual Obstacles Task (IOT).
SSB Interview Day 4
Day 4 consists of a Command Task, Individual Obstacle Task (OAT), Individual Lecturette, Final Group Task (FGT), and Personal Interview.
SSB Interview Day 5
Conference: You will beappearing in front of the SSB board members where you need to reply to the questions asked by the board members. The duration of this interview will be 1 to 2 minutes.
*Recommended candidates who are eligible for Flying branch also undergo CPSS Test.
CDS Medical Round
After clearing the SSB Interview, candidates have to undergo a Medical Test performed by a Special Medical Board (SMB) over the next 4 – 6 days. In exceptional cases, it may take up to 8 days.The candidate should be physically fit from any ailment which may hamper your performance in the Physical Tests/Interview.
Final Merit List
Based on marks (Written Exam and SSB Interview), the Final choice of applicants will be made dependent on their performance in Stage 2 of the SSB Interview. These various test of IO, GTO, and Psychology are explicitly intended to break down the presence or nonappearance of Officer Qualities and trainability in the applicant. In view of these tests, the applicants will be suggested by the officials of SSB. Around more than 2, 00,000 students apply for the CDS exam in which 4% students qualify the written Exam.
Now, you have a clear idea of the CDS Exam Pattern, checking plan, and stages, focus on the CDS Preparation. Experience the CDS Syllabus completely and tackle whatever number CDS practice inquiries as would be prudent. Take plenty of CDS mock tests to enhance your performance. Dissect your performance through mock tests and recognize where you are losing the imprints and focuson your more fragile areas.
Hope the information about the CDS exam will help you; stay connected with us for more informative articles.