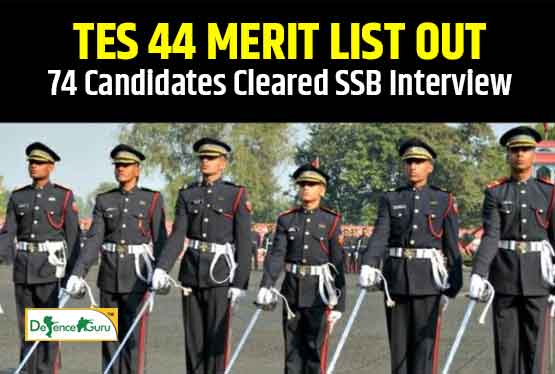 TES 44 Merit List
Indian army has published the TES 44 Merit list which is a Technical Entry Scheme for the 10+2 candidates who can join OTA Gaya. Total 74 candidates cleared the TES 44 SSB interview and they will be getting joining instructions as per their order in the merit list.
TES 44 Details:
- Vacancies: 90 (Vacancies are provisional and can be changed depending on the training capacity at the Training Academy for this course. The vacancies are subject to increase/decrease keeping the organizational requirement at the point of time.)
- Type of Commission: On successful completion of 4 years of the course, cadets will be granted Permanent Commission in the Army in the rank of Lt.
- Seniority: They will be granted seniority on overall order of merit of the three technical institutes combined i.e. CME, MCTE, MCEME and in case the date of commissioning coincides with that of IMA, Dehradun, they will be placed en-block junior to IMA (NDA/ ACC / DE Course ) but above TGC / UES course.
Download The Official TES 44 Merit List PDF From Below.