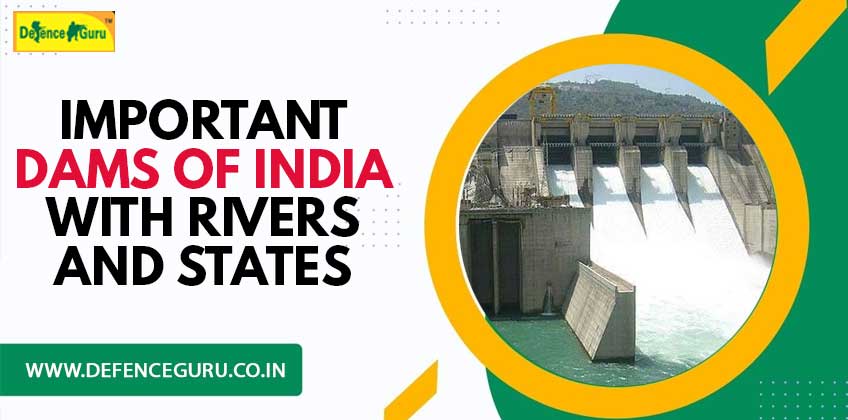 Static GK forms a very important part of any defence exam. Be it NDA/AFCAT/CDS/MNS or others static GK can be used to boost up the scores as it is easier compared to other subjects like science and math. Today in this article we will talk about the static GK topic of Important Dams in India with their States and Rivers. This is an important GK topic as few questions will definitely be asked from this portion in your upcoming 2023 exams. The questions asked in the defence exams like NDA/CDS/AFCAT/MNS 1 2023 in the General Awareness section will be based on areas like the history of Politics, Geography, Sports and many more. One of the most important topics that shall be asked in the G.A section is the knowledge about dams.
What is a dam?
A dam is a structure built across a stream, a river, or an estuary to retain water. Dams are built to provide water for human consumption, for irrigating arid and semiarid lands, or for use in industrial processes. They are used to increase the amount of water available for generating hydroelectric power, to reduce peak discharge of floodwater created by large storms or heavy snowmelt, or to increase the depth of water in a river in order to improve navigation and allow barges and ships to travel more easily.
Uses of Dams in India:
Providing adequate water for domestic and city use,
Water supply for irrigation purposes,
Water is needed for many industries,
Hydroelectric power production,
River navigation - it is the cheapest form of transportation.
Dams Reservoirs are used for fishing and boating purposes, thus providing livelihood to many.
They are useful to control the flow of rivers, helping in flood conditions.
Scope of Dams in India:
In India, there are currently 5,334 dams, with 447 of them being particularly significant. Because they are built across a river or stream to hold water back, dams are significant structures. They are obstructions that can be used to store water, control flooding, and generate energy. Dams provide reservoirs, which provide water for irrigation, flood control, aquaculture of plants and animals, irrigation for people, and navigation. India, a land of rivers has a huge potential for the construction of massive dams, owing to its geographical features. In the north lies the Himalayan Mountains, in middle India lies the Plateaus, whereas in southern India has Western and Eastern Ghats along the ocean boundaries of the country. India has already constructed a huge number of several dams and water reservoirs, with approximately 4300 already-constructed large dams. Moreover, several projects are in the pipeline. Check the highest, longest oldest and other important dams in India along with reservoirs in this PDF attached below which will help you prepare for your defence exams like NDA/AFCAT/MNS/CDS 1 2023.
You can download the list of Dams in India PDF given below for convenient preparation. Here is also an updated list of the most important dams in 2022 in India along with their states and rivers-
| | | |
| --- | --- | --- |
| Bhavani Sagar dam | Tamil Nadu | Bhavani |
| Tungabhadra Dam | Karnataka | Tungabhadra |
| Rihand Dam | Uttar Pradesh | Rihand |
| Maithon Dam | Jharkhand | Barakar |
| Koyna Dam | Maharashtra | Koyna |
| Bisalpur Dam | Rajasthan | Banas |
| Mettur Dam | Tamil Nadu | Kaveri |
| Krishnarajasagar Dam | Karnataka | Kaveri |
| Indira Sagar Dam | Madhya Pradesh | Narmada |
| Cheruthoni Dam | Kerala | Cheruthoni |
| Sardar Sarovar Dam | Gujarat | Narmada |
| Nagarjuna Sagar Dam | Telangana | Krishna |
| Hirakud dam | Odisha | Mahanadi |
| Bhakra Nangal Dam | Punjab-Himachal Pradesh Border | Sutlej |
| Tehri Dam | Uttarakhand | Bhagirathi |