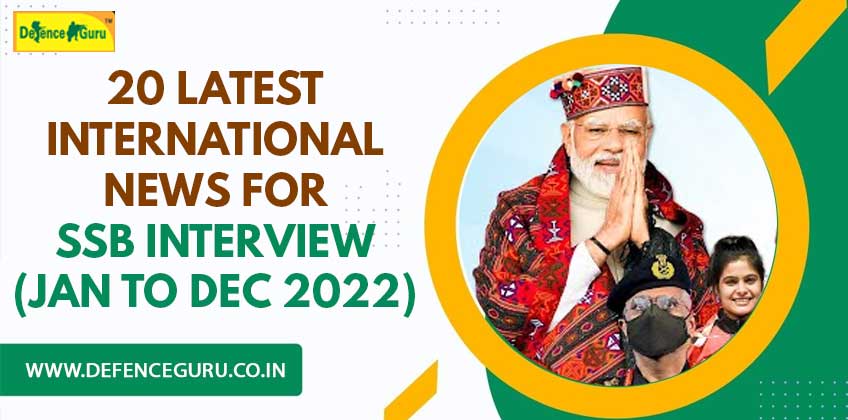 SSB Interview is a five days selection process in which candidates undergo various psychological and physical tests like OIR, PPDT, TAT, WAT, SRT, GTO, and Personal Interview. Candidates are recommended for the Armed Forces based on their performance in these tests. SSB is one of the toughest selection criteria in the world where the selection rate is even below 2%.
International News has its own special importance in SSB preparation. Candidates are expected to be updated with both national and international events. In SSB, During Lecturatte, Group Discussion, and Personal Interviews, International will be helpful for candidates. International News includes major international events, meetings of multilateral organizations, major appointments etc. Candidates should go through below mentioned news for their upcoming SSB in 2023.
20 International 2022 News For SSB Interview
1. Bomb Cyclone 'Eliott' has hit North America bringing down temperatures in USA and Canada to -40 degree celsius.
2. Pushpa Kamal Dahl also known as 'Prachand' was appointed as Prime Minister of Nepal
3. Charles Sobhraj, a notorious serial killer was freed from Nepal Jail and sent back to his country France
4. Indian Origin Leo Varadkar became prime minister of Ireland
5. Cop( Conference of Parties)-26 Meeting took place in Sharm-el-Sheikh, Egypt
6. Spain passes a gender reform law to allow citizens to change their gender
8. UAE becomes the first Arab Country to launch Spacecraft on the Moon
9. 6th Generation Mitubashi-FX Fighter Jet will be built jointly by Japan, Britain, and Itlay
10. Asim Munir appointed as Chief of Army Staff of Pakistan
11. East Timor becomes 11th Country to join ASEAN (Association of South Asian Nations)
12. Benjamin Netanyahu becomes prime minister of Israel
13. Lula Da Silva becomes prime minister of Brazil after defeating Jair Bolsonaro
14. Russia annexes four regions of Ukraine- 1. Donetsk 2. Luhansk 3. Kherson and 4. Zaporizhia
15. Anti-Hijab Protests started in Iran after the death of Iranian Girl Mahsa Amini
16. Global Population crosses the mark of 8 billion. Now There are more than 8 billion people in the world.
17. World's Longest Passenger Train started in Switzerland.
18. Kerch Bridge connecting Russia to Crimea was partly damaged in a Drone Attack
19. Giorgia Meloni became the first female prime minister of Itlay
20. The 17th Annual Meeting of G-20 took place in Bali, Indonesia
Candidates can check out informative articles on NDA preparation and SSB preparation. You can check out mock interviews, SSB preparation material. You can read Mock Interview of Saniya Mirza by Shishir Sir. Candidates are advised to read these news in detail and make short notes for revision before going for SSB.