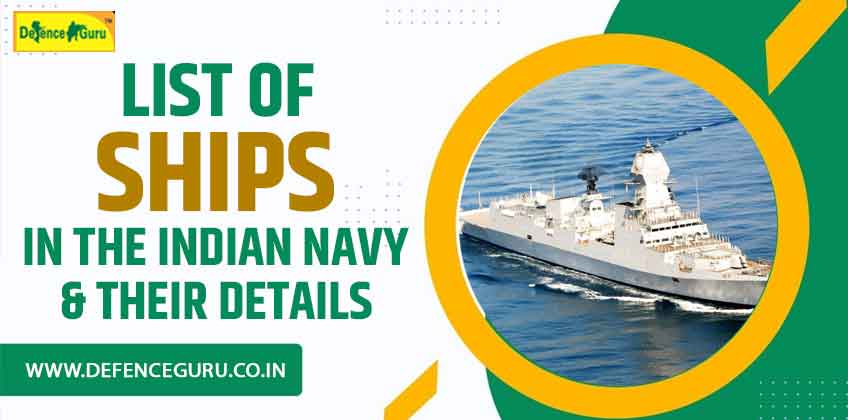 List of ships of the Indian Navy
Indian Navy is the maritime branch of the Indian armed forces. The Indian Navy safeguards our maritime boundary in wartime and peace. The Indian Navy is also a 'Blue Water Navy' which operates globally in deep waters of open oceans. India Navy currently operates 1 active aircraft carrier, INS Vikramaditya, and another aircraft carrier INS Vishal is under construction. The Indian Navy has 11 Destroyers, 13 Figattes and 19 Corvettes. The Indian Navy operates a large fleet of attack submarines which total 16 in number.
List of Indian Navy Ships
Class

Details

Name of Ships

Destroyers

Destroyers is the biggest class of ship operated by the Indian Navy. Destroyers have armaments for all 3 dimensions air, surface, and sub-surface. Destroyers in the Indian Navy are armed with armaments like Bramhis, Barak-8, Torpedoes, etc.

Rajput Class Destroyers-

INS Rajput
INS Rana
INS Ranveer
INS Ranvijay

Delhi Class Destroyers-

INS Delhi
INS Mysore
INS Mumbai

Kolkata Class Destroyer-

INS Kolkata
INS Kochi
INS Chennai

Visakhapatnam Class Destroyer-

INS Visakhapatnam
INS Mormugao
INS Imphal(under construction)
INS Porbandar(under construction)

Frigates

Frigates is the second biggest ship operated by the Indian Navy. There are a total of 13 Frigates in the Indian Navy.

INS Shivalik
INS Satpura
INS Sahyadri
INS Talwar
INS Trishul
INS Tabar

And There are 7 other Frigates.

Corvettes

Coverretes are small size attack ships. Corvettes are highly maneuverable and have surface-to-surface and surface-to-air fighting capabilities. Some Coverretes have anti-submarine capability also.

INS Kamorta
INS Kadmatt
INS Kiltan
INS Kavaratti

And there are 15 other Corvettes

Submarines

Submarines is an underwater attack ship. Submarines are capable of destroying enemy targets below the water. In India, there are both conventional and nuclear-powered submarines.

INS Kalvari
INS Khanderi
INS Vagir
INS Vela
INS Karanj
INS Arihant(nuclear powered)

And there are 11 other Submarines.
Information about Indian Navy Ships is very important for all the Defence Aspirants. Names and Classes can be asked not only in written exams like NDA and CDS but also in SSB. You can read our other informative articles on armed forces on Defence Guru. If you are preparing for SSB, Defence Guru provides you with all the study material including current affairs. Defence Guru also provides Study material for NDA preparation, you can check our NDA section for more information. This article is very important for those students who are going for naval SSB in 2023.