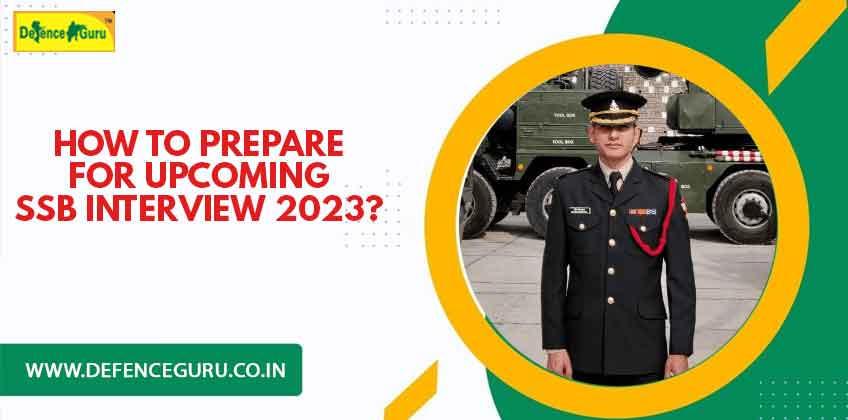 How to prepare for SSB Interview 2023
Career in the Armed Forces is very prestigious and also very challenging. AN Officer is respected through his/her his Life. But Becoming Officer in the Indian Armed Forces is not an easy job. Every candidate has to qualify Five Days Interview to become an Officer in the Indian Armed Forces. Candidates appear for SSB Interview after clearing exams like NDA, CDS, AFCAT or after qualifying for TES(Technical Entry Scheme), SSC-Tesch or UES(University Entry Scheme). Defence Guru offers detailed structured material prepared under mentorship of Retired Army officers who have guided thousands of Students for SSB. Defence guru has very useful study material like PPDT, SRT, WAT, TAT etc which will greatly help you in your SSB Interview preparation.
How to prepare for SSB on Daily Basis
It is very important to know about the process of SSB Interview before preparing for SSB Interview 2023.
Day Wise SSB Schedule

Details of Tests

First Day(Reporting Day)

OIR Test- OIR stands for Officer Intelligence Rating Test. Candidates will have to attempt this test in two stages which includes questions of Verbal and Non-Verbal Reasoning.
PPDT- PPDT stands for Picture Perception and Description Test. In This test, Candidates will be shown an unclear picture in which Candidates will have to identify Charecters, their mood,sex,age and write a story around it. Candidates will have to narrate and discuss the story.

Second Day

TAT(Thematic Apperception Test)- Candidates will be shown 11 unclear images and 1 Blank image. Candidates will have to write stories on them.
WAT(Word Association Test)- In WAT Test, Candidates will be shown back to back 60 words and they will have 15 seconds to write their response.
SRT(Situation Reaction test)- In This Test Candidates will have to write their responses on hypothetical situations.
SD(Self Description Test)- In This test, Candidates will have to write what their family, friends, teachers think about you and what do you think about yourself.

Third Day(GTO DAY)

HGT- Half Group Task
PGT- Progressive Group Task
GPE- Group Planning Exercise
GD- Group Discussion

Fourth Day(GTO DAY)

IOT- Individual Obstacle Race
Command Task-
FGT- Full Group Task
Lecturate
Snake race or Group- Obstacle race-

Fifth Day(CONFERENCE DAY)

This is the last day of SSB Interview on which results are announced.
Note- Interview can be conducted between the second or fourth day.
2. Make Yourself Physically Fit -
In Five Days SSB Interview, Candidates have to perform many tasks which require stamina and physical fitness. So Keeping Yourself Physically Fit is very important for the upcoming SSB Interview in 2023. Candidates can run for 5 KM everyday and do push-ups, chin-ups and stretching exercises for keeping them physically fit. Candidates can watch Videos of GTO and other tasks on our official youtube channel of Centurion Defence Academy.
3. Increase Your General Awareness -
Candidates should be aware about National and International Events happening daily. Candidates should read Daily Newspaper or watch News to keep themselves updated. Candidates should know about International Relations, Defence and Security Affairs, geopolitics, Current Affairs etc. General Awareness helps Candidates not only in Group Discussion but also in Interview.
4. Practice Tests Conducted in SSB-
Practice makes a man perfect and without practice, Candidates can not clear SSB Interview. Candidates should practice OIR Tests, PPDT Test, TAT, WAT, SRT etc in a time bound manner. Full Length Practice Sets of these Tests are available on this Website, Candidates can use them to practice.
5. Improve Communication Skills-
A Good Communication Skill is the Key to recommendation in SSB. Communication is very important for performing in many stages such as Group Discussion, Interview, Lecturate, Command Task etc. Communication in the English language is very important in SSB preparation, because most of the tasks are conducted in the English language only. It should be noted that Communication is not only about speaking but also about listening. Candidates should actively listen to the Instructors and his fellow candidates.
6. Read Books-
Candidates should read Some Basic books to make them knowledgeable. Being a knowledgeable person greatly helps in SSB. One can perform very well in Lecturette, Group Discussion, Interview If He/She has read Some Basic Books like Pax indica, You can win, Who will cry when you die, My Appointment with Psychologist, Does the Elephant Dance etc.
This is the most effective way for a holistic preparation of Upcoming SSB Interview in 2023. Candidates should inculcate these habits in their daily life so that their Basic Personalities can be enhanced for their recommendation in SSB. Candidates should take healthy and nutritious diet so that Candidates can keep themselves physically and mentally fit. For Practice Sets and Other information, Candidates can check other Articles of this Website.
For the right guidance for SSB preparation, Candidates can join Centurion Defence Academy which provides 21 days SSB Course under mentorship of retired Officers.
Read More About
Read More About
5 Best NDA SSB Coaching in India 2022
Top 10 SSB Coaching Institutes in India
Top Five NDA Coaching in India
Top 5 NDA Coaching in Dehradun