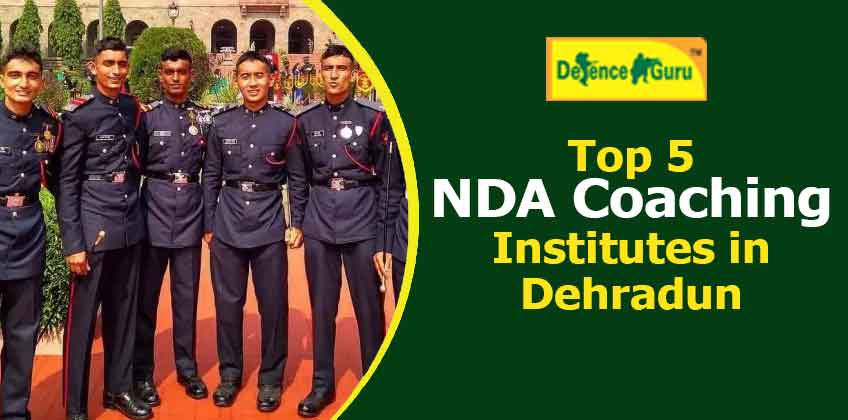 Top 5 NDA Coaching Institutes in Dehradun
Dehradun is widely recognized for its beautiful weather and breathtaking views, which are infused with the vicinities of several military establishments. Besides the phenomenal elegance of its religious and cultural attractions, Dehradun is also a destination for defence exam preparation, as it is home to renowned military institutions such as the Indian Military Academy (IMA) and the Rashtriya Indian Military College (RIMC). We are all aware that in order to join the Indian Armed Forces at a young age, one must pass the NDA exam. So, if you are looking for the best NDA coaching institute in Dehradun, keep reading because we are going to discuss the top 5 NDA coaching in Dehradun.
Dehradun serves as the entry point to many famous hill stations such as Mussoorie and religious sites like Haridwar and Rishikesh, offering a unique combination of incredible landscapes, cultural practices, as well as modern facilities. The city attracts not only tourists owing to its splendid beauty but also defence aspirants from various cities who intend to join the Indian Armed Forces. Although there are a number of top defence coaching institutes in Dehradun, one must do extensive research to select the best coaching institute for NDA preparation. Since a large number of defence aspirants prefer Dehradun to prepare for the NDA exam, they must consider the following factors before choosing the right coaching institute for their preparation. Let us take a look at the four important factors that you should consider before choosing the best NDA coaching in Dehradun for your exam preparation.
4 Points You Should Consider Before Selecting the Best NDA Coaching in Dehradun
Academic Guidance for NDA Written

Mentorship for SSB Interview

Overall Learning Infrastructure

Final Selections in NDA Exam
Since the NDA exam is conducted at the national level by the Union Public Service Commission (UPSC), it is indeed a highly competitive entrance exam. Furthermore, it is conducted twice a year and both male and female applicants are eligible to apply. The selection process for the NDA exam is multidisciplinary and involves several stages of selection, the written exam, SSB interview, medical exam, and the final merit list. Many candidates focus solely on NDA written exam preparation and neglect the importance of the SSB interview, and they do the same when selecting a coaching institute. Therefore, it is very important for such candidates to consider the four major points we have discussed below. Let us first go over these points, and then we will discuss the top NDA coaching in Dehradun.
1- Academic Guidance for NDA Written
Before enrolling in a coaching institute for NDA preparation, a candidate should consider several factors, one of which is quality academic guidance for the NDA written exam. It includes the coaching institute's faculty members and their teaching experience; mastery in guiding defence aspirants; coverage of the complete syllabus; learning infrastructure; preparation strategy approach; and written exam selection rate.
2- Mentorship for SSB Interview
Candidates should keep in mind that passing only the NDA written exam is meaningless unless they receive a recommendation from the Services Selection Board (SSB). The SSB is more than just an interview; it is a complete analysis of a candidate's personality characteristics to determine his or her suitability to serve in the Indian Armed Forces. As a result, if you are an NDA aspirant, you should seek coaching that provides comprehensive preparation for both the NDA written exam and the SSB interview.
3- Overall Learning Infrastructure
Before enrolling in an NDA coaching institute, an aspirant should consider all the factors, including holistic academic guidance for the written exam, professional command and training for SSB interviews, faculties, selection rate, learning outcome, and, of course, the institute's fee structure. It also includes study materials, notes, mock tests, and hostel and mess facilities for students commuting from afar.
4- Final Selections in NDA Exam
While a few NDA coaching institutes in Dehradun excel at written exams, they fail miserably when it comes to earning recommendations in the SSB interview. While it is obvious that simply passing an officer cadre written exam, such as the NDA, will not result in any positive outcomes unless the SSB recommends you. Thus, when choosing a coaching institute, you should take into account not only the written exam faculties and results but also the SSB interview experts and each year's final NDA selections.
Given the tough competition for admission to the National Defence Academy, we can conclude that the importance of coaching institutes cannot be neglected, as they play a vital role in enhancing your NDA exam preparation by offering you an in-depth understanding of the written syllabus as well as appropriate training and guidance for the SSB Interview. Taking all four factors into account, we have compiled a list of the top 5 NDA coaching institutes in Dehradun.
1- Centurion Defence Academy Dehradun Center
According to our analysis of the top 5 NDA coaching institutes in Dehradun, Centurion Defence Academy Dehradun Center is the best NDA coaching institute. It is the premier institute in Dehradun for holistic NDA exam preparation. Centurion Defence Academy Dehradun Center provides the best NDA coaching since it includes not only the written exam but also extensive mentorship for SSB interviews. It has India's elite SSB Panel, which includes ex-SSB members, retired Indian Armed Forces officers, and experienced professionals.
Key Features of Centurion Defence Academy Dehradun Center
Highest Final Selection Rate

Large Team of Professionals

Complete Guidance for SSB Interview

Centrally Located in Dehradun

Best Learning Infrastructure

Provides Hybrid Learning Exposure
Centurion Defence Academy, unlike other defence coaching institutes, is known for its high-quality education, individual mentorship, and the highest selection rate in defence exams. Centurion Defence Academy has two branches in Lucknow in addition to its Dehradun center. With its pledge of individual guidance and individualized training, Centurion Defence Academy Dehradun Center provides you with the top-notch infrastructure required for a positive and productive learning experience. Let us look at the highlights of this academy and why you should join Centurion Defence Academy Dehradun Center for NDA preparation.
Why Join Centurion Defence Academy Dehradun Center for NDA Preparation?
Centurion Defence Academy Dehradun Center provides NDA aspirants with an all-inclusive learning opportunity guided by competent mentors and experts to help them achieve better results in the exam. Centurion Defence Academy offers quality guidance and assistance in ensuring a high level of uniformity in your exam preparation, as well as help in assessing your strengths and weaknesses. The primary reasons why you should choose Centurion Defence Academy Dehradun Center for complete NDA preparation are as follows.
A Holistic Approach with Personalized Guidance Is Our Strength

Comprehensive Prep for Written Exams By Experienced Mentors

Access To Quality Study Materials Created By Our R&D Team

Free Spoken English and Personality Development Sessions

All-India Level Weekly Mock Tests for Performance Evaluation

Short Trick Based Smart Classes By Our Experienced Faculty

New Batches For Complete SSB Prep Start Every Monday

Access to Free Personality Test by DIPR Trained Assessors

Psychology Guidance & Strategic Techniques for Interview

Rigorous Training for GTO Activities By Ex-Board Members

Availability of Fooding & Lodging Facilities for Boys & Girls
Holistic SSB Interview Guidance by Centurion's Elite SSB Panel
Centurion Defence Academy Dehradun Center provides complete SSB interview preparation to encourage prospective candidates to achieve their best possible results. The academy resembles the actual SSB interview with an SSB Panel made up of ex-officers from the Indian Armed Forces with years of experience and proficiency. Its SSB Panel consists of Psychologist, GTO (Group Testing Officer), and Interviewing Officer to help defence aspirants prepare for every aspect of the SSB Interview. Centurion Defence Academy believes in giving the final selections and the success stories of its recommended candidates are available on its official YouTube channel.
The Centurion Defence Academy SSB Panel has made significant contributions to the most considerable and desired SSB results. Its elite SSB Panel is made up of the following defence personalities:
1. Sir Shishir Dixit- Founder Director CEPL, Air Veteran, Litterateur, SSB Expert (Psychology)
2. Maj. Gen. AK Chaturvedi, AVSM, VSM, Trained IO (DIPR), Senior IO at CDA
3. Air Commodore Shashikant Mishra VM, Senior Interviewing Officer, SSB Mentor
4. Col Rajesh Kumar Sharma, GTO, Ex GTO-Bhopal & Kapurthala
5. Col. Pramod Kumar (Retd.) GTO, Ex-GTO, 22 SSB Bhopal
6. Gurkirat Kaur – Center Head, CEPL (Communication Skills and PD Trainer)
7. Dr. (Col) Ajay Bahadur Medical Expert – CDA
6. Aditya Dubey (PD and English Spoken Trainer) Vice-President-CEPL
7. Yash Tripathi- Assistant GTO Coach
2- Baalnoi Defence Academy Dalanwala, Dehradun
Time and energy must be implemented in the correct ratio and direction to instruct a human mind to react in a specific way. The Baalnoi Defence Academy, which prepares candidates for NDA exam preparation, believes that theory only serves as a conceptual framework for understanding and that true learning occurs only through the application of theoretical concepts. At Baalnoi Academy, the dry approach to learning is replaced by a teaching environment that assigns specific tasks to candidates in order for them to form and apply concepts. At Baalnoi, candidates are not tutored but rather reformed to think and act pragmatically, efficiently, and effectively for the rest of their lives. As a result of time spent in the defence forces, SSB practical experience, and years of teaching, Baalnoi Academy has mastered NDA exam preparation.
3- Dehradun Defence Academy
Dehradun Defence Academy is the name of a group of passionate mentors and experts committed to providing exceptional coaching for NDA exam preparation. Numerous student and parent testimonials attest to Dehradun Defence Academy's dedication and success. The academy has successfully bridged the gap between doubts and resolutions, making it a popular choice among aspirants from across India.
4- Sandeep Sir's Doon Defence Academy
Doon Defence Academy, run by Sandeep Sir, is a top NDA Coaching Institute in Dehradun. Doon Defence Academy is one of India's best NDA coaching institutes. Doon Defence Academy is one of the best places for students to learn about the ethics of living a heroic and inspiring life. The Doon Defence Academy can help you get started in the merchant navy. After that, enroll in the Doon Defence Academy for Merchant Navy training. Over the years, DDA has had a reputation for providing the best NDA coaching in India to all NDA aspirants with outstanding results.
5- Ground Zero Defence Academy
The Ground Zero Defence Institute truly lives up to its name, guiding aspirants from the ground up and teaching them every aspect of the defence service examinations. It offers every aspirant a competitive environment in which to realize his true potential and unsheathe the best in himself. The institute has a very highly qualified and reputed team of instructors, each of whom is completely dedicated to the cause of providing unparalleled education for NDA exam preparation. They strive to provide students with a well-rounded education that promotes their overall development.
Read About:

Top Five NDA Coaching in India
Top 5 NDA Online Coaching in India