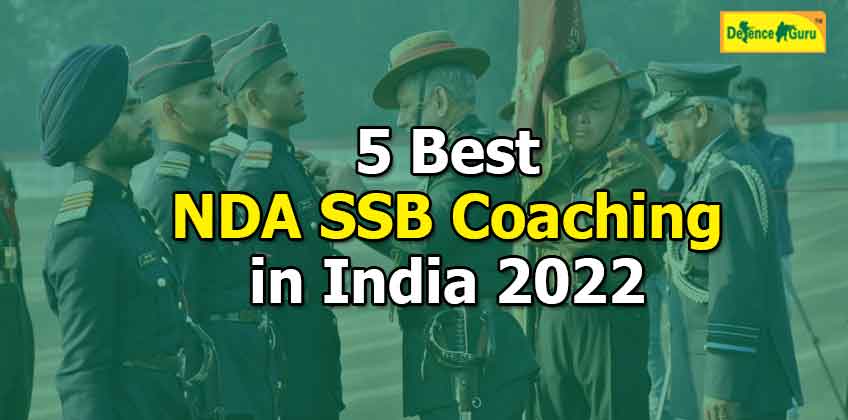 Best NDA SSB Coaching in India 2022
The Services Selection Board (SSB) is a personality and character assessment, and a decent personality does not develop instantly. As a result, the SSB coaching institute can be quite beneficial in your preparation. Coaching institutes offer professional support and guidance for SSB interviews and many options for joining the Indian Armed Forces. Candidates looking for the best NDA SSB coaching in India for the SSB interview in 2022 can browse through the list below.
1. Centurion Defence Academy
Centurion Defence Academy, headquartered in Lucknow, is a well-known defence coaching institute that prepares students for NDA Written and SSB Interviews. With experienced faculty members and ex-military personnel as educators, it is one of the most prestigious coaching institutes for the NDA SSB Interview 2022. Here, we'll discuss why joining Centurion Defence Academy can help NDA aspirants increase their chances of recommendation, as well as other facilities that the academy provides.
With India's elite SSB Panel, which includes eminent defence professionals, ex-SSB Board members, and Indian Armed Forces veterans, Centurion Defence Academy offers both online and offline NDA exam preparation.

It has two locations in Lucknow, including India's largest GTO training facility, which prepares NDA candidates for group hurdles and other SSB Interview activities.

The Academy also offers a 21-day and 45-day SSB Interview training and guidance plan which includes Personality Development, Physical Robustness & Mental Alertness, GTO, OIR, and Group Discussion for successful results in the SSB Interview.

The Academy provides educational facilities, professional SSB interview guidance, hostel and mess facilities, sports facilities, physical fitness training, and extra-curricular activities to NDA applicants.
Benefits of Joining Centurion Defence Academy
Attending a coaching institute can help you increase your productivity and speed up your NDA preparation in constantly fierce competition. Centurion Defence Academy, the best NDA SSB Coaching, provides students with a comprehensive training plan under the supervision and mentorship of experienced professionals. The following are the most significant benefits of joining Centurion Defence Academy.
Providing conceptual-based learning to ensure that the complete curriculum is covered with ample time for essential concepts to be reviewed.

Candidates can use model test papers, mock tests, and test series to get a feel for the real exam while retaining accuracy and time management.

Under the guidance of the SSB Panel, which is made up of ex-Indian Armed Forces officers with years of experience and competency, comprehensive SSB Interview preparation can help potential candidates achieve their best outcomes.

A well-equipped library and state-of-the-art infrastructure with all necessary amenities create an environment that promotes a positive and enjoyable learning experience.

Content and study materials that have been thoroughly researched and are based on the latest syllabus and exam pattern, as determined by the R&D department.
Elite SSB Panel of Centurion Defence Academy
1. Sir Shishir Dixit- Founder Director CEPL, Air Veteran, Litterateur, SSB Expert (Psychology)
2. Maj. Gen. AK Chaturvedi, AVSM, VSM, Trained IO (DIPR), Senior IO at CDA
3. Col Rajesh Kumar Sharma, GTO, Ex GTO-Bhopal & Kapurthala
4. Major Nasreen Fatima (Sqn Ldr Retd.) Academic Head, Ex. NDA Instructor, Khadakwasla, Pune
5. Dr. (Col) Ajay Bahadur Medical Expert – CDA
6. Aditya Dubey (PD and Eng Spoken Trainer) Vice president-CEPL
7. Yash Tripathi- Asst. GTO Coach
Click here for ONLINE REGISTRATION FOR ADMISSION to the new batches of SSB Interview.
2. National Defence Career Academy
National Defence Career Academy offers the SSB interview coaching classes in Jaipur, Rajasthan and written exams for the UPSC examinations NDA and CDS. National Defence Career Academy has officers who are well qualified and have extensive experience in effectively coaching centers for SSB interviews. NDCA is the top SSB coaching in Jaipur ensuring that every student who chooses to receive coaching from us feels confident, motivated and determined to succeed in SSB/AFSB/NSB. The Trainers at National Defence Career Academy are highly qualified and vastly experienced in successfully coaching students for SSB Interview.
3. Cadeto India
Cadeto India Armed Forces Preparation Institute excels in the field of written exam preparation for Defence Exams like - SSB Interviews | NDA | CDS | AFCAT | Soldier GD | Group X & Y | & GATE | CAT | UPSC Civil Services | Banking | Other Exams. We are present in both Online / Virtual mode and Offline physical classrooms. They have created a history of maintaining very good results in SSB Interviews and Personality Development. Their tuition has been a hit among students, especially supplementary exams. The Institute has been set up with the purpose of grooming and developing students and Officer aspirants of the Armed Forces, providing class education to young students, and guiding and preparing working/non working professionals for current conduct and future interviews for a better prospect.
4. Sai Defence Academy Dehradun
Sai Defence Academy is the number one SSB coaching institute in Dehradun which is being run under the guidance of NDA Guru Alok Sir. The SSB syllabus of NDA Guru Alok Sir's Sai Defence Academy Dehradun has been prepared in such a way that the candidate can answer the questions asked in the SSB very well. Along with this, there is a lot of improvement in the personality of the student. The candidates' problem-solving skills are sharpened to meet the requirements of the assigned tasks at the SSB. The NDA Guru Alok Sir's Sai Defence Academy Dehradun has the best laid out outdoor tasks including Progressive Group Tasks (PGT), Individual Obstacles (IO), Command Tasks, and Snake Race to give hands-on experience to all candidates.
5. Saarthi Institute for Career Excellence
Saarthi Institute for Career Excellence is imbued with the spirit to transcend the youth of the country into future leaders as pillars of modern India. It has played a vital role in assessing and selecting the future generation of officers in the Indian Armed Forces. With a combined experience of both combat soldiers and training the trainers, the institute has come as a team to create this institute, which aims at providing each student with a jumping board to make their aspirations come true. Their endeavor is not only to mentor students to clear examinations and SSB but also to imbibe in them a spirit to excel, by ensuring balanced personality development, ready to combat any future challenges of life. The team also constitutes professors who are meritorious and dedicated. They not only understand the nuances of cracking an examination but diligently guide students to understand their strengths and weaknesses.
Read More About - Top Five NDA Coaching in India