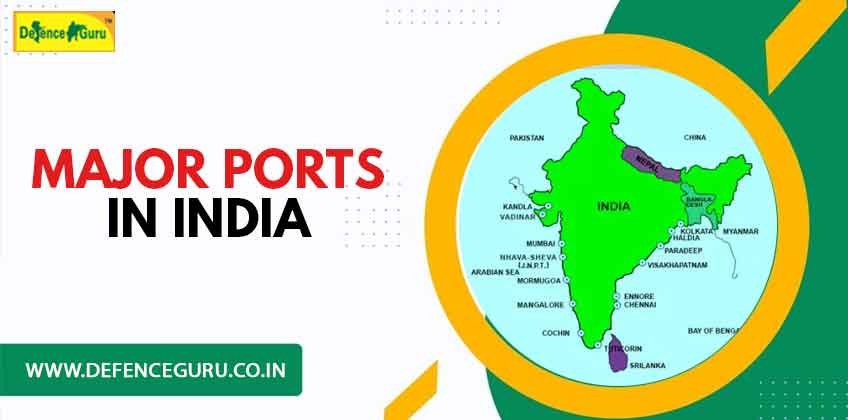 Defence Guru brings you a specifically pioneered important questions in PDF form for NDA/CDS/AFCAT exam 2023. As we are aware General Knowledge (GK) is a very important area in all the competitive exams held in the country. Most of the aspirants feel difficulty in scoring good marks in it. Nowadays, a good knowledge of general awareness is very important in clearing any competitive exam. Defence exams like NDA/CDS/AFCAT all have a separate section for static GK questions and in this article we have brought you important questions (PDF) from the Static GK topic of Major Ports in India.
What is a port?
A port is a location where ships may load and unload merchandise near the margin of an ocean, river, or lake. At a port, passengers aboard ships can board or disembark. It's also known as a port or a harbour. This type of port is similar to a seaport. A good port is accessible by boat or land. It's also at a location where extreme weather, such as high winds or large waves, won't harm it. Some ports are vital to trade, while others are vital to a country's navy. When it comes to why a country like India needs ports then the answer is that ports form a necessity to any country. They are used to increase regional economic activity (internal) and facilitate seamless trade between the island or country (export and import), as well as the growth of the surrounding area. Ports are required to facilitate the selling of their products or the import of raw materials for their manufacturing. There is also a specific port that serves the company's manufacturing needs. Military ports are used to assist a country's defence and security depending on political, economic, and technological reasons. In this article we are attaching a PDF for you to understand the type of questions from this topic that will be important for your NDA/CDS/AFCAT exams 2023.
Important ports In India:
All ports in India are situated in the 9 coastal states of India namely Kerala, Karnataka, Maharashtra, Goa, Gujarat, West Bengal, Odisha, Andhra Pradesh, and Tamil Nadu. India's extended coastline forms one of the major portions of land that juts out into a water body. Thirteen major ports in the country handle a lot of volume of container and cargo traffic. India has 12 major and 205 notified minor and intermediate ports. Under the National Perspective Plan for Sagarmala, six new mega ports will be developed in the country. The Indian ports and shipping industry play a vital role in sustaining growth in the country's trade and commerce.
The NDA/CDS/AFCAT exam 2023:
This PDF contains questions on the static GK topic so as to help you perform better in the upcoming NDA/CDS/AFCAT exam 2023. These are specific questions compiled by our experts from previous year papers and important topics from the point of view of the upcoming 2023 pattern of NDA/CDS/AFCAT exams. These three are the major defence exams held twice a year and have different phases. Static Gk will not only help you clear the written portion of the exam but also help you with the interview portion.