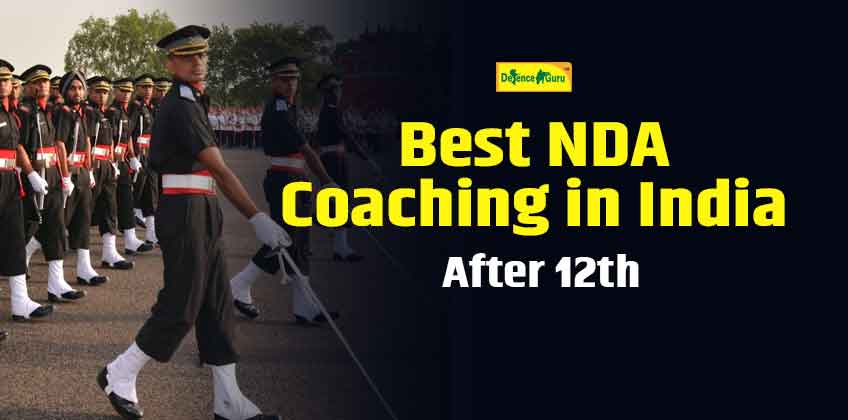 How to join Best NDA Coaching in India after 12th ?
The NDA exam is one of the most popular career options for young individuals interested in joining the Indian Armed Forces. After passing their 12th-grade exam, the majority of candidates elect to enroll in the National Defence Academy (NDA) to pursue their dream of becoming an officer in the Armed Forces. Finding the best NDA coaching in India after the 12th for a comprehensive exam preparation necessitates a full understanding of several elements. A candidate should evaluate not only the written exam faculties and achievements but also the SSB Interview competency when selecting a top NDA coaching after 12th. This post will assist you in locating the best coaching for NDA in India after you complete your 12th grade so that you may improve your exam preparation.
The necessity of Coaching Institute for NDA Preparation
Due to the extremely competitive nature of the NDA exam, you will need professional guidance and a competent approach, and coaching institutes can help you maintain a high degree of consistency in your exam preparation, resulting in an exceptional outcome. Experienced faculty members aid candidates in understanding their strengths and limitations, as well as assisting them in quickly recovering from failures, at coaching institutes. The NDA exam is difficult, and to be one of the recommended candidates, an applicant must prepare extensively for both the written and SSB interviews. In this situation, having the correct mentorship is crucial for holistic preparation to pass the NDA exam.
The best NDA coaching institute provides students with extensive learning opportunities under the mentorship of professionals.

Enrolling in a coaching institute might help you strengthen your effectiveness and improve your NDA preparation in a continually competitive atmosphere.

Most of the top NDA coaching institutes have ex-military personnel as instructors, helping candidates to obtain a deeper grasp of the defence culture.

When looking for the best coaching in India for NDA 2022, candidates should also evaluate whether the institute gives SSB training.

Other considerations to examine are the learning environment, infrastructural facilities, study materials, and the selection rate at the NDA coaching facility.

Aspirants should inquire about ground and other training facilities for the GTO tasks that are part of the SSB Interview, in addition to academic achievement.
Centurion Defence Academy - Best NDA Coaching in India after 12th
Centurion Defence Academy is a well-known defence coaching facility based in Lucknow that trains students for NDA Written and SSB Interviews. It is one of the most prestigious coaching institutes for NDA exam, with experienced faculty members and ex-military men as educators. We'll go through why attending Centurion Defence Academy will help NDA aspirants improve their chances of being recommended, as well as the additional services offered by the academy.
Centurion Defence Academy offers both online and offline NDA test preparation with India's premier SSB Panel, which includes notable defence professionals, ex-SSB Board members, and Indian Armed Forces veterans.

It has two locations in Lucknow, one of which is India's largest GTO training facility, where NDA hopefuls are prepared for group hurdles and other SSB Interview activities.

NDA aspirants can take advantage of educational opportunities, professional SSB interview preparation, hostel and mess facilities, sports facilities, physical fitness training, and extracurricular activities provided by the Academy.

For effective outcomes in the SSB Interview, the Academy also offers a 21-day and 45-day SSB Interview training and mentoring plan that includes Personality Development, Physical Robustness & Mental Alertness, GTO, OIR, and Group Discussion.
Benefits of Joining Centurion Defence Academy
In a constantly intense competition, attending a coaching institute might help you enhance your productivity and speed up your NDA preparation. Centurion Defence Academy, the best NDA foundation coaching in India provides students with a complete training plan under the supervision and mentorship of experienced professionals. The following are the primary advantages of enrolling in Centurion Defence Academy.
Providing conceptual-based learning to guarantee that the entire curriculum is covered with enough opportunity to review crucial ideas.

Candidates can prepare for the real exam by using model test papers, mock exams, and test series while maintaining accuracy and time management.

Content and study resources that have undergone extensive research and are based on the most up-to-date syllabus and exam pattern as incorporated by the R&D department.

A well-equipped library and cutting-edge infrastructure with all necessary amenities contribute to a good and joyful learning environment.

Comprehensive SSB Interview preparation can help potential candidates accomplish their best outcomes under the guidance of the SSB Panel, which is made up of ex-Indian Armed Forces officers with years of experience and competency.
Join Centurion Defence Academy, India's highest selection giving defence coaching institute to realize your dream of joining the Indian Armed Forces. Join Today and get training under the Personal & Individual Guidance of SSB Experts at Centurion Defence Academy.
Just Call: 9795977776 or Click Here to Register Today
Read More About
Best NDA Coaching in India after 10th