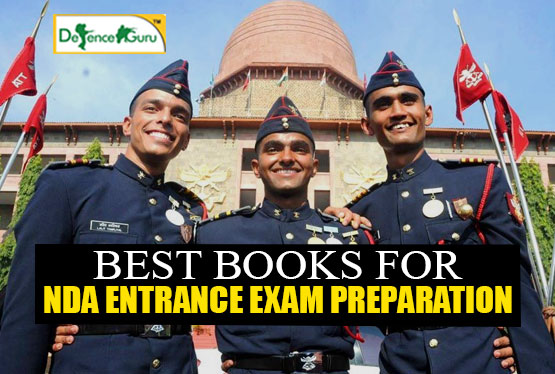 BOOKS FOR NDA ENTRANCE EXAM
National Defence Academy- a dream of crores of Indian Defence aspirants!
The fact that NDA is the first tri- service Defence academy in India itself makes it special. It offers the best training for Indian Army, Indian Navy and Indian Air Force. Be it the Chief of Naval Staff or the Chief of Air Staff NDA has a record of most eminent of alumni.
Located in Khadakwasla, NDA aims to give a holistic training to its cadets and turn them into the best of Defence personnel.
The entrance exam of this reputed organization is conducted twice a year by UPSC followed by SSB interview. The question paper is objective in nature and incorporates 2 sections: Mathematics and General Ability Test (GAT). The latter is further divided into English; Physics, Chemistry, General Science, History- Geography and Current Affairs. Mathematics is of 300 marks while GAT constitutes 600 marks. There is provision of negative marking as well.
If that seems heavy then you have weighed it right because NDA is certainly a hard nut to crack. It requires intense preparation and beneficial study material.
While preparation part is in your hand, providing the best books for NDA is in our hands because we, Centurion Defence Academy long to see Defence aspirants succeeding. To fulfill this vision Centurion Academy renders its support through best books available in town.
For those who are new to the name let me inform you Centurion Defence Academy is situated in Lucknow and is a national level Academy that gives the best training to Defence aspirants. Our proof lies in highest selection rate and the high strength of students studying in its 2 branches. If that's not enough take a glimpse of our exceptional facilities: prodigious teachers; food+ lodging; library; personalized study material; online tests; labs; intense SSB training; personal GTO ground and overall personality development with well furnished classroom.
Without going into further details I will directly jump to our Research & Development department. In the backdrop of NDA Exam Study Material let me brief you why Centurion books are best for NDA entrance preparation:
Centurion R&D team incorporates talented faculty having specialization in their specific subjects
The books are drafted after a deep research through various resources.
They are formed as per recent syllabus; probable questions for upcoming test and new additions in the subject
It is unlike any other book available in market commonly+ the structure and language is such that can be easily understood by young students
As NDA involves a whole lot of subjects here is a list of Centurion books for the same:
Mathematics- As difficult as the subject seems the book is just the opposite. Rather than listing complicated formulas Centurion book of Mathematics includes short tricks, basic concepts, tonnes of examples, and previous year question papers. It is interesting and easy like none other.
Physics- Not thick in pages but thick in quality, Centurion Physics book incorporates the most essential concepts required for NDA. Without elaborating unnecessary portions the book is framed as per the syllabus. It covers necessary concepts+ theories+ examples+ mock questions.
Chemistry- If you shy away from this subject then its time to change because Centurion will make you fall in love with Chemistry with such an easy book. It has all interesting and important notions from physical to organic and inorganic. There are sample numerical and reactions.
History- When we talk of history its not only about dates and facts but all significant events. Centurion History book has a vast coverage especially from Indian point of view wherein India's past and achievements are listed.
Geography- Land, air, water, you name it Centurion Geography book has covered it from A to Z. In a really precise manner this book brings to you all facts and figures, events, natural events in the world, especially in India as per the current curriculum of NDA.
English- The mandatory subject of any and every competitive exam, English holds central position among all subjects. Centurion English book is formed after a deep research and leaves no topic untouched be it idiom, phrases or error detection.
Hope your search for best study material is over with Centurion Research & Publication. The books can be downloaded in PDF or purchased online. Simply follow the link: www.defenceguru.co.in.