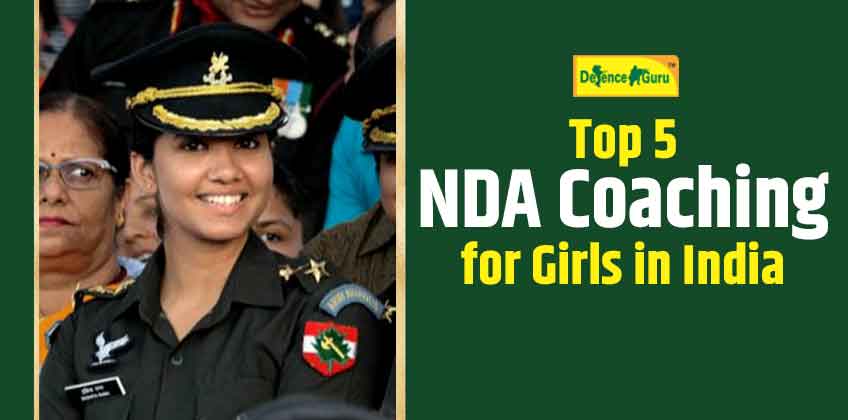 NDA Coaching for Girls in India
The Supreme Court judgement has unbarred the way to the permanent commission for girl candidates. Female candidates can get admission to the National Defence Academy (NDA) after completing 10 + 2. The NDA SSB interviews for the first batch of NDA Girls are ongoing. Soon the results will be declared for all NDA 1 2022 appearing candidates, motivating other boys and girls to join the forces through NDA 2 2022.
Finding the best NDA coaching for girls is still a challenge. For the past decades, NDA has been a boys' thing but now that girls will also be competing, we need to have proper infrastructure for the training and preparation for the NDA 2022 exam for both boys and girls.
We have NDA coaching that provides the training and guidance to male candidates. But here in this article, we are going to discuss some of the Top NDA Coaching for girls in India.
1. Centurion Defence Academy – Lucknow
The best NDA coaching that runs separate batches for girls is Centurion Defence Academy. It provides the Best SSB Training among the Top NDA Coaching institutes in India. India's largest GTO Ground with all the obstacles for both boys' and girls' NDA preparation is owned by Centurion Defence Academy. It has created a mountain of selections with new batches for SSB starting every Monday. Here students are given individual attention with spoken English and Personality Development classes.
Centurion Defence Academy offers both online and offline batches for NDA SSB preparation. It is the one-stop solution if you are searching for the best NDA coaching for girls in India.
It runs separate NDA batches for girls and boys with the facility of a hostel and mess for both.
Address: Shubham Tower, Besides Phoenix Mall, Alambagh, Lucknow, Uttar Pradesh.
Contact No.: 9795977776
2. New Careers Academy – Chandigarh
New Careers Academy is located in Chandigarh providing NDA coaching for Girls. It teaches shortcut methods for mathematics with weekly tests with the study material in the latest pattern.
They provide the students with weekly and monthly current affairs classes. NCA follows the motto of Knowledge is Strength. They aim at serving all sections of society ensuring education is available to all at affordable prices.
Address: 2570, Sector 35-c, Chandigarh, India.
3. Doon Defence Academy - Dehradun
Doon Defence Academy is also one of the top NDA coaching institutes for girls. They also provide foundation classes for 11th and 12th appearing students. They provide the best learning culture at their centre which makes the students learn everything in a detailed & practical manner.
One of its drawbacks is that they do not have the facility of making fee payments in instalments. It has a great infrastructure for physical training and GTO tasks.
Address: Mayur Auto, Rajpur Road, Second Floor, Dehradun, Uttarakhand Mayur
4. Chanakya Defence College - Dehradun
Chanakya Defence College stands fourth among the Top NDA coaching for girls. It provides NDA + SSB Coaching from class 8th and 10th onwards. So the girls who want to start their preparation early can join this NDA coaching for girls.
Chanakya Defence Academy also offers an integrated residential programme for the NDA aspirants both girls and boys. One of the notable features includes their Guaranteed selection Programme fee after final selection for 12th passed students.
Address: Sahastradhara Road, Kalagaon, Dehradun - 248001, Uttarakhand
5. General Ranjit Academy – Gurgaon
General Ranjit Academy is located in Gurgaon. It is also one of the best NDA coaching institutes that also provides training to girls. They provide guidance on each technique by the NDA experts in all the entries whether army, navy or air force in defence forces.
They provide personal attention to developing creativity and stress management. Exposure to Yoga, Mock test on psychology on arrival and then a personal interview with the Psychologist.
Address: General Ranjit Academy, Sir Chhotu Ram Bhawan, Jharsa Road, Sec 32, Gurgaon, Haryana, 122003
As you have gone through the features of the top 5 NDA coaching for girls that also prepares them for the SSB interview, there is no point in wasting time.
Read More About - Top Five NDA Coaching in India