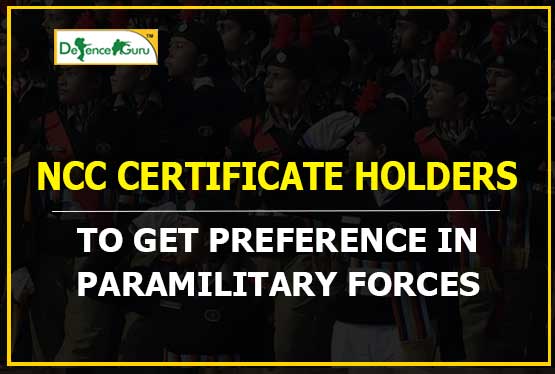 Latest development of the Home Ministry on 19th March Thursday propelled good news for the NCC cadets. The Home Ministry headed by Union Home Minister Amit Shah said:
- NCC certificate holders will get bonus marks in the upcoming direct recruitment examinations for sub inspectors and constables in the Central Armed Police Forces (CAPFs).
- Asked all the state governments to encourage NCC certificate holders in the direct entry examination for their respective police forces.
- The NCC 'C' certificate holders will get the 5 per cent bonus marks of the total number while 'B' and 'A' certificate holders will get 3 per cent and 2 per cent respectively bonus marks of the total number.
In order to achieve Prime Minister Narendra Modi's vision to increase participation of youth in National Cadet Corps (NCC) the Union Home Minister Amit Shah unprecedented decision to award bonus marks to NCC certificate holders in direct entrance examination for CAPF is accepted as a welcome decision for the youth in India to become a patriotic citizens.
The NCC is a tri-service organisation comprising of the Army, Naval and Air wings. The motto of the tri-service organisation is 'Unity and Discipline', following which it prepares organized, trained, motivated, disciplined youth and patriotic citizens.

The development in NCC certificates holders marking scheme for upcoming recruitment examination will strengthen the youth spirit of discipline, determination and devotion towards the nation, which in turn, is directly linked to the growth and development of India.