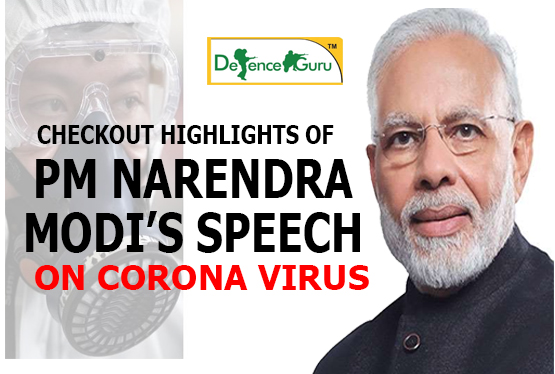 PM Modi Covid19 public announcement on 19th March
Prime Minister Narendra Modi on 19th March at 8 pm chaired a high-level meeting to review the ongoing efforts to contain #COVID19. During which he talk about ways to further strengthen India's preparedness and the efforts to combat Coronavirus. Releasing the stress of terrified citizens of India from the Coronavirus outbreak PM Modi choose national media platform to convey his message to all the Indian citizens.
To fight Coronavirus PM Modi announces Janata Curfew on 22nd March Sunday at 7 am to 9 pm.
All citizens are requested to follow Janta Curfew where no citizen will walk out from their home on roads or gather on roads or colony.
On 22 March Sunday we have to thank organizations, doctors, nurses and all medical assistance providers & workers in a special way that will surely connect each citizen of India.
22 March Janta Curfew success and its experience will make us ready for future challenges of Coronavirus.
On Janta Curfew day at correct 5 am we have to come out to our terrace, door, balcony and window for 5 minute to show unconditional gestures of pride, respect and salute for all these people by clapping hands or beating objects or ringing bell.
PM Modi had requested all state government to come forward and spread the alert message to every citizen with the help of siren on 22nd March at 5 pm for support in Janta Curfew initiative taken by PM Modi.
PM Modi urges people to follow Janta Curfew mentioning it a huge test for Indians and a mantra to fight corona challenge
PM Modi Unprecendented Announcement for India on Covid19 Outbreak:
World community is under threat
Work from home as much as possible
India cannot be Complacent
Won't Contract won't Transmit Virus
Corona has No Remedy No Vaccine
Focus on staying healthy
Abide by Centre's Guidelines
Social distancing only solution
Media must stay alert
Those Above 60 must stay at home
PM 'Sanyam and Sankalp' Mantra
PM's 'Resolve and Restraint' Message
PM's stay at home message
PM Modi announces Task Forces
Covid19 economic response task force
PM appeals super rich to contribute
PM Modi warns against panic buying
Must stay together in testing times
Official PMO tweets have highlighted the PM Modi emphasis on Coronavirus pandemic. One of the related PMO tweets:
"PM @narendramodi emphasised on actively engaging with individuals, local communities and organisations in chalking out mechanisms to fight the COVID-19 menace. He also urged officials and technical experts to deliberate on the steps to be taken next".
Another PMO tweet:
"PM expressed gratitude to all those at the forefront of combating #COVID19 including the various State government, medical fraternity, armed and paramilitary forces, those associated with aviation section, municipal staff and others.
India has adopted several combating measures that are applauded on International platforms by the other countries Government officials and locals as well. We all should be proud of our leaders who are safeguarding 1.3 billion people from this pandemic in its own country and providing assistance to other countries.
The whole country is essaying the role of dignified and unified India while fighting against the pandemic Coronavirus to weaken the strength of Virus.