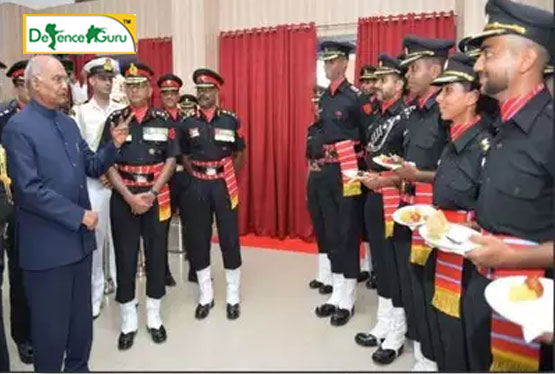 It's a fairy tale event for the Indian Army- Air Defence. The glorious legacy of awarding Colours by President Of India has been successfully implemented this year too.
If you haven't heard about this prestigious honor then raise dodge your lenses to the following paragraph:
Having taken birth in Ancient Egypt 50,000 years ago, the practice of carrying colors, standards and guidons was initially carried forward by regiments of British Army. Not only in Britain but also in Commonwealth countries, this ritual kept its pace till the British ruled them. India's case was similar. Once India received independence in 1950 the act of awarding colors came to end.
Bu, but, but there is more to it… Vice Admiral Sir Edward Perry, the Chief Commander of Indian Navy wrote to Indian Defence Minister on 27 February, 1951 to present flag to Indian Navy in the similar manner as to that of King's Colours.
Succeeding this request the then Indian Defence Minister presented flag to Indian Navy in May, 1951 and thereupon the awarding of 'Colours' commenced in India.
While Indian Navy has been the meritorious one in this line of recognition, other branches of Indian Armed Forces have also not remained behind. This year Indian Army Air Defence has been on the forefront.
Yes it's time to raise your brows and give applause to the Indian Army Air Defence. On 28th September, 2019 President Ram Nath Kovind bestowed Colours to the Corps of Army Air Defence on its successful completion of 25 years as an independent firm. The ceremony was held at Gopalpur Military Station. On behalf of Corps of Army Air Defence, the Army Air Defence Center received the President's Colours.
The Army Air Defence Center is the training school for personnel of Air Defence Corps of the Army.
Let me give you an insight into the aura of this award… the President's Colours is the highest honor given to any regiment of Indian Armed Forces for their excellent contribution to the security of nation.
The witnesses of this year's ceremony included renowned Army Chief General Bipin Rawat, Odeshi governor- Ganeshi Lal and Union Petroleum and Steel Minister, Dharmendra Pradhan. Other civil dignitaries and senior officers also graced the auspicious occasion.
Indian Army Air Defence performed exceptionally well this year and hence it turned obvious to bestow it with the President's Colours.
The honorable President of India recalled achievements and success stories of Indian Air Defence from contribution in World War II to achieving 2 Asoka Chakras.
President Ram Nath Kovind was also presented with a Rashtriya Salute by a startling parade at the beginning of the session.
If not anything else, give a warm cheer to Army Air Defence of India for the achievement!