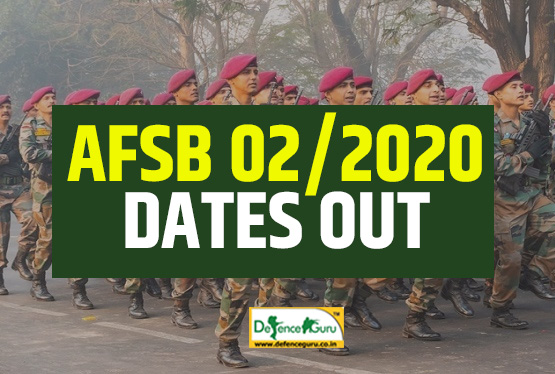 AFSB 02/2020 DATES OUT
AFCAT 02/2020 exam conducted on 3rd, 4th and 5th October for AFCAT aspirants who arrived on three days all over Indian in various centers. AFCAT 2 2020 course will be commencing from July 2021 at Air Force Academy, Dundigal, Hyderabad. Many aspirants are eagerly waiting for the AFCAT 2 2020 result and SSB interview dates.
The SSB interview for the AFCAT 2 2020 entry will start from 14 November 2020 while AFCAT 2 2020 exam results will be declared shortly.
Official Update on 19th Oct 2020: SSB for AFCAT Batches for course commencing in July 2021 i.e. candidates who applied through AFCAT 02/2020 would commence from 14th November, 2020. Call letter will be issued shortly. All candidates who applied for SSB are to be prepared accordingly.
AFCAT 02/2020 SSB for the Air Force Common Admission Test (AFCAT) to select Class-I Gazetted Officers in Flying and Ground Duties (Technical) dates are OUT. For complete details visit Indian Air Force official website: https://afcat.cdac.in/.
The Air Force Common Admission Test (AFCAT) is conducted by the Indian Air Force twice a year in February and August/September, respectively, but this year due to Coronavirus outbreak various exams throughout the season has been postponed and rescheduled. Now the wait ended
How to check AFCAT 2 2020 Result
Visit AFCAT.CDAC website
On top click on candidate login and select AFCAT 2 2020 – Cycle
Enter your login details
Click on view result
Now you can check your AFCAT 2 2020 score and select the AFSB interview date and venue.
Avail all the benefits of Offline/Online AFCAT SSB 02/2020 Course at Centurion Defence Academy. SSB OFFLINE ADMISSIONS OPEN as per GOI guidelines at Centurion Defence Academy. It is highly acclaimed and accepted defence education brand and with the AFSB Batch this session is going to be broadly popular among SSB aspirants.
AFCAT SSB Experts AT Centurion Defence Academy
SSB Panel

Sir Shishir Dixit, Founder Director CEPL, Air Veteran, Litterateur, SSB Expert (Psychology)
Maj. Gen. AK Chaturvedi, AVSM, VSM, Trained IO (DIPR), Senior IO at CDA
Major Nasreen Fatima (Sqn Ldr Retd.) Academic Head, Ex. NDA Instructor, Khadakwasla, Pune
Col Pramod (Retd.) GTO, Ex-GTO, Bhopal 22 SSB
Group Capt A.K. Srivastava (Retd.) Psychologist, Ex- Psych, 2 AFSB & 4 AFSB
Dr. (Col) Ajay Bahadur, Medical Expert
Aditya Dubey (PD and Eng Spoken Trainer) Vice President-CEPL
Yash Tripathi, Asst. GTO Coach
New OFFLINE SSB Batch is commencing on every MONDAY for 21 days and 45 days.
Registration Open for Offline SSB Batches for AFCAT entry
Centurion's Offline/Online SSB 2020 Course is commencing on every MONDAY for 21 Days & 45 Days.
Admissions Open
Visit: centuriondefenceacademy.com
Contact: 9795977776