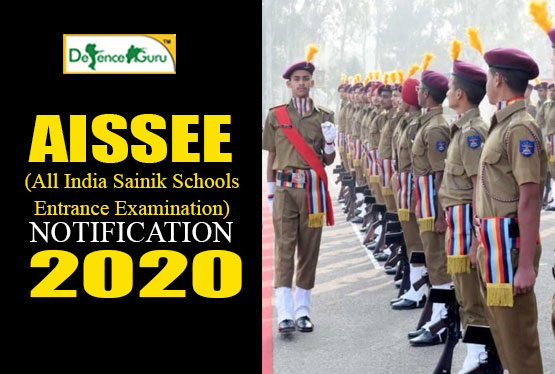 All India Sainik Schools Entrance Examination (AISSEE) NOTIFICATION
Great achievers plan their journey beforehand!
Applying the same in Indian Armed Forces, all dedicated aspirants want to take their first step towards Defence by joining Sainik Schools. These reputed schools have made education easier for general masses. It aims to train boys for NDA by imparting a holistic education.
This year's AISSEE- All India Sainik School Entrance Exam notification is out and below are its details:
DATES
Online registration- 5th August, 2019 to 10th October, 2019
Admit card- 2nd December, 2019
Exam- 9th January, 2019
Merit list- 3rd February, 2020 to 7th February, 2020.
ELIGIBILITY
Class 6- 10 to 12 years
Class 9- 13 to 15 years
Only boys are eligible to take the AISSEE exam.
EXAM
The AISSEE exam will be conducted in written form.
Medium of language for class 6 will be English/ Hindi/ Local language
Medium of language for class 9 will be English.
The exam will be held in 10 States and 1 Union Territory , namely:
Delhi Sainik School, Kunjpura
Chandigarh Sainik School, Kapurthala
Tripura, Sainik School, Imphal
Lakshadweep & Mahe Sainik School, Kazhakootam
Puducherry & Karaikal Sainik School, Amaravathinagar
Goa Sainik School, Satara
Diu & Daman, Dadra & Nagar Sainik School, Balachadi Haveli
Meghalaya & Sikkim Sainik School, Goalpara
Andaman & Nicobar Island Sainik School, Purulia.
Yanam & Telangana Sainik School, Korukonda
Uttar Pradesh Sainik School, Ghorakhal, Uttarakhand
REGISTRATION
The process of registration for AISSEE will be in online mode not offline mode.
Interested persons can visit the official website, that is, www.sainikschooladmission.co.in
Click on 'new registration' and make your profile
Complete the application form+ pay the registration fee.
The registration amount for General is Rs. 400 and for SC/ ST is Rs. 250
Download your form, take a print out and wait to download your admit card.
If you want to guarantee your progress in the field of Indian Defence then don't let this wonderful opportunity slip away from your hand.