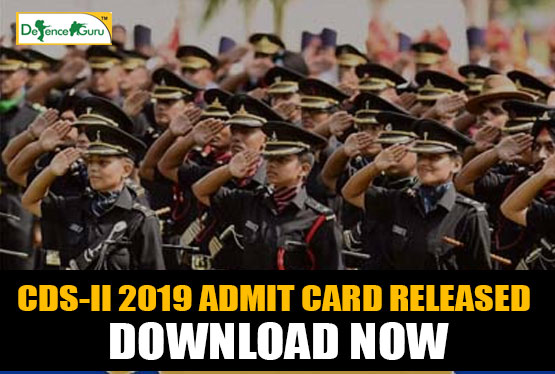 The UPSC will conduct the Combined Defence Services Examination (II), 2019 at various Centres/Venues all over India on 08th September, 2019 (Sunday). The Commission has uploaded the e-Admit Card of the admitted candidates on its website (http://www.upsc.gov.in).
The admitted candidates are advised to download their e-Admit Card for Examination and take a printout thereof.

The admitted candidates will have to produce the printout of their e-Admit Card at the allotted Venue for appearing in the Examination along with proof of Identity (as entered in Online Application) such as Aadhaar Card/Voter Card/ PAN Card/Passport/Driving Licence/Any other Photo ID Card issuedby the State/Central Government.In case the photograph is not visible or available on the e-admit Card,candidates are advised to carry three (3) identical photographs (one photograph for each session) along with the printout of e-Admit Card at the Venue of the Examination for appearing at the Examination with an undertaking. No paper Admit Card will be issued for the Examination by the Commission.
In case of any discrepancy in the e-Admit Card, the same may be communicated to the commission immediately at e-mail ID: us.cds-upsc@gov.in latest by 03rd September, 2019 to enable the Commission to take a decision in the matter. The candidates are advised to take a printout of the e-Admit Card well in advance to avoid last minute rush. "Important Instructions to the
candidates" must be read carefully by the candidates. It may also be noted that entry into the Examination Venue, shall be closed 10 minutes before the scheduled commencement of the Examination.
No candidate shall be allowed the entry into the Examination Venue after closure of the entry.
Candidates should also note that they shall not be allowed to appear at any other Examination Venue except the Examination Venue mentioned in the e-Admit Card.

Candidates are also advised to bring black Ball Point Pen to the Examination Hall for this Examination.

Candidates may submit representations, if any, on the questions asked in the Question Papers of this Examination to the Commission through the "Online Question Paper Representation Portal (QPRep)" only by accessing the URL: https://upsconline.nic.in/miscellaneous.QPRep within a period of Seven (07) days from the date of Examination. No representation through any other mode andreceived after the above period shall be accepted by the Commission.