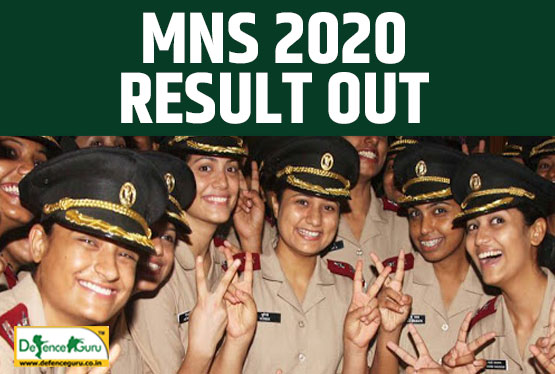 MNS 2020 Result Declared
On 9 Oct MNS 2020 exam RESULT are OUT, candidates to visit official website for final results check. On 11 Sep 2020 Indian Army successfully conducted MNS 2020 Written Exam in three shifts.
MNS 2020 Interview is scheduled from 14 October at the two centre: Delhi and Pune.

MNS 2020 Cut Off is 116 Marks.

Total 660 candidates are shortlisted for MNS 2020 Written Exam
Indian Army MNS Exam 2020 held in three shifts following all the Central and State government guidelines for COVID-19. Candidates appeared for MNS 2020 exam can CHECK RESULT from the Indian Army official website joinindianarmy.nic.in.
JOIN MNS Interview 2020 Batch starting from 10th October at Centurion Defence Academy
Check Your Result : Click Here
MNS 2020 Exam Dates
| | |
| --- | --- |
| MNS 2020 | Dates |
| Exam Date | 11-Sept-2020 |
| Admit card Date | 31-Aug-2020 |
| Result Date | 09-Oct-2020 |
| Download Website | Joinindianarmy.nic.in |
MNS 2020 written exam under COVID-19 guidelines conducted successfully nationwide. The qualified candidates will be preparing for the next level i.e. MNS Interview 2020.
MNS 2020 Interview most important documents you must carry, if you would not carry these documents you may disqualify without giving any interview. Documents List…..
Call Letter / Admit card of MNS Exam paper
10th class Marksheet and Certificate
12th class Marksheet and Certificate
National Certificate (Adhaar Card or PAN Card)
Character Certificate
Domicile Certificate (Address Proof)
Date of birth proof certificate
NCC Certificate, if you have, not necessary
Other gaming Certificates if you have
Train or Bus Tickets for Traveling Allowance
MNS 2020 Interview Tips
Communication Skills- Good Communication skills is a deciding factor in MNS Interview. So be ready for the questions regarding the MNS Interview 2020 questions and practice Mock MNS Interview for the perfect execution on the day.
Be Confident- As a Military Nurse, your attitude and your voice will show your power among facing certain harsh situations in providing unlimited care towards army personnel and you need to convey this to the male and female officers present in the personal interview. Remember, this will be a personal interview so your answers regarding personal life difficulties and the way you resolve those problems will be asked. Speak loud, clear and be confident.
Be prepared–Take time to practice MNS interview questions and practice Mock Interviews before the final MNS Interview. Remember that this answer should not be sound memorized before them, as the examiner will be smarter, clever and experienced than you. Also, the officers are not interested in your life story from start. Keep it short and speak more about how important the Human life is for you and about your never-ending desire to help others.
Body Language and Eye Contact- Maintain a positive and confident body posture when you enter the hall. This time you will be judged maximum, your body language convey the message along with your voice. While answering always speak confidently and maintain a strong eye contact with the MNS interviewer.
We, at Centurion defence Academy, make you well prepared and organized for each and every stage that is there in the MNS Interview selection process. Opt effective, efficient and upgraded MNS Interview online preparation from India's leading learning brand in defence education, the most relevant and reliable "Centurion Defence Academy."
Join MNS Interview Batch (Online and Offline)
Admissions are open (Online course is Free with offline course)
Visit Centuriondefenceacdemy.com
Contact 9795977779, 9795977776
To get detailed information on Notifications, Syllabus, Tips and Tricks, Admit Card Dates,
Result, Cut off, Trend Analysis, Information about Physical Fitness Test and Medical
Examination and Current Affairs, simple Follow us on You tube, Instagram, Twitter, Facebook.
Visit our official website www.centuriondefenceacademy.com. Read articles related to defence
and defence examination at defenceguru.co.in.
Be an Efficient Learner! Save Time and Effort! Get Centurion Defence Academy Student App.
Download the App Now
https://play.google.com/store/apps/details?id=eduapplet.centuriondefenceacademystudentsa
pp
Visit www.centuriondefenceacademy.com Just Call or Whatsapp 9795977779 | 9795977776