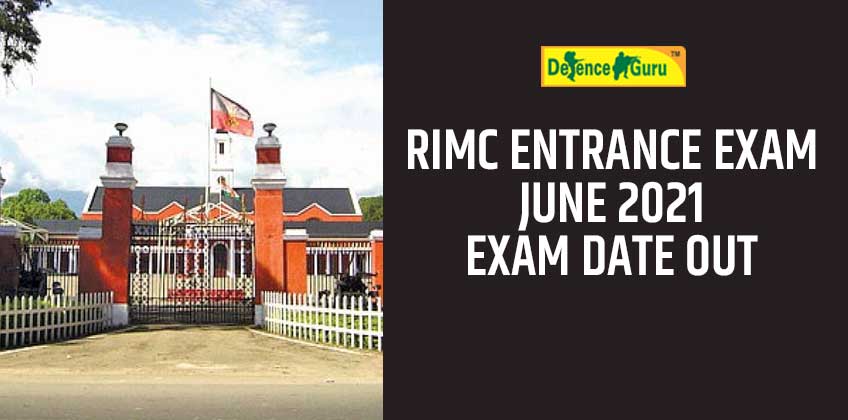 The Rashtriya Indian Military College is a 'Nursery of Leadership' for institutions like National Defence Academy, Khadakvasla, Officers' Training Academy, Chennai, and Indian Military Academy, Dehradun. The College provides Public School education to young boys in the age group of 11½ to 18 years, specially selected through an All India Competitive Examination. A dedicated feeder to the National Defence Academy (NDA) and the Naval Academy (NAVAC), the College aims to send maximum Boys to the NDA/NAVAC. Hence it lays utmost emphasis on complete education and all-around personality development of the cadets. However, if the cadet is unable to join the NDA due to rare or unavoidable reasons, he attains the requisite proficiency to go on and do well in any field that he so chooses. There has been a bevy of cadets who have gone on to become bureaucrats, lawyers, engineers, corporate leaders, captains of industry, and journalists, holding the RIMC Flag aloft in all the endeavors they chose to pursue.
ADMISSION PROCEDURE
Approximately 25 cadets are admitted every six months. Candidates should not be less than 11½ years of age or must not have attained the age of 13 on 01 (Jan) or 01 (July) of the Term they join in. Admissions are made to Class VIII only. The candidate must be studying in Class VII or have passed Class VII from a recognized school at the time of joining. Application forms are to be submitted to the respective State Governments. Candidates are selected on the basis of their performance in an All India Entrance Examination held twice a year comprising a written examination of question papers in English (125 Marks), Mathematics (200 Marks), and General Knowledge (75 Marks), Successful candidates are called for Viva-Voce test (50 marks).


DESTINATION
The College provides education on the lines of residential Public Schools, principally for boys who desire to join the Defence Forces of India. Those who do not succeed in this aim are well qualified to join a College or professional institution on graduation from the RIMC. However, the College advises only those to apply who are interested in taking up the challenge of serving the Defence Forces of India.

PROSPECTUS
The prospectus-cum-application form and booklet of old question papers can be obtained from the Rashtriya Indian Military College, Garhi Cantt, Dehradun, Uttarakhand Pin Code 248003 through Speed Post by forwarding self-addressed slip and an account payee Bank Demand Draft of Rs 600/- for General Candidates Rs 555/- for ST/SC Candidates along with Caste Certificate. The Demand Draft will be made in favor of "THE COMMANDANT RIMC DEHRADUN", BRANCH SBI TEL BHAWAN, DEHRADUN BANK CODE 01576, UTTARAKHAND. The Address should be typed/written clearly in capital letters with Pin Code and Contact Number. RIMC will not be responsible for any postal delay and loss in transit of prospectus caused by illegible or incomplete address. Alternately, the payment may be made by clicking on the link provided on the main page of the website and the Prospectus shall be sent to the address provided.
Note:
1. The application forms issued only by the RIMC shall be valid. Locally printed/ photocopied and without RIMC hologram(Seal) forms shall not be accepted.
2. No refund of the application fee on any condition will be made.

AGE
The Admission to the College is bi-annual i.e., in January and July each year. Candidates (Boys only) should not be less than 11½ years of age but must not have attained the age of 13 on 01 January or 01 July of the Term they join in.

Note:- The actual dates notified from time to time, by the Government of India, in all the National/leading newspapers will be adhered to.

EDUCATION
Admissions are made to Class I (equivalent to Class VIII) only. The candidates should be studying minimum in Class VII in a recognized school at the time of Admission to the RIMC. They should also be medically fit for entry to the College, in accordance with the medical standards prescribed.

VACANCIES
Generally, one vacancy per State is allotted. However some States with larger population have up to two vacancies allotted.

ENTRANCE EXAMINATION
The Examination comprises of:-
| | |
| --- | --- |
| A. | Written Examination Written Examination The written part of the examination consists of three subjects i.e. English (125 Marks), Mathematics (200 Marks), and General Knowledge (75 Marks). Maths and General knowledge papers may be answered either in Hindi or in English. To qualify, a candidate must obtain a minimum of 50 % marks in each subject. |
| B. | Viva Voce Viva Voce The oral examination consists of a Viva Voce test of 50 marks, which is designed to assess a candidate's intelligence, personality and confidence. The minimum passing marks will be 50%. |
| C. | Medical Examination Medical Examination All the candidates, qualified after interview, will undergo a medical examination at selected Military Hospital and only those candidates found medically fit, will be considered for selection and admission to the RIMC. Medical Examination of the candidates forms only a part of the system of selection and does not guarantee the final selection. |

WITHDRAWALS
The candidate can be withdrawn at any time on the request by the parent or by a decision of the College by refunding the total amount incurred on training calculated at the rate of Rs. 2876 / week (plus the scholarship amount).
Fees Structure
Ser No.

PARTICULARS

Details of Term Expenditure(Amount)

1

EXPENSES

(a)

Security(One Time/Refundable)

30000

2.

REMITTANCE TO COLLEGE

(a)

Tuition Fees

8800

(b)

Book Stationery

2600

(c)

Sports

2000

(d)

Entertainment & Cinema

1650

(e)

Hobbies

1700

(f)

Adventure & Activities

800

(g)

Welfare

400

(h)

Religious

250

(i)

Hostel Maintenance Charge

1550

(j)

Founders' Day

900

(k)

Magazine & Chronicle

700

(l)

Library

850

(m)

Comdt Fund

1100

(n)

Postal Charges

350

(o)

Conservancy

350

(p)

Insurance

250

(q)

Shoe Maker

200

TOTAL

14500

3.

CADETS PRIVATE EXPENDITURE

(a)

Pocket Money

1200

(b)

Washerman/Barber/Clothing

6200

(d)

Miscellaneous Expenditures

6900

TOTAL

15450

GRAND TOTAL

38750
RIMC JUNE 2021 EXAM DATE
The RIMC Entrance Exam shall be held on 28th August 2021.