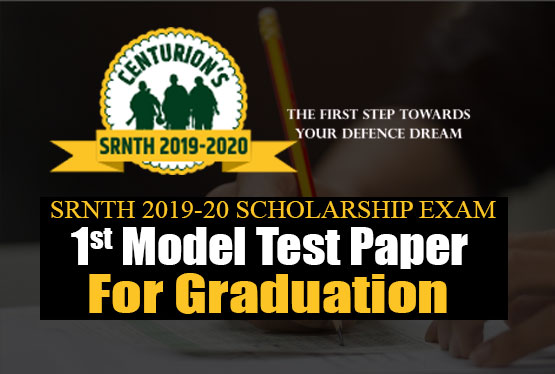 SRNTH 1st Model Test Paper for Graduation
Preparing for SRNTH ? Want to know about the types of questions that will come in exam. Here is the sample paper for Graduation Students. You may refer and prepare likewise.
SRNTH MODEL PAPER FOR GRADUATION
Shishir Rameshwar National Talent Hunt (SRNTH) is no ordinary scholarship scheme, this is a unique, most charitable and one of the noblest measure to carry forward the dream of Indian Defence aspirants.
Incepted by the joint efforts of Centurion Education Pvt. Ltd. And Defence Guru, SRNTH aims to provide financial assistance to those young people who are monetarily poor but possess ample amount of talent to joint Indian Armed Forces.
The SRNTH scheme renders various benefits such as: tuition waiver; full scholarship; membership of EduGorilla; and opportunity to get admitted in Centuriopn Defence Academy for best preparation to join Defence,
The exam is to be held on 22nd December and the registration could be done on www.defenceguru.co.in or www.centuriondefenceacademy.com.
The level of exams ranges for all classes: 11th, 12th and graduation. Not only we provide opportunity to prove your caliber but also assist you in preparing for the test through our own study material. Grab it now and have a wholesome preparation.