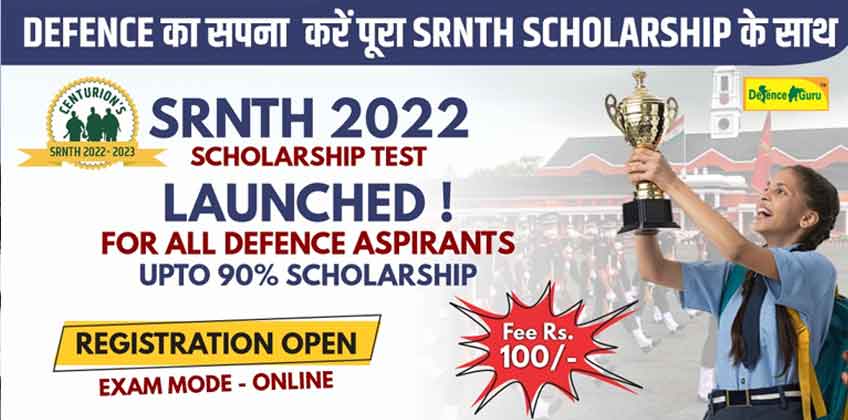 SRNTH 2022 Scholarship Exam for NDA, CDS, MNS, AFCAT, Air Force & All Other Defence Aspirants
Centurion Defence Academy has a scholarship opportunity for all the defence aspirants. The Shishir Rameshwar National Talent Hunt Scholarship Examination (SRNTH) 2022 is launched by the Team centurion to provide financial assistance to meritorious students who want to prepare for the NDA | MNS | CDS / AFCAT | AIRFORCE XY GROUP | NAVY AA & SSR | NDA / MNS Foundation and other Competitive Exams.
Many times candidates are willing to prepare for defence exams but due to the lack of resources, they are unable to proceed with the defence exam preparations.
To make it easier for the defence Aspirants, Centurion Defence Academy is offering up to 90 % scholarship for those who clear the Centurion Defence Academy's SRNTH Scholarship Exam.
To avail of up to 90 % scholarship, the candidates will have to download the Centurion defence Academy Student App and register themselves. The idea or objective behind conducting the program is to address the budget constraints that most aspirants in India face at present - thus facilitating the selected candidates with monetary aid in the form of scholarships and cash rewards, blended with academic guidance so as to give a platform to the worthy and a chance to recognize and shape their talent.
The scholarship envisions imparting quality training as well as making young students realize their potential so that they can connect their skills as per the desired prerequisites. For further details regarding the SRNTH Scholarship exam, the candidates can download the detailed information by clicking on the link below.
Click Here to Check - SRNTH Scholarship 2022 Exam Details

How to register for SRNTH Defence Scholarship?
The last Date to register for SRNTH scholarship is 14th May 2022. The candidates can register online by downloading the Centurion Defence Academy Student App from the Google Play store or by clicking on the direct link below. Registrations are now open !!
Click to download - Centurion Defence Academy Student App
SRNTH Scholarship Exam is scheduled for 15th May 2022. The defence scholarship will be conducted in Online mode.
Who can appear for the SRNTH Scholarship Exam?
All those who are looking for an NDA scholarship, CDS scholarship, AFCAT scholarship or any other defence exam scholarship. The candidates will get the following benefits by appearing for the SRNTH scholarship exam 2022:
Instant Scholarship

Quality Guidance in Less Fee

Admission To Your Dream Academy
SRNTH Scholarship Registration Fee
SRNTH is affluent with abundant benefits. Only a few lucky and worthy students are lucky to achieve their dreams after battling all the odds and to help and give wings to the dreams of such students SRNTH stands as a pillar of support to give them direction and add meaning to their life and remember, "If somebody offers you an amazing opportunity but you are not sure you can do it, just Say Yes then learn how to do it later!!"
The application fee for registering for the SRNTH defence scholarship is Rs.100/-.
About Centurion Defence Academy
Centurion Defence Academy is one of the best Defence coaching institutes and a leading academic sector available with superior and at par infrastructure campus for the preparation of SSB, NDA, CDS, AFCAT, Airforce, MNS, INET and other Examinations in India. The Academy imparts training for the complete tests conducted in the 5 days Services Selection Board Test including Interviews, all Outdoor and Psychological tests, Group Discussions, Screening Tests, etc.
The Academy has a commendable experience of creating 5000+ officers in this field and has the best services selection rate in the past few years. With its mission and motto of imparting training for Indian Armed Forces examinations to its aspirants, Centurion Defence Academy has now opened up the registration for Shishir Rameshwar National Talent Hunt (SRNTH) 2022.
SRNTH is a national level cost effective scholarship program designed to seek the best of the brightest, most intelligent and most deserving candidates across India who have the potential to become Defence personnel. It is a marvellous moment, a golden chance to explore your hidden potential and become a part of the Indian Armed Forces.