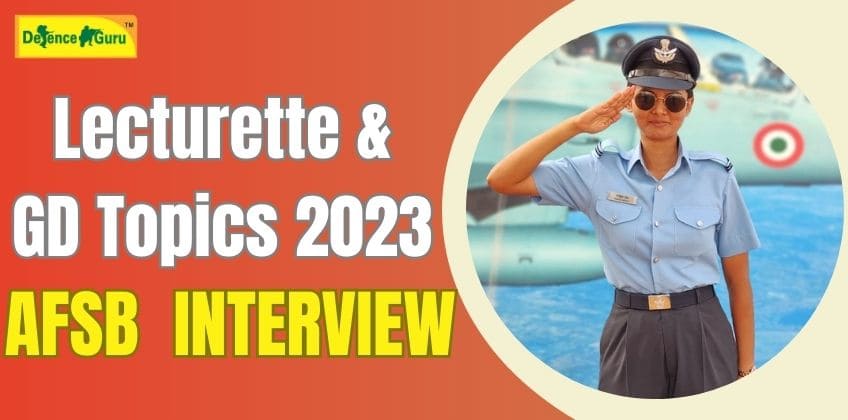 AFSB Interview Dates of AFCAT-1 2023 have already been announced and most of the candidates are busy in preparing for their upcoming AFSB Interview. Lecturette and Group Discussion are two tests that are feared by most students. Most of the candidates are always confused about the preparation for these two tests. The primary reason for this problem is that there is little clarity among candidates about probable topics and how they can prepare for them. In this article, we are going to provide you with AFSB Current Lecturette Topic And GD Topics 2023. We will tell you how you can prepare for these topics in this article.
Lecturette in AFSB Interview
Lecturette is one of the most important tests conducted in the AFSB Interview. Lectrette helps GTO to evaluate the ability of candidates to make decisions, confidence, ability to influence others, ability to work under pressure, etc. In the lecturette test, GTO offers four topics which are written over four cards and candidates have to choose one topic. Candidates get 3 minutes to prepare themselves to speak and they can speak for 3 minutes on the chosen topic.
Current AFSB Lecturette Topics for AFCAT- 1 2023 AFSB Interview

Sr. No.

Topic Name

1.

Swarm Drone Technology

2.

Russia Ukraine War

3.

Ethnic Clashes in Manipur

4.

Man Made Disasters

5.

Cashless Society

6.

NATO (North Atlantic Treaty Organisation)

7.

Electric Vehicle Policy

8.

Fifth Generation Aircrafts

9.

Operation Kaveri

10.

G-20

11.

Khalistan Issue

12.

Nexus between organized crime and terrorism

13.

Quad and its future

14.

Threats to the internal security of India

15.

Defence Budget 2023
Group Discussion in AFSB Interview
Group Discussion is also part of GTO and It is one of the indoor tests which is conducted in AFSB. In Group Discussion Tests, Candidates are divided into groups of 6-8 members and made to sit in a semi-circle manner. Candidates are offered two topics and the group has to decide on one topic for group discussion. Candidates have to discuss various sub-topics of the topic and reach a conclusion.
Current AFSB GD Topics for AFCAT- 1 2023 AFSB Interview

Sr. No.

GD Topic

Sub-Topics

1.

Who is responsible for organized crime in India?

Poverty
Politics
Legal System
Movies and Web Series

2.

How can we reduce man-made disasters?

Through Technology
Through Awareness

3.

Viksit Bharat @ 20247, How can we make India a developed economy by 2047?

Skill Development
Infrastructure
Reducing Corruption and Red Tapism

4.

Who is responsible for the current climate change crisis?

Developed Countries
Developing Countries

5.

How should India deal with China?

Diplomacy
Military Power

6.

Should UAVs replace Pilots in the Air Force?

Yes, Pilots should be replaced with UAVs
No, Pilots should not be replaced with UAVs

7.

Should OTT Platforms be regulated?

Yes, they should be regulated
No, they should remain free from government interference

8.

How can India become Atmanirbhar?

Improving Technology
Investing in Skill Development
Upgrading Infrastructure

9.

Why is our youth moving towards violent activities?

Video Games
Movies and Web Series
Lack of employment

10.

Who is the closest ally of India?

Russia
USA
Israel
Candidates must keep in mind that most of the lecturette topics or GD topics are based on current issues only so it becomes very important to keep themselves updated with whatever is going around them. Candidates should read a good newspaper daily, watch the news and listen to debates (On Sansd TV Channel), and read some good books on international relations such as Pax Indica by Shashi Tharoor. Knowledge alone is not important for excelling in Lecturette and Group Discussion. You need good communication skills and to improve your communication skills you need to do regular practice. Candidates should practice with their friends and do mirror practice. Candidates should understand that it is a test of your confidence and communication which can be gained with regular practice and by gaining information. You can follow these steps to excel in these two tests.
Read More:
SRT Questions for upcoming CDS-1 2023 SSB Interview
Current Defence News for SSB Interview Preparation